Playoff Bumgarner could re-emerge with these teams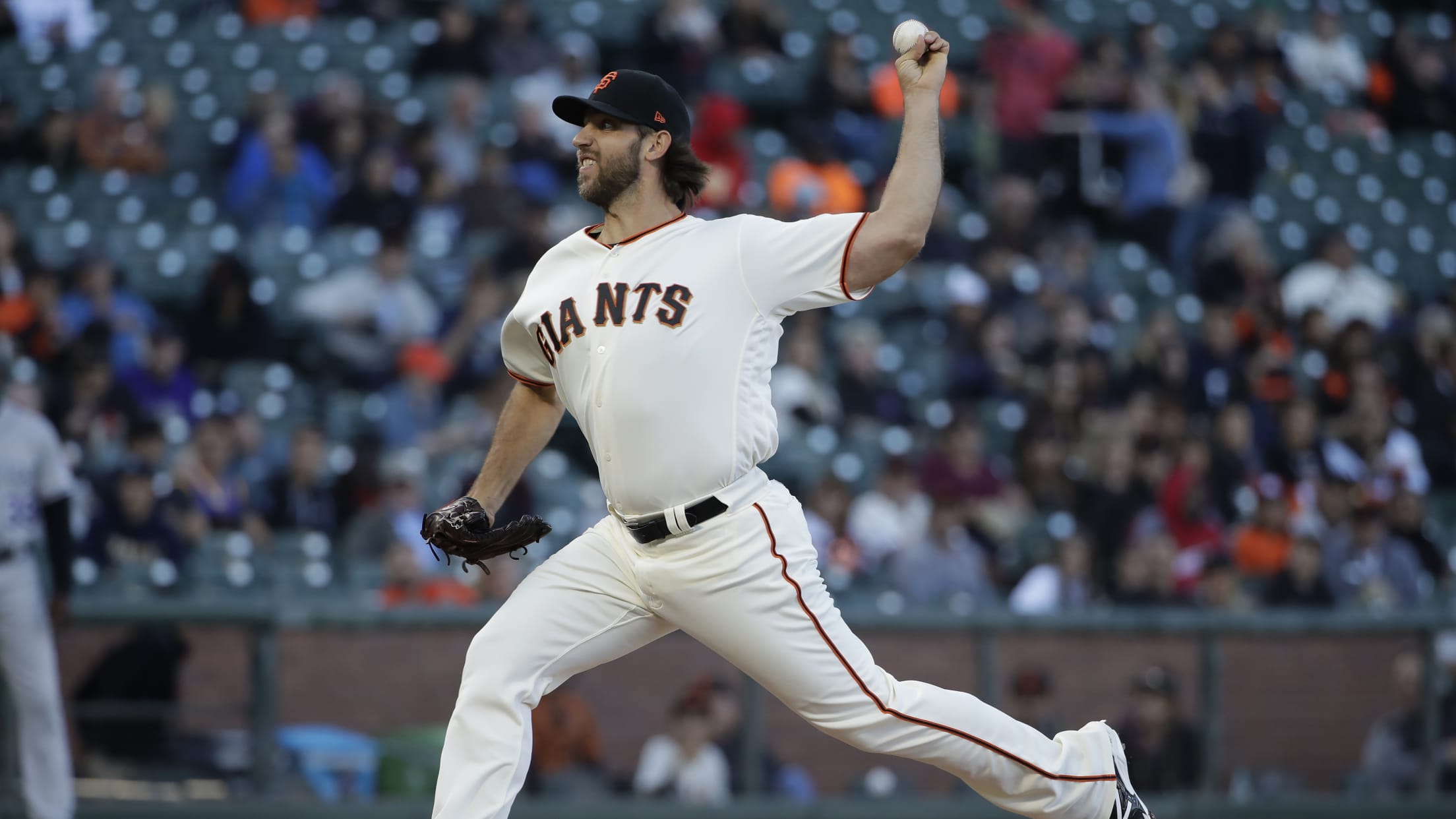 MLB.com is keeping track of all the latest news and trade rumors surrounding impending free agent Madison Bumgarner right here.
MLB.com is keeping track of all the latest news and trade rumors surrounding impending free agent Madison Bumgarner right here.
Playoff Bumgarner could re-emerge with these teams
July 16: Bumgarner's long record of postseason dominance has to be on the minds of contending teams as they ponder which starting pitchers to target at the Trade Deadline.
USA Today's Bob Nightengale thinks Bumgarner (along with star closer teammate Will Smith) is the most valuable commodity this year for that very reason. "Good luck finding another player on the trade market who has his postseason pedigree," he writes in a column addressing the Trade Deadline's biggest questions.
And ESPN's David Schoenfield writes that that's why Bumgarner is the player the Yankees should target at the Trade Deadline.
"No, it's not 2014 and trading for Bumgarner and expecting a similar level of October dominance isn't realistic. But do you want this guy on the mound in a big game? Of course you do," Schoenfield writes. "The Yankees haven't even been to a World Series since winning in 2009. This is the guy most likely to help push them over the top."
Or how about the Twins? MLB Network analyst and former GM Jim Bowden, writing for The Athletic (subscription required), argues that Minnesota makes sense as a destination for Bumgarner, especially in a combo deal with Smith.
"If the Twins want to hold off the Indians and win the division, and then be in a position to legitimately challenge the Yankees and Astros in the playoffs, this type of trade could accomplish that feat," Bowden writes.
Bumgarner's ability to help a club on the bubble get to October also makes the Cardinals one interesting possibility, according to Nightengale.
"The Cardinals are experiencing their longest playoff drought in 20 years, and the heat is starting to mount on the front office," he writes. "They must come up with a frontline starter, with Bumgarner appearing to be a perfect fit, if they're going to have a chance to catch the Cubs."
Here's what Giants could get for Bumgarner
July 15: The Giants' potential return for Bumgarner could go one of two directions, MLB Network insider Ken Rosenthal writes for The Athletic on Monday (subscription required).
On the one hand, San Francisco seems to "prefer prospects close to the Majors," based on comments from president of baseball operations Farhan Zaidi that the team is looking at players in the upper levels of the Minors. If that's the case, Rosenthal cites Willie Calhoun, who the Rangers got from the Dodgers when they traded Yu Darvish at the 2017 Deadline, as a relevant comparison, since Bumgarner would be a rental like Darvish.
But on the other hand, according to Rosenthal, the Giants "also have discussed acquiring players at roughly the same level as their top prospects at High A -- catcher Joey Bart, outfielder Heliot Ramos, etc. -- and developing a core similar to what the Blue Jays did with third baseman Vlad Guerrero Jr., infielder/outfielder Cavan Biggio and infielder Bo Bichette."
That sounds appealing, too. But a core like that would still be multiple years from the big league level. Would the Giants wait?
Is Ray a better target than Bumgarner?
July 15: Among potentially available arms on the trade market, none has the postseason resume of Giants lefty Madison Bumgarner. Heck, no active pitcher -- and few in baseball history overall -- can match Bumgarner's 2.11 ERA and 0.90 WHIP in 102 1/3 innings in his playoff career, which is highlighted by three rings. That's a big reason why a number of contenders are after the 29-year-old, who will be a free agent after this season.
But a could a case be made that Bumgarner might not be even the most highly coveted left-handed starter in his own division, at least from a value standpoint?
Does that distinction fall to D-backs strikeout artist Robbie Ray? MLB.com's Jon Paul Morosi explores that idea and even suggests in an MLB Network segment (below) a possible blockbuster deal that could land Ray in Houston for a pair of high-end pitching prospects.
.@jonmorosi has a trade proposal for the #Astros, but is the prospect-heavy deal @RoFlo-approved? #MLBCentral pic.twitter.com/8GiwmbwGaY

— MLB Network (@MLBNetwork) July 15, 2019
Bumgarner 'still looks like an ideal fit' for Braves
July 15: The Braves were reported to have interest in Bumgarner last week, and Rosenthal writes for The Athletic on Monday (subscription required) that the left-hander "still looks like an ideal fit" for the NL East leaders.
Rosenthal recalls the slate of big trades Braves GM Alex Anthopoulos made when he was with the Blue Jays, acquiring R.A. Dickey, Josh Donaldson, Troy Tulowitzki and David Price at various points of his tenure.
Price was a rental like Bumgarner would be, and he went 9-1 with a 2.30 ERA down the stretch and helped Toronto clinch a division title. But he was more of a star-level pitcher when the Blue Jays got him than Bumgarner is right now. Price was also the only rental of Anthopoulos' major moves with Toronto; Rosenthal notes the GM has generally preferred players under longer-term control.
But the Braves have farm system depth and an open window to contend for an NL pennant, and that might push them into action before the Trade Deadline.
Do Yanks prefer Bumgarner to Stroman?
July 15: Right-hander Marcus Stroman, one of the top starting pitchers on the trade market as we get ever closer to the July 31 Trade Deadline, pitched against a potential suitor Sunday, and pitched well. With a fastball that touched 95 mph, about two ticks above where he's been, Stroman allowed three runs over six innings against New York at Yankee Stadium during a 4-2 loss. He gave up seven hits, walked two and struck out seven.
The New York Post's Ken Davidoff suggests that the Yankees have seen all they need to see from Stroman.
"The diminutive right-hander, a Long Island native, must merit ultra-serious consideration from the Yankees right now because of these two significant assets: He possesses high upside, and he embraces the stage and the moment," writes Davidoff.
With Mets righty Zack Wheeler (an impending free agent) going on the injured list due to right shoulder fatigue Monday, Stroman (controllable through 2020) and Giants left-hander Madison Bumgarner -- another soon-to-be free agent -- seem to be the most likely starters to be traded before the Deadline.
Back in June, Stroman, a New York native, made it known he would welcome the chance to pitch for the Yankees.
"I love pitching [at Yankee Stadium]," Stroman said at the time. "New York is like the mecca of the world. I love excitement, the bright lights, competition, I love pressure. I always loved pitching here. I haven't necessarily pitched well. I always enjoyed it. Yankee lineups are brutal. They are kind of hard to navigate. I love the spotlight. The bigger the moment, that's what I kind of wanted it to be."
However, MLB Network insider Jon Heyman gets the sense that the Yankees prefer Bumgarner to Stroman.
"[Stroman and Bumgarner] are going to be traded," Heyman said on the latest episode of the Big Time Baseball podcast. "I don't think there's any question about that at this point. … The Yankees I think are a little bit lukewarm on Stroman. They appreciate the kind words, the fact that he'd like to play in the bright lights and the big city, the fact that he's from Long Island. ... But I don't think he is at the top of their list. I think they'll consider him depending on what else is out there, but I do think, despite the emphasis on analytics, they will look more seriously at MadBum, I think they would like to get their hands on him."
Who could Giants target in a deal for both Bumgarner and Smith?
July 12: Giants stars Madison Bumgarner and Will Smith are two of the biggest names on the trade rumor mill. It's not often we see a rebuilding team put multiple chips in one deal, but could it happen?
One possibility, as suggested by ESPN's Bradford Doolittle (subscription required), would send both free-agent-to-be lefties to the upstart AL Central-leading Twins for prospects: outfielder Alex Kirilloff, southpaw Lewis Thorpe and two more young pieces.
"Trading a top-20 prospect like Kirilloff for two pending free agents is a steep price, and a little painful," Doolittle writes. "But let's remember who the Twins will be trying to navigate past this October. The Yankees and Astros are bona fide superteams. Minnesota could win 100 games and still rate third among the oddsmakers in the race for the American League flag."
Landing both Bumgarner and Smith would improve Minnesota's entire pitching staff. The rotation has been solid but could use another proven arm -- especially a postseason-tested one like Bumgarner -- to team with Jose Berrios, Jake Odorizzi and Kyle Gibson. Smith, meanwhile, would solidify perhaps the club's biggest question -- the back of the bullpen.
While Kirilloff -- the Twins' No. 2 prospect and No. 13 in baseball, per MLB Pipeline – might be "off limits," as LaVelle E. Neal III of the Minneapolis Star-Tribune suggested earlier this week, Minnesota has a deep outfield in place as is: Youngsters Byron Buxton and Max Kepler have broken out and joined stalwart Eddie Rosario. Plus, the Twins still have Trevor Larnach, who was their 2018 first-round pick, waiting in the wings.
Given the Giants' never-ending search for outfield help, president of baseball operations Farhan Zaidi no doubt would jump at the chance to acquire a young asset like Kirilloff. And Zaidi's best opportunity to do so might be by packaging his top two trade chips in the same deal.
Report: Astros, Twins, Braves, Brewers have interest in Bumgarner
July 8: The potential market for Giants left-hander Madison Bumgarner is starting to come into focus, with MLB Network insider Ken Rosenthal reporting in an article for The Athletic (subscription required) that the Astros, Twins, Braves and Brewers have interest in the San Francisco left-hander. Minnesota is the only one of those four that isn't on Bumgarner's reported eight-team no-trade list.
The Giants have long been expected to be among the Trade Deadline sellers this season, with impending free agents Bumgarner and Will Smith, as well as Sam Dyson (controllable through 2020) and Tony Watson (2020 player option), among their top assets.
However, president of baseball operations Farhan Zaidi said in an interview with the San Francisco Chronicle that he doesn't necessarily think the team has to move all, or any, of those players.
"The one thing that I've preached internally as we've talked to ownership, as we've talked through things in the clubhouse and with our baseball operations group is, we don't feel like we have to do anything, or there are X numbers of things we have to accomplish by July 31," Zaidi said.
"When you put yourself in that position you create unnecessary pressure and panic to do something that is not in your long-term interest. Like every other team out there we're in an evaluation period."
Zaidi conceded that the organization is thinking more about the future, but he left the door open for a possible Deadline addition that can help the MLB team this season.
"I still think there could be opportunities for us to trade away younger players for guys who can help us now," Zaidi said. "I wouldn't rule that out. I think the most important thing for us in this period is to maintain flexibility and our own open-mindedness over what makes the most sense as we get close to that July 31 Deadline."
Granted, it's in Zaidi's best interest if other teams think there's a chance the Giants are open to keeping their best players beyond the Trade Deadline. It remains likely that at least Bumgarner and Smith will be moved, as San Francisco has the third-worst record in the NL at the All-Star break.