Giants leaning toward keeping Bumgarner, Smith?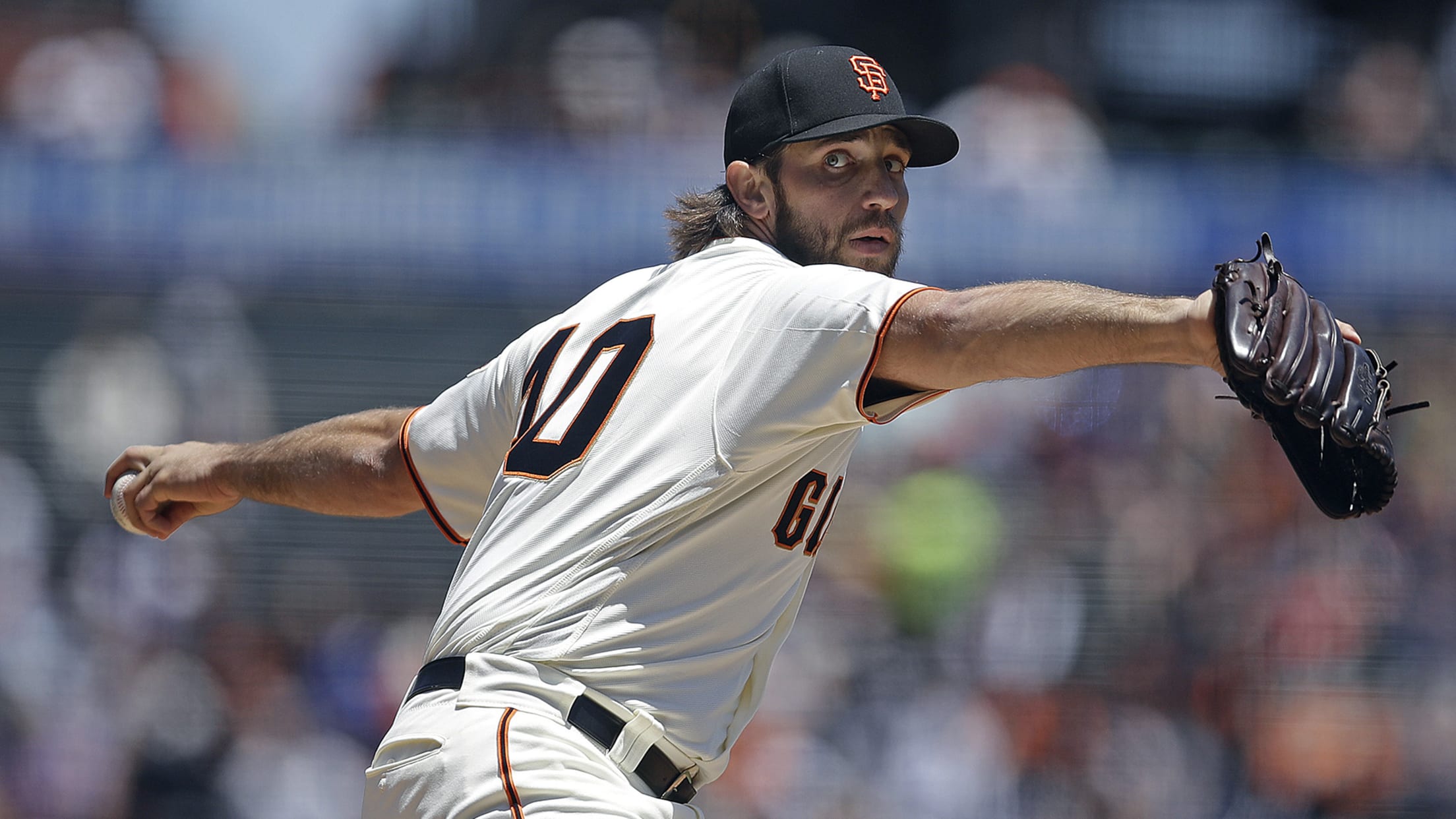 MLB.com is keeping track of all the latest news and trade rumors surrounding impending free agent Madison Bumgarner right here. • Watch MLB Network for around-the-clock Trade Deadline coverage
MLB.com is keeping track of all the latest news and trade rumors surrounding impending free agent Madison Bumgarner right here.
• Watch MLB Network for around-the-clock Trade Deadline coverage
Giants leaning toward keeping Bumgarner, Smith?
July 31: The Giants have gotten back into the postseason picture with a surprising surge, going 20-7 in their past 27 contests to lower their deficit to 2 1/2 games in the race for the second NL Wild Card spot and put free-agent-to-be Madison Bumgarner's availability in question.
Although the club has been keeping its options open by having "sell" conversations, per MLB.com's Jon Paul Morosi, MLB Network insider Jon Heyman reports that San Francisco is telling other teams that it is leaning toward keeping both Bumgarner and All-Star closer Will Smith.
#SFGiants currently telling teams they are leaning toward keeping MadBum and star reliever Will Smith. But things can change. 3 hours to go #TradeDeadline

— Jon Heyman (@JonHeyman) July 31, 2019
According to MLB Network insider Ken Rosenthal, the Yankees and Astros have been in on Bumgarner and Mets right-hander Zack Wheeler, another impending free agent. Both teams have been connected to D-backs southpaw Robbie Ray (controllable through 2020) as well. If Bumgarner is truly out of the mix, the competition for Wheeler and Ray could get even more heated.
Will be fascinating to see how today impacts outcome of American League in 2019. Both #Yankees and #Astros in on Bumgarner and Wheeler.

— Ken Rosenthal (@Ken_Rosenthal) July 31, 2019
Which teams might be interested in Bumgarner?
July 31: Although the extent of the talks is unclear, Tim Brown of Yahoo Sports reported that the Astros are "engaged" in discussions with the Giants involving Madison Bumgarner. Houston's interest in Bumgarner is "legitimate," per MLB Network insider Ken Rosenthal in an article for The Athletic (subscription required), and a source tells Rosenthal that the Giants are intrigued by Triple-A outfielder Joshua Rojas (the Astros' No. 22 prospect).
The Yankees might be more likely to consider Bumgarner after Marcus Stroman and Trevor Bauer were dealt, Rosenthal suggests. The Yanks would be "shocked" if the crosstown Mets traded them Zack Wheeler or Noah Syndergaard, Rosenthal writes, leaving Bumgarner, the D-backs' Robbie Ray and the Rangers' Mike Minor as the Yankees' best available options.
The Astros and Yankees are on Bumgarner's reported eight-team no-trade list, but there's an incentive for the southpaw to approve a deal: It would make him ineligible to receive a qualifying offer. The Draft-pick compensation tied to those who reject a qualifying offer has limited the market for some players in recent years, including left-hander Dallas Keuchel this past offseason.
Among the contenders not on Bumgarner's no-trade list, only the Twins are believed to be in the mix for the lefty, according to Rosenthal.
The Giants likely will continue to field offers for Bumgarner until the Trade Deadline, but a source told MLB.com's Mark Feinsand on Tuesday that it still was "doubtful" the team moves him.
I'm told by a source it's still "doubtful" that the Giants trade Bumgarner, and are more likely to make an incremental addition or two rather than being sellers.

— Mark Feinsand (@Feinsand) July 30, 2019
Giants may buy, but still having trade conversations regarding Bumgarner
July 27: At one point, it looked like a foregone conclusion that the soon-to-be free agent Madison Bumgarner would be moved before the Deadline. Now? Not so much. In fact, the surging Giants could go in the opposite direction, MLB.com's Mark Feinsand reported Friday.
Per Feinsand, a source with knowledge of the Giants' plans said the team is poised to become buyers if it is still in the thick of the NL Wild Card race at the start of the upcoming week, and it's all but certain Bumgarner will not be traded. The team appears to be doing its due diligence on possible additions, with MLB.com's Jon Paul Morosi reporting that San Francisco sent a high-level scout to evaluate the Tigers' Matthew Boyd on Tuesday.
That said, the club's front office hasn't completely shut down trade discussions concerning its top players, according to ESPN's Buster Olney, who has heard that the Giants are still in "listening mode" regarding Bumgarner.
Giants are trending upward. That said, the front office continues to go through the process (not surprisingly) of cultivating conversation around Madison Bumgarner and other pitchers in case they become sellers. Other teams say Giants still in listening mode re: Bumgarner.

— Buster Olney (@Buster_ESPN) July 27, 2019
Obviously, the quality of the offers San Francisco receives could also influence the team's willingness to trade Bumgarner. The Giants need to weigh whether the return from a trade would be better than the Draft pick they could potentially gain by keeping the left-hander through the end of this season and then going through the qualifying offer process.
Twins' trade targets could include Boyd, Greene, Bumgarner, Thor, more
July 19: The Twins are looking to add both a starter and a reliever before the Trade Deadline on July 31, and they appear to be casting a wide net in that search.
Sources told MLB.com's Jon Paul Morosi that Minnesota has inquired about the Tigers' Matthew Boyd and Shane Greene. Morosi also reports that the club had a top talent evaluator in San Francisco for Thursday's matchup between the Giants' Madison Bumgarner and the Mets' Noah Syndergaard. The Twins have interest in San Francisco's bullpen arms as well, per Morosi.
Source: #Twins had a top talent evaluator in San Francisco for last night's Madison Bumgarner-Noah Syndergaard matchup. Minnesota has the prospects to make a strong play for either starter and also has interest in the #SFGiants relievers. @MLB @MLBNetwork

— Jon Morosi (@jonmorosi) July 19, 2019
The Minneapolis Star Tribune's LaVelle E. Neal III reported earlier this month that the Twins' top three prospects -- shortstop Royce Lewis, outfielder Alex Kirilloff and right-hander Brusdar Graterol -- were off limits in trades.
The team would likely need to alter that stance to land Boyd (controllable through 2022) or Syndergaard (controllable through '23). Bumgarner should cost less, as he is set to hit free agency after this season. However, there's now some speculation that the surging Giants could keep Bumgarner and try to make the playoffs.
Was that Bumgarner's final start with Giants?
July 19: The Giants have been considered sellers for so long, it seems like some have missed the fact that they are on a six-game win streak as part of a 13-2 run that has them just 2 1/2 games out of an NL Wild Card spot.
Oh, and on the mound for them Thursday against the Mets in San Francisco? None other than longtime ace Madison Bumgarner, who has been one of the most talked-about trade candidates since the season started. The lefty came up big, allowing just one run in nine innings before the Giants rallied for two runs in the 16th inning of a 3-2 win over the Mets.
San Francisco's surprising hot stretch has at least raised the question of whether the club remains in line to move Bumgarner and any of its impact relievers like Will Smith, Tony Watson and Sam Dyson. It also means Bumgarner, a free-agent-to-be who has spent his entire professional career with the Giants, may not be as close to making his potential final start(s) with the only club he's ever known.
"Until they take [the Giants uniform] away from me, I'm not gonna think about it," Bumgarner told MLB.com's Manny Randhawa on his mindset amid all the rumors. "I'm not focused on whether it's my last start or not or whether they're gonna decide to make moves or not."
For his part, Bumgarner -- who turns 30 the day after the July 31 Trade Deadline -- has pitched well of late, with a 1.55 ERA, a 0.97 WHIP and a 30.4 percent strikeout rate over his past five starts. That has contributed to the Giants' turnaround, while also possibly increasing his value as a trade chip at the same time.
"If the Giants keep winning, Bumgarner's availability is going to be a tough decision for new Giants president of baseball operations Farhan Zaidi," MLB.com's Richard Justice writes. "But if he is available, he's going to bring an elite prospect [in return], because he is the guy who can alter a postseason picture the way [Justin] Verlander did in 2017."
These clubs could be best fits for Bumgarner
July 18: Madison Bumgarner's long record of postseason dominance has to be on the minds of contending teams as they ponder which starting pitchers to target at the Trade Deadline. Although it's been a few years since the 29-year-old lefty has pitched in the playoffs, there are some encouraging signs that his arsenal -- while not what it was during his peak seasons -- remains good enough to get the job done in October, as MLB.com's David Adler writes.
USA Today's Bob Nightengale thinks Bumgarner (along with star closer teammate Will Smith) is the most valuable commodity this year for that very reason. "Good luck finding another player on the trade market who has his postseason pedigree," he writes in a column addressing the Trade Deadline's biggest questions.
Which clubs could be the best fits for Bumgarner?
Well, there are the Astros, who need a starter to back up co-aces Justin Verlander and Gerrit Cole. "This is a perfect fit on so many levels," MLB.com's Richard Justice writes in matching seven contenders with trade targets. "His competitive fire and playoff chops are exactly what the Astros want, and he just might thrive again in a winning environment. He might not dominate the way Justin Verlander did after his arrival in 2017, but if the Astros opened the postseason with a Verlander/Gerrit Cole/Bumgarner front three they'd be nicely positioned for another run."
Meanwhile, ESPN's David Schoenfield thinks Bumgarner is the player the Yankees should target at the Trade Deadline. "No, it's not 2014 and trading for Bumgarner and expecting a similar level of October dominance isn't realistic. But do you want this guy on the mound in a big game? Of course you do," Schoenfield writes. "The Yankees haven't even been to a World Series since winning in 2009. This is the guy most likely to help push them over the top."
Or how about the Twins? MLB Network analyst and former GM Jim Bowden, writing for The Athletic (subscription required), argues that Minnesota makes sense as a destination for Bumgarner, especially in a combo deal with Smith. "If the Twins want to hold off the Indians and win the division, and then be in a position to legitimately challenge the Yankees and Astros in the playoffs, this type of trade could accomplish that feat," Bowden writes.
Bumgarner's ability to help a club on the bubble get to October also makes the Cardinals one interesting possibility, according to Nightengale. "The Cardinals are experiencing their longest playoff drought in 20 years, and the heat is starting to mount on the front office," he writes. "They must come up with a frontline starter, with Bumgarner appearing to be a perfect fit, if they're going to have a chance to catch the Cubs."
The Phillies have also looked into a trade for Bumgarner, per NBC Sports Philadelphia. Philadelphia has a strong need for starting pitching and has inquired about several top hurlers, including Mike Minor and Matthew Boyd.