Kapler benches Franco for lack of hustle
Segura out of starting lineup with bruised heel; Nicasio rejoins bullpen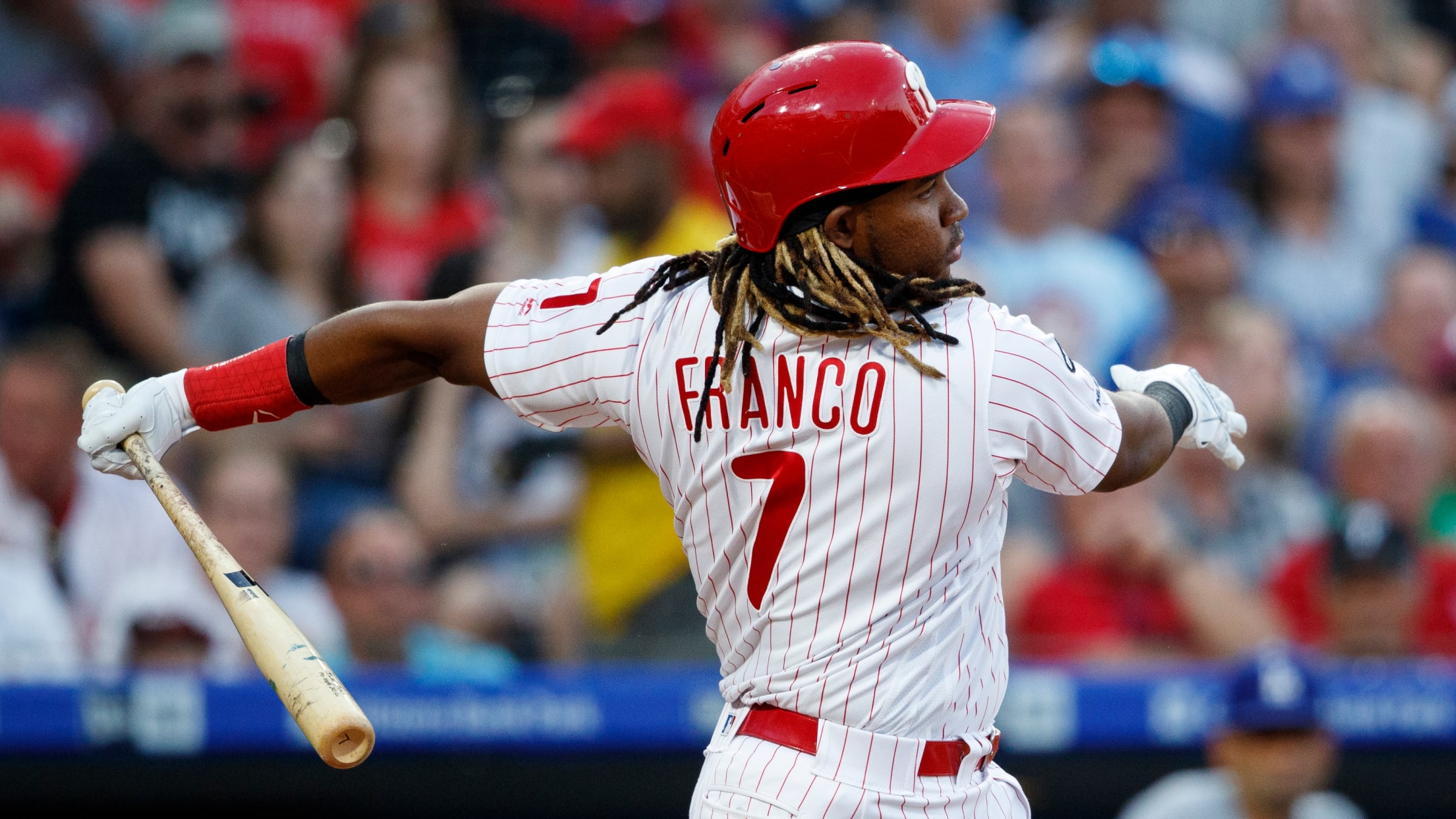 PHILADELPHIA – Phillies manager Gabe Kapler said Maikel Franco was not in Tuesday night's lineup against the Dodgers at Citizens Bank Park because he did not run to first base on a ground ball to Dodgers third baseman Justin Turner with the bases loaded and two outs in the third
PHILADELPHIA – Phillies manager Gabe Kapler said Maikel Franco was not in Tuesday night's lineup against the Dodgers at Citizens Bank Park because he did not run to first base on a ground ball to Dodgers third baseman Justin Turner with the bases loaded and two outs in the third inning of Monday night's loss.
Turner's throw pulled first baseman Max Muncy off the bag, but because Franco never ran, Muncy had plenty of time to put his foot back on the bag to end the inning.
Kapler said that Franco is feeling some tightness in his groin, but he was not benched because he is injured.
"You guys know that these decisions or me taking a player out of the lineup in a punitive way is not my natural way of handling these type of situations," Kapler said. "In this particular situation, I thought it was critical to address in part because right after some of the other incidents that we've had -- I had a conversation with the club [at Nationals Park in Washington on June]. I shared with them that it's not an acceptable level of effort and that we have to do a better job, so I thought this was the right time to make a change in this situation."
The Phillies have had at least a handful of instances this season when a player has not hustled while running the bases. In the past, Kapler has chosen to talk to the player about his actions rather than pulling him from a game or keeping him from the next day's lineup.
"Maikey took responsibility immediately," Kapler said. "He said he had a hard time sleeping last night over it. Did mention that his groin was tight, and that was the reason he wasn't able to get down the line. And I said, 'Look, I can't put you in the lineup today.' He said he was ready to play today. I said, 'I still can't put you in the lineup today, because if you're not able to give us that 100 percent effort down the line in that situation last night, it's not right for me to start you today.' He understood that and accepted full responsibility for it."
Kapler showed Franco video of the play in his office.
"I wanted him to kind of see what that looked like," Kapler said.
Segura has bruised heel
Shortstop Jean Segura did not start Tuesday because of a "heel contusion," according to Kapler.
"We're not concerned about it being a long-term thing," Kapler said. "He was in the hot tub and doing his contrast stuff, and I said, 'If this was the 15th inning and it was bases loaded, could you hit?' And he said, 'Sure, I'd just hop to first base.' The net of all this is that we're not concerned about long-term implications here. Likelihood is we'll try to give him a full day."
Nicasio rejoins bullpen
The Phillies reinstated right-hander Juan Nicasio from the 10-day injured list. They optioned right-hander Yacksel Ríos to make room for him on the 25-man roster.
In another roster move, the Phillies placed right-hander Edubray Ramos on the 10-day IL with a right shoulder impingement. Philadelphia recalled lefty Austin Davis from Triple-A Lehigh Valley.