Make-A-Wish child plays ball at Busch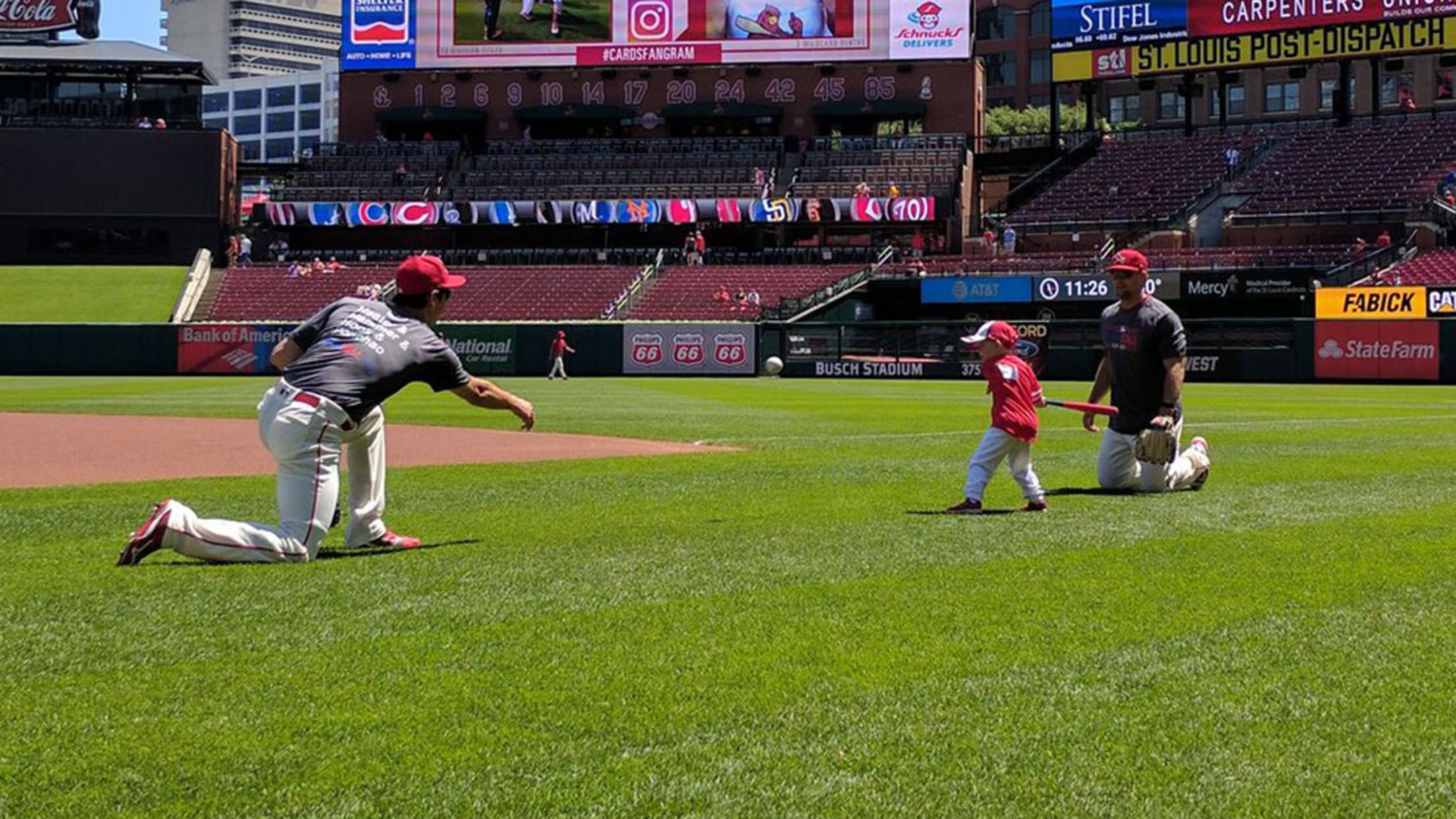 Bryor Lacey plays a pickup game with Matt Bowman and Trevor Rosenthal. (Jenifer Langosch)
ST. LOUIS -- Three months after being granted a Make-A-Wish trip to Cardinals Spring Training, 3-year-old Bryor Lacey reunited with some of the players who befriended him there prior to Saturday's 7-0 win over the Phillies.Lacey, who will be an honored guest at the Cardinals' Wives for Wishes fundraiser on
ST. LOUIS -- Three months after being granted a Make-A-Wish trip to Cardinals Spring Training, 3-year-old Bryor Lacey reunited with some of the players who befriended him there prior to Saturday's 7-0 win over the Phillies.
Lacey, who will be an honored guest at the Cardinals' Wives for Wishes fundraiser on Sunday, started his big weekend with a visit to Busch Stadium. He was taking an on-field tour when a few relievers spotted him as they wrapped up their pregame work. They stopped to visit, and after a few minutes of conversation, Matt Bowman asked Lacey if he wanted to play a little baseball.
It was an instant yes.
Bowman brought Lacey out to the grass to pitch to the little boy who dreams of growing up to be a big league pitcher like his favorite player, Adam Wainwright. Trevor Rosenthal joined in to help catch. When Lacey would squirt a hit past Bowman, he'd run by him with a smile.
Matt Bowman and Trevor Rosenthal playing ball with Bryor, who is a Make-A-Wish guest today. #STLCards pic.twitter.com/IzKnaHAILr

— Jenifer Langosch (@LangoschMLB) June 10, 2017
It was all a welcome distraction for Lacey, who has been battling childhood acute lymphoblastic leukemia since January 2016. ALL, as it is commonly referred to, is a type of cancer in which the bone marrow makes too many immature lymphocytes, a type of white blood cell.
The Cardinals have long had a relationship with the Make-A-Wish Foundation, and Sunday's Cardinals Wives event will mark the seventh year that the two groups have joined in a fundraising effort. Together, they have raised more than $1 million, which has helped grant more than 200 wishes to local children battling life-threatening medical conditions.