Mallex Smith is the 'football guy' on Rays
Right fielder reaping benefits from switching sports in high school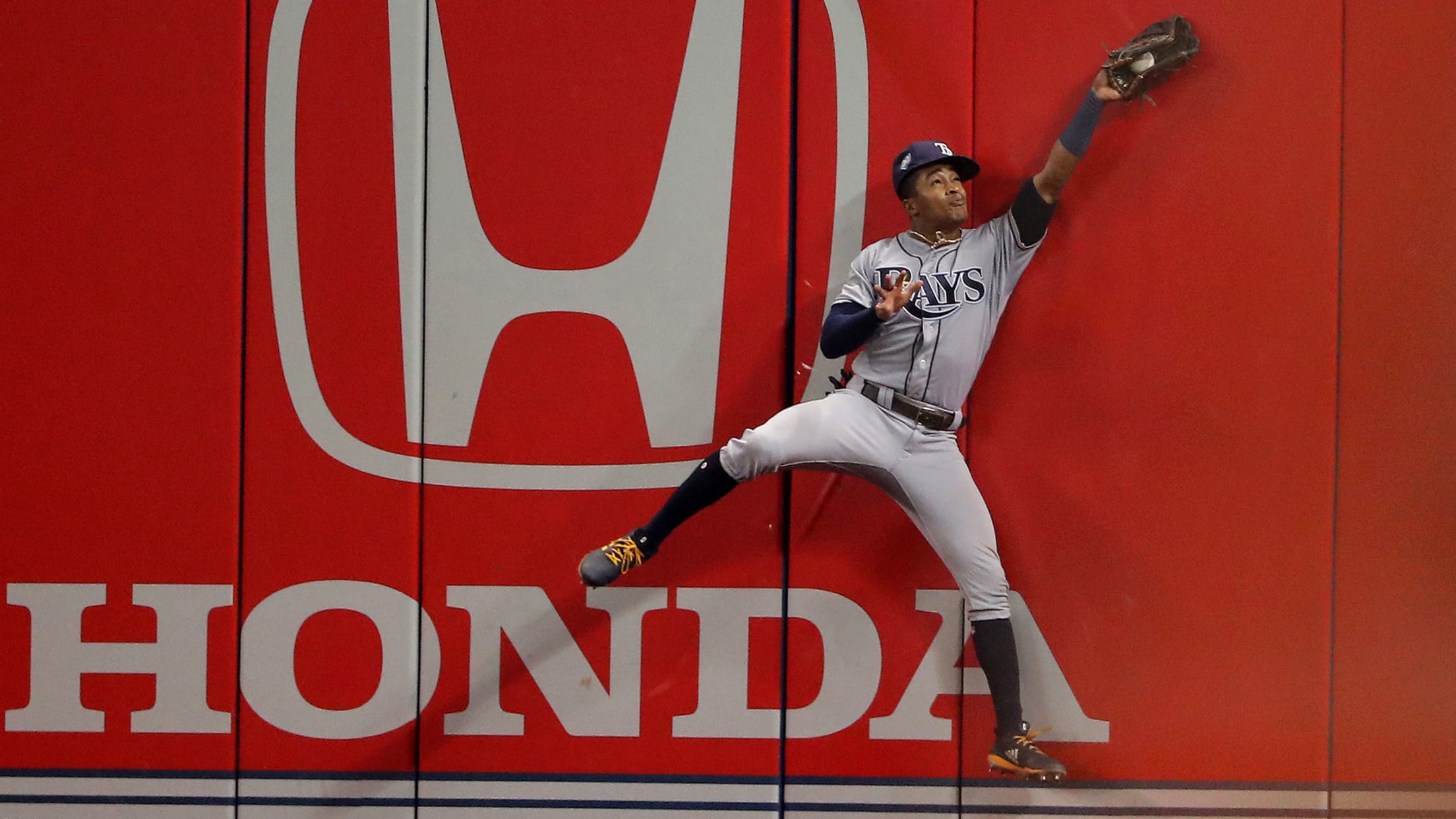 TORONTO -- It's Saturday afternoon and Mallex Smith is thinking about a decision he made during his senior year in high school.While his teammates get ready for their afternoon game in Toronto, Smith is throwing a football with anyone who will join him."I am definitely the football guy on the
TORONTO -- It's Saturday afternoon and Mallex Smith is thinking about a decision he made during his senior year in high school.
While his teammates get ready for their afternoon game in Toronto, Smith is throwing a football with anyone who will join him.
"I am definitely the football guy on the team," Smith said. "I keep a football on me all the time."
The Rays' 25-year-old right fielder didn't grow up as a baseball player, his first love was football.
"Baseball came around when I realized that I could really play baseball in like 11th grade," Smith said. "Then, by the time my 12th-grade year came around, that's when I kind of made the switch very reluctantly."
Smith played safety at James S. Rickards High School in Tallahassee, Fla. He was never a top recruit, but he insists he would have played in college had he not switched to baseball. It was a change Smith made when he began to realize the dangers associated with playing football.
"Just being able to have my knees and my head when I'm through with my career was worth missing out on the sport," Smith said.
The decision didn't always sit well with Smith. After being selected in the fifth round of the 2012 MLB Draft, he flew through the Minors and made his Major League debut in 2016 at the age of 23 with the Braves. It was a start that didn't go very well. He went 6-for-44 to begin his young career and finished the season hitting .238 in 72 games.
"When I was going through my first struggles and everything was just so new, I just didn't know," Smith said. "You go through your first 3-for-45 and you start questioning did you make the right decision, but like all things, just stay true to it and continue to work hard and I feel like I'll reap the benefits."
Smith has been a breakout star this year for the Rays. His batting average sits over .300 coming into Saturday afternoon and his 35 stolen bases this year rank third in the Majors. His success this year has confirmed to him that he made the right decision giving up on his football career.
He flashed his football prowess in the fifth inning of Friday night's 11-3 victory over the Blue Jays when he tracked down a hard-hit fly ball from Devon Travis and made a leaping grab before colliding hard with the lightly padded outfield wall in Toronto.
"I've had collisions, I've run into people, I've ran into walls and it doesn't bother me," Smith said. "That's what I like to do, so if I'm running into a wall, at least the wall isn't moving."
If Saturday's afternoon game doesn't go too late, Smith will likely be hustling back to his hotel and parking himself in front of the television to watch the Florida Gators game. He'll watch and think about how different things could be if he didn't opt to focus on baseball in 11th grade.
Aaron Rose is a reporter for MLB.com based in Toronto.