Pina to 10-day IL; Crew calls up Nottingham 
Jeffress sees increase in velocity, Anderson to return to the rotation Saturday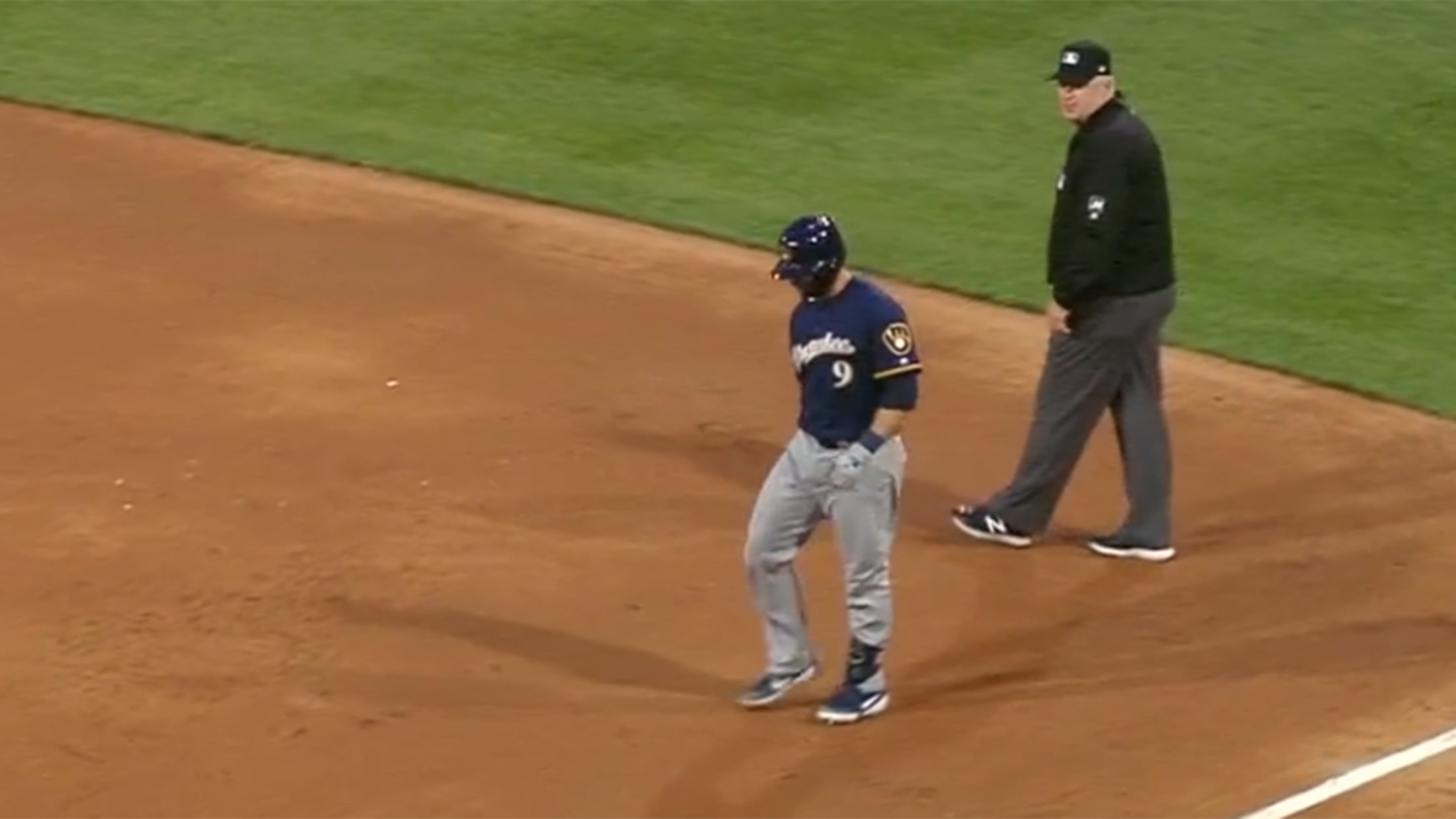 PHILADELPHIA -- Manny Pina was officially placed on the 10-day injured list Thursday after suffering a right hamstring strain in Wednesday's win over the Phillies. The Brewers recalled Jacob Nottingham from Triple-A San Antonio to take Pina's place as the No. 2 catcher behind Yasmani Grandal. Milwaukee had two catchers
PHILADELPHIA -- Manny Pina was officially placed on the 10-day injured list Thursday after suffering a right hamstring strain in Wednesday's win over the Phillies.
The Brewers recalled Jacob Nottingham from Triple-A San Antonio to take Pina's place as the No. 2 catcher behind Yasmani Grandal. Milwaukee had two catchers to choose from on the 40-man roster, but Nottingham's familiarity with the staff and organization helped him get the nod over David Freitas, who was acquired in a trade with the Mariners in mid-April.
Nottingham, one of two players Milwaukee received from Oakland in the Khris Davis trade, is the Brewers' No. 16 prospect according to MLB Pipeline. He appeared in nine games during three stints with the Brewers last season.
"We're going to lean on Yasmani here in this stretch," manager Craig Counsell said. "But Jacob's familiarity and defensively, I think he's done a solid job each time he's been here."
Grandal has caught 314 innings this season, the third-highest total among all Major League backstops. He'll be asked to carry the load even more during Pina's absence, but Counsell believes the 30-year-old is up to the challenge.
"His motor is really high and his energy level is really high. He doesn't ever physically look like it's costing him anything, but there is a toll," Counsell said. "I always think the mental toll catching is much more than physical. It is a demanding physical position, but the decision-making every game and to be locked into that, it's just mentally challenging, for sure. That's where I think the [upcoming] off days become needed more than anything, but Yas has proved durable. He's done it in the past, we're going to ask him of it the next couple weeks and I'm confident he's up to it."
Pina headed back to Milwaukee Thursday morning to be examined by team physician Dr. William Raasch, who will determine whether any additional testing is required. Even if Pina misses just the minimum 10 days, Counsell noted that the Brewers couldn't afford to go through their weekend series in Atlanta without a backup catcher.
Pina is hitting .133/.220/.244 with one home run and two RBIs in just 45 at-bats this season, so the Brewers will likely send him on a rehab assignment when he's healthy in order to get him some much-needed at-bats.
Feeling the heat
Jeremy Jeffress averaged between 94.8 and 97.5 mph with his four-seam fastball during the first nine years of his career, but the right-hander's heater is averaging just 93.5 mph this season, according to Statcast.
That's what has made his recent radar gun readings so encouraging for Counsell, who saw Jeffress' velocity start to pick up a couple weeks ago in the series against Colorado. Jeffress had some 95-97 mph pitches in the series against the Phillies, which has the Brewers "considering other things with the bullpen" when it comes to roles.
Josh Hader has served as Milwaukee's closer all season, but Jeffress' recent surge in velocity could result in a closer-by-committee approach in the near future.
"How I looked at it last year is that we really flip-flopped; when we had Josh and J.J. and no Corey [Knebel] -- which we did for significant parts of the year last year -- we didn't think about it as one is the closer," Counsell said. "It was however the game played out. That's what we're kind of considering at this point."
Chasing the dream
Chase Anderson will return to the Brewers rotation Saturday against the Braves, and given the way the rest of the staff has pitched during the past few weeks, the 31-year-old is hoping to continue that trend after spending the past two weeks on the injured list with a right middle finger laceration.
Since April 27, Zach Davies, Gio Gonzalez, Brandon Woodruff and Jhoulys Chacin combined for a 1.47 ERA in 14 starts (entering Thursday).
"You don't want to be the weakest link; you want to go out there, do your job and help this team continue to stay on the roll we're on," Anderson said. "All the starters have done a great job; Davies has been leading that trend, Gio coming in and doing a great job, Woody has been awesome the last three or four starts and Jhoulys has pitched great the last couple times out. My goal is to go out and just keep the line going."
Although the Brewers used Adrian Houser as an opener last week before Freddy Peralta tossed five innings, Anderson hasn't been told that he'll be doing the same on Saturday.
"They just told me I'm starting Saturday, so I'm looking forward to pitching deep in the game," Anderson said. "That's my mindset."
Mark Feinsand, an executive reporter, originally joined MLB.com as a reporter in 2001.