All-Around Athletes
March Madness reminds fans of some of MLB's two-sport standouts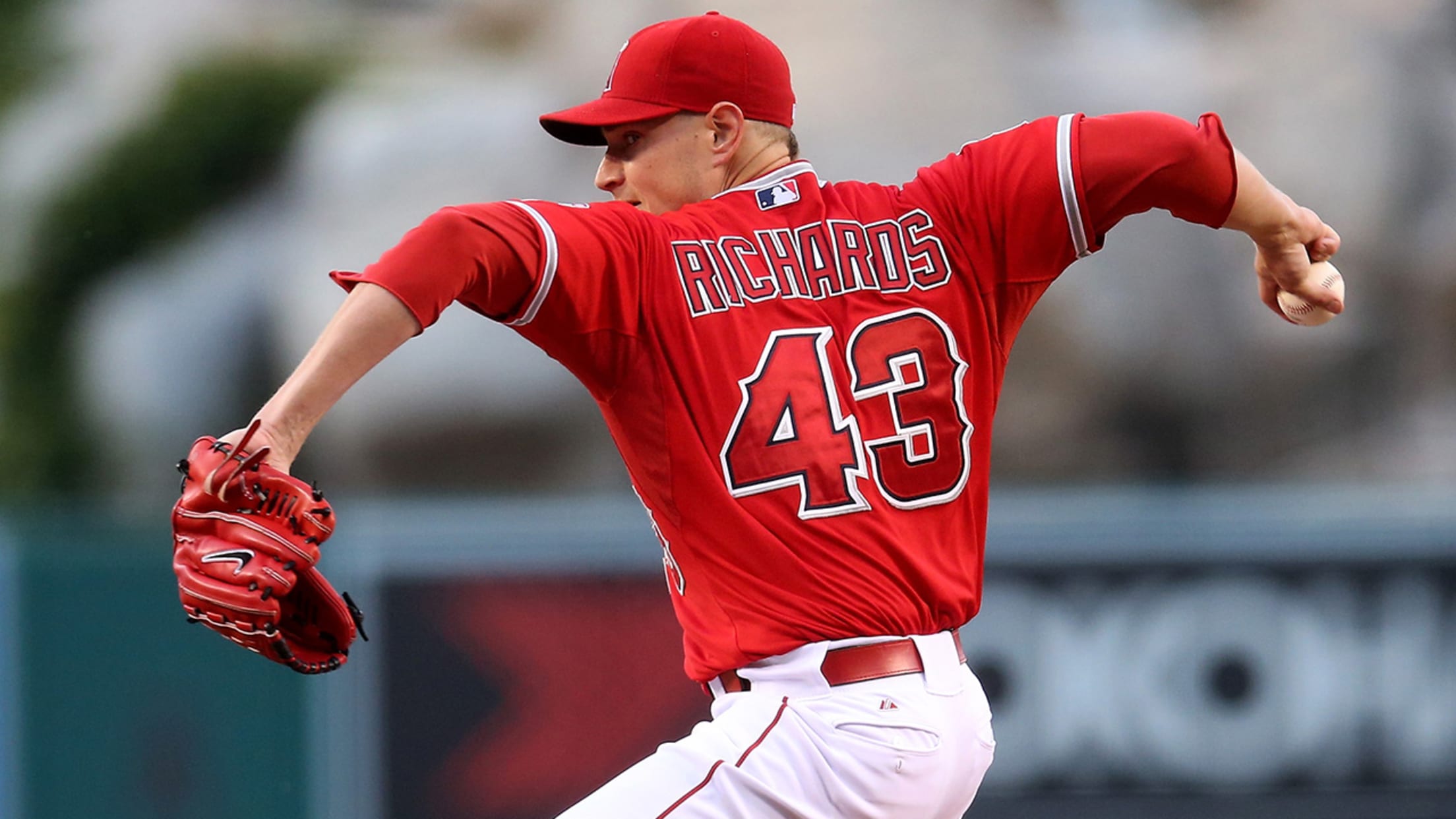 Angels pitcher Garrett Richards excelled at both baseball and basketball at an early age. (Getty Images) (Stephen Dunn/Getty Images)
The halfway point of March always signals a turning point for Spring Training, as teams really begin to zero in on the upcoming season. But for players and sports fanatics alike, it's hard not to get distracted this time of year. No wonder they call it March Madness.College basketball's penultimate
The halfway point of March always signals a turning point for Spring Training, as teams really begin to zero in on the upcoming season. But for players and sports fanatics alike, it's hard not to get distracted this time of year. No wonder they call it March Madness.
College basketball's penultimate tournament begins this week and will continue until April 4, a day after the 2016 MLB season gets underway. Given the timing, we looked back on some of the most notable Major Leaguers who have also starred on the court. The group is quite impressive and, as many elite ballplayers will tell young athletes, having a varied skill set can be beneficial.
"I played all sports growing up - basketball, baseball, football," said Carson Fulmer, a pitcher in the White Sox system and the No. 8 overall pick of the 2015 Draft out of Vanderbilt. "My advice is not to just stick to one sport. Play all different types of sports, feel it out. If you love one more than the other, you should go with that. I just fell in love with baseball because I lived in Florida and I could always play it."
"When I was a kid, my parents made me take every other weekend off [from baseball]," echoed Angels pitcher Garrett Richards, who played for the University of Oklahoma, which has a No. 2 seed in this year's NCAA tournament. "I played basketball and stuff as a kid, too."
Although just a handful of athletes have been able to succeed at high levels in both baseball and basketball, their names might come as a surprise. Back in the 1950s, towering Cardinals pitcher Bob Gibson received a basketball scholarship to Creighton University. He signed with St. Louis after school, but deferred his contract to play for the Harlem Globetrotters in 1957. A decade later, Cubs pitcher Fergie Jenkins played for the Globetrotters, as well, but only during the offseason.
Before developing into a Hall of Famer, Tony Gwynn earned a basketball scholarship to San Diego State University, where he went on to become a two-sport star. Fellow Hall of Famer Sandy Koufax also played both sports in college, for the University of Cincinnati.
NBA star Michael Jordan famously retired from baseball in the mid-1990s to pursue an MLB career with the Chicago White Sox, but he didn't make it past the Minor Leagues. Most recently, Reds pitching prospect Amir Garrettdecided to make baseball his singular focus after playing basketball for two seasons at St. John's University while honing his arsenal in the Minor Leagues.
As crazy as that may seem, it's possible that a diverse array of interests can propel a ballplayer to the next level.
"I have three brothers, so growing up, there was always friendly competition, no matter what we were doing -- from baseball to basketball to football to racing in the pool in the backyard," said Cory Rasmus. "I think that helped us develop that drive and determination to reach levels that we might not have reached otherwise."
Allison Duffy-Davis is an associate editor for MLB.com.