Stroman completes final tuneup for Opening Day
Pompey concussed after freak accident; Paulino sent down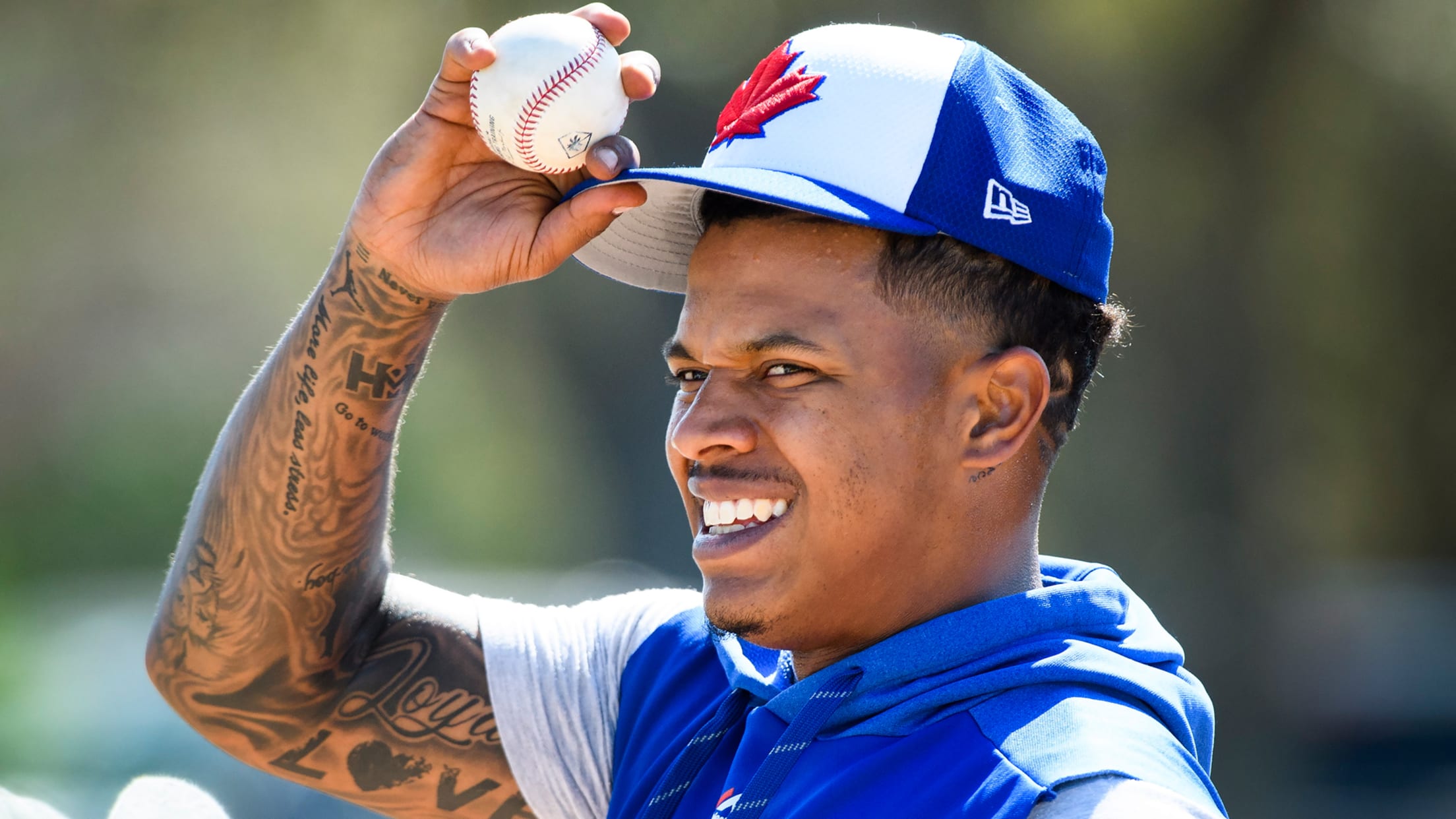 DUNEDIN, Fla. -- Marcus Stroman made his final tuneup before the start of the regular season with three innings in a Minor League game on Friday afternoon. Stroman threw approximately 45 pitches in his last appearance of the spring. The 27-year-old made four official starts this spring with a 2.19
DUNEDIN, Fla. -- Marcus Stroman made his final tuneup before the start of the regular season with three innings in a Minor League game on Friday afternoon.
Stroman threw approximately 45 pitches in his last appearance of the spring. The 27-year-old made four official starts this spring with a 2.19 ERA over 12 1/3 innings, and he also made two appearances on the Minor League side.
The next time Stroman steps onto the mound for a game it will be Opening Day. Toronto's No. 1 starter will get the call in the season opener vs. the Tigers on Thursday afternoon at Rogers Centre.
"I think it just feeds into my personality, and who I am as a person," Stroman said of starting on Opening Day. "The greater the stage, the bigger the lights, the more I feel I'm really able to lock it in. Something I feel I've always had since I was a young age.
"I'm not scared of the spotlight, at all. If there's one person that wants the ball when the game's on the line, that's me. I could be out there even hurt and sometimes I want the ball."
Stro motion 🔥🔥🔥@MStrooo6 is ready: https://t.co/NJ8IuAlGZp pic.twitter.com/KstjFmPg2b

— Toronto Blue Jays (@BlueJays) March 19, 2019
Pompey forced out by concussion
Blue Jays outfielder Dalton Pompey has been diagnosed with a concussion, and a timetable for his return is currently unknown.
Pompey injured himself during a freak accident inside the Blue Jays' clubhouse on Thursday morning. The native of Mississauga, Ontario, stood up and hit his head on some bats that were being stored on top of his locker.
The 26-year-old has a history of concussion-related issues. He missed almost the entire 2017 season after sustaining a concussion while playing for Team Canada at the World Baseball Classic. The previous issues mean this latest setback has to be taken even more seriously.
"My heart breaks for him," Blue Jays general manager Ross Atkins said. "That guy has had an incredible string of bad luck. Any time that someone has a third concussion, it's never a good thing. In terms of severity, it's not necessarily mild, so it is something we need to be concerned and very thoughtful about."
Pompey was competing for the final spot on the Blue Jays' 25-man roster this spring. Toronto is set to go with an outfield corps of Teoscar Hernandez, Kevin Pillar, Randal Grichuk and Billy McKinney, while Pompey was vying to be added as a fifth option. Pompey is out of Minor League options and cannot be sent down without first clearing waivers.
Buchholz getting closer
Right-hander Clay Buchholz also made an appearance in a Minor League game on Friday with two innings of work. Buchholz, who signed a one-year deal earlier this month, previously had thrown live batting practice and is now in the process of getting stretched out for the regular season.
Buchholz is expected to require at least a couple of Minor League starts before he will be ready to join the Blue Jays. At first, it didn't seem like Buchholz would be ready until the end of April, but Atkins mentioned it could happen by early April instead.
"We're not going to rush him, that's for sure," Blue Jays manager Charlie Montoyo said. "He's got a schedule, and we're going to take our time with him. Whenever you see him in the big leagues, it's because he's ready to compete in the big leagues and give us some length. Whatever, five, six innings."
Paulino sent down
Right-hander David Paulino was optioned to Minor League camp on Friday afternoon, which means he has been eliminated from the consideration for one of the final spots in the bullpen.
The demotion was somewhat surprising, because it came one day after Montoyo specifically mentioned Paulino as a candidate to pitch some high-leverage innings following injuries to Ryan Tepera and John Axford.
Toronto currently has Ken Giles, Joe Biagini, Tim Mayza and likely Bud Norris with guaranteed jobs in the bullpen. That leaves three or four spots from a group that includes Rule 5 pick Elvis Luciano, long reliever Sam Gaviglio, Thomas Pannone, Trent Thornton, Danny Barnes, Javy Guerra and possibly a few others.
Up next
The Blue Jays will be celebrating Canada Day a little bit this year when the club takes on the Canadian Junior National Team on Saturday afternoon at Dunedin Stadium. Left-hander Clayton Richard will get the start while most of the Canadians playing in Toronto's Minor League system are expected to make the trip, as well, including prospect Demi Orimoloye. First pitch from Dunedin is scheduled for 1:07 p.m. ET. As part of a split-squad day, Toronto also will be playing the Yankees on Saturday afternoon with Thornton starting that game, which starts at 1:05 p.m. and can be watched on MLB.TV.