Recalling 'Mission 27,' Mo anticipates big year
NEW YORK -- Mariano Rivera owns a vivid recollection of the pitch that secured the Yankees' most recent World Series championship. The first unanimous Hall of Famer in Major League history can see himself breaking to cover first base on that November evening in 2009, watching Robinson Cano field the
NEW YORK -- Mariano Rivera owns a vivid recollection of the pitch that secured the Yankees' most recent World Series championship.
The first unanimous Hall of Famer in Major League history can see himself breaking to cover first base on that November evening in 2009, watching Robinson Cano field the ground ball and feed it into Mark Teixeira's glove. "Mission 27," as it was known in-house, was complete.
Rivera returned to that mound on Thursday, tossing a ceremonial strike to catcher Gary Sanchez that helped open the Yankees' 2019 season -- the year, the all-time saves leader said, when the "Chase for 28" should finally be realized.
• Early push makes festive day in Bronx a winner
"It's amazing that it's been 10 years," Rivera said. "It's time. It's time that we get No. 28. I believe in the team, I believe in seeing the guys playing and that the talent we have is enough to win. The question is, are we hungry enough? I believe they are."
More than five years removed from his final pitch in pinstripes (that also took place on the Yankee Stadium mound, where he tearfully handed the ball over to Derek Jeter and Andy Pettitte), Rivera keeps close tabs on the only franchise for which he played -- particularly the pitching.
A Hall-of-Fame-worthy first pitch. #OpeningDay #UnaniMOus pic.twitter.com/BkkCsmxOYM

— New York Yankees (@Yankees) March 28, 2019
"The rotation, it's too bad that we have [Luis] Severino down, but at the same time, we have enough talent to fill that hole for a minute and do it well. We are prepared for the season," Rivera said. "The Yankees have such a great bullpen; [Aroldis] Chapman in the back. Hopefully they will do what they need to do. They're hungry. I can see it in their eyes."
Rivera appeared on all 425 ballots cast by eligible members of the Baseball Writers' Association of America, securing his place in the National Baseball Hall of Fame. As he prepares to join the all-time team in Cooperstown, N.Y., Rivera said that his first trip of the year to Yankee Stadium took on greater meaning.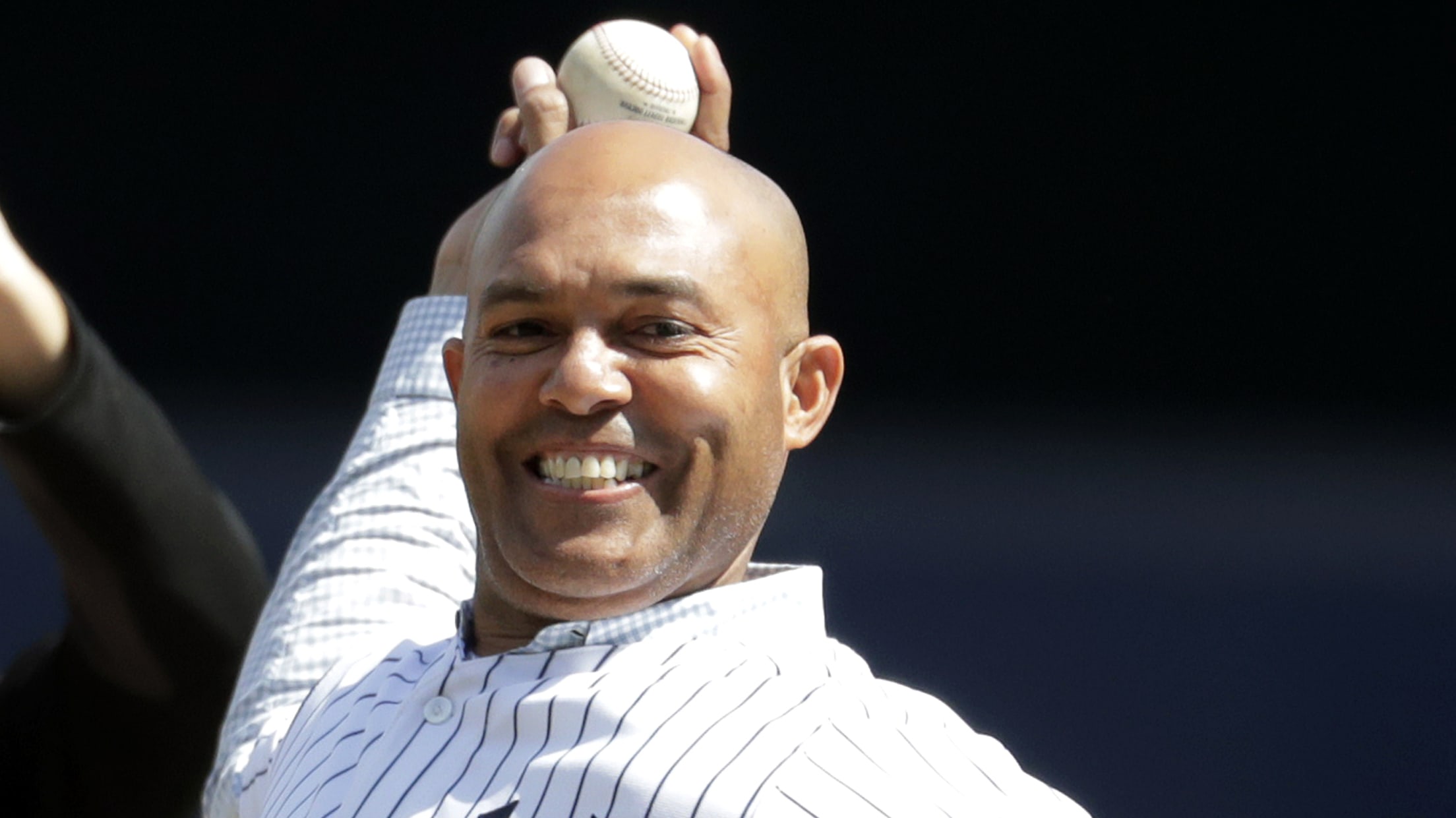 "Being back as a Hall of Famer, it's special," Rivera said. "I'm more grateful to the fans that have been there for me, supporting me day in and day out for 19 years. Now I know it's going to be special this July 21st. I'm going to take this time to invite the whole New York [area] to come and support me. I believe this is us, it's not just me. This is us, and I thank God for that."
In his brief conversations with the members of the current roster, some of which reached Game 7 of the American League Championship Series against Houston in 2017, Rivera said that he has been impressed by the players' focus.
"It's interesting, how they reacted after that previous year, 2017," Rivera said. "They were close to the World Series. Last year, unfortunately, we got eliminated in the first round, but now it's different. New year, new challenges, new beginning. That beginning is a great hope that we can do it this year. It will be a great year, 2019. Good things happen in 2019."