Here are the Mariners' 2019 Top 30 Prospects
For most of Jerry Dipoto's tenure as general manager of the Mariners, he used the farm system to make trades for big leaguers who would help the club win at the Major League level. But after an 89-win season in 2018, he surveyed the landscape and realized it was time
For most of Jerry Dipoto's tenure as general manager of the Mariners, he used the farm system to make trades for big leaguers who would help the club win at the Major League level. But after an 89-win season in 2018, he surveyed the landscape and realized it was time to flip the script.
Dipoto went from selling prospects to buying them this offseason and the new Top 30 list is a direct reflection of his efforts. The three members on this year's Top 100 prospects list, the most Mariners to make that ranking since they had five in 2013, all came via trade: Justus Sheffield was the top prize of the James Paxton deal with the Yankees, while Jarred Kelenic and Justin Dunn came from the Mets courtesy of the Robinson Cano/Edwin Diaz deal. A total of seven of the Mariners' top 15 are offseason trade acquisitions.
Top 30 Prospects lists
| | |
| --- | --- |
| AL East | BAL, BOS, NYY, TB, TOR |
| NL East | ATL, MIA, NYM, PHI, WSH |
| AL Central | CLE, CWS, DET, KC, MIN |
| NL Central | CHC, CIN, MIL, PIT, STL |
| AL West | HOU, LAA, OAK, SEA, TEX |
| NL West | ARI, COL, LAD, SD, SF |
| Division | Team |
It's not that there isn't homegrown talent to be excited about. Draftee Evan White is an elite defender at first who has a great approach at the plate and international acquisition Julio Rodriguez might have the highest ceiling in the organization.
Seattle's system has made a healthy jump from the bottom of most organizational rankings, but there's still work to be done. If the organization can stay in prospect-acquisition mode, it should be able to continue rising up that chart, though with many of the Top 30 in the upper levels, the graduation rate could cause some attrition. It also could help the Mariners compete again sooner rather than later, which makes one wonder how long they'll be willing to be prospect buyers.
Here's a look at the Mariners' top prospects:
1) Justus Sheffield, LHP
2) Jarred Kelenic, OF
3) Justin Dunn, RHP
4) Evan White, SEA
5) Julio Rodriguez, OF
Complete Top 30 list »
Biggest jump/fall
Here are the players whose ranks changed the most from the 2018 preseason list to the 2019 preseason list.
Jump: Joey Curletta, 1B (2018: NR | 2019: 18) -- Twice traded, Curletta improved approach allowed him to tap into masssive raw power and win Texas League MVP last season.
Fall: Max Povse, RHP (2018: 7 | 2019: NR) -- Move to pen didn't work, then ended up back down in Double-A in lost 2018 season.
Best tools
Players are graded on a 20-80 scouting scale for future tools -- 20-30 is well below average, 40 is below average, 50 is average, 60 is above average and 70-80 is well above average. Players in parentheses have the same grade.
Hit: 60 -- Jarred Kelenic
Power: 60 -- Kyle Lewis
Run: 70 -- Noelvi Marte
Arm: 60 -- Juan Querecuto (Jarred Kelenic, Kyle Lewis)
Defense: 70 -- Evan White
Fastball: 70 -- Gerson Bautista
Curveball: 60 -- David McKay
Slider: 65 -- Justus Sheffield
Changeup: 60 -- Sam Carlson
Control: 55 -- Logan Gilbert (Erik Swanson, Sam Carlson, Brayan Perez)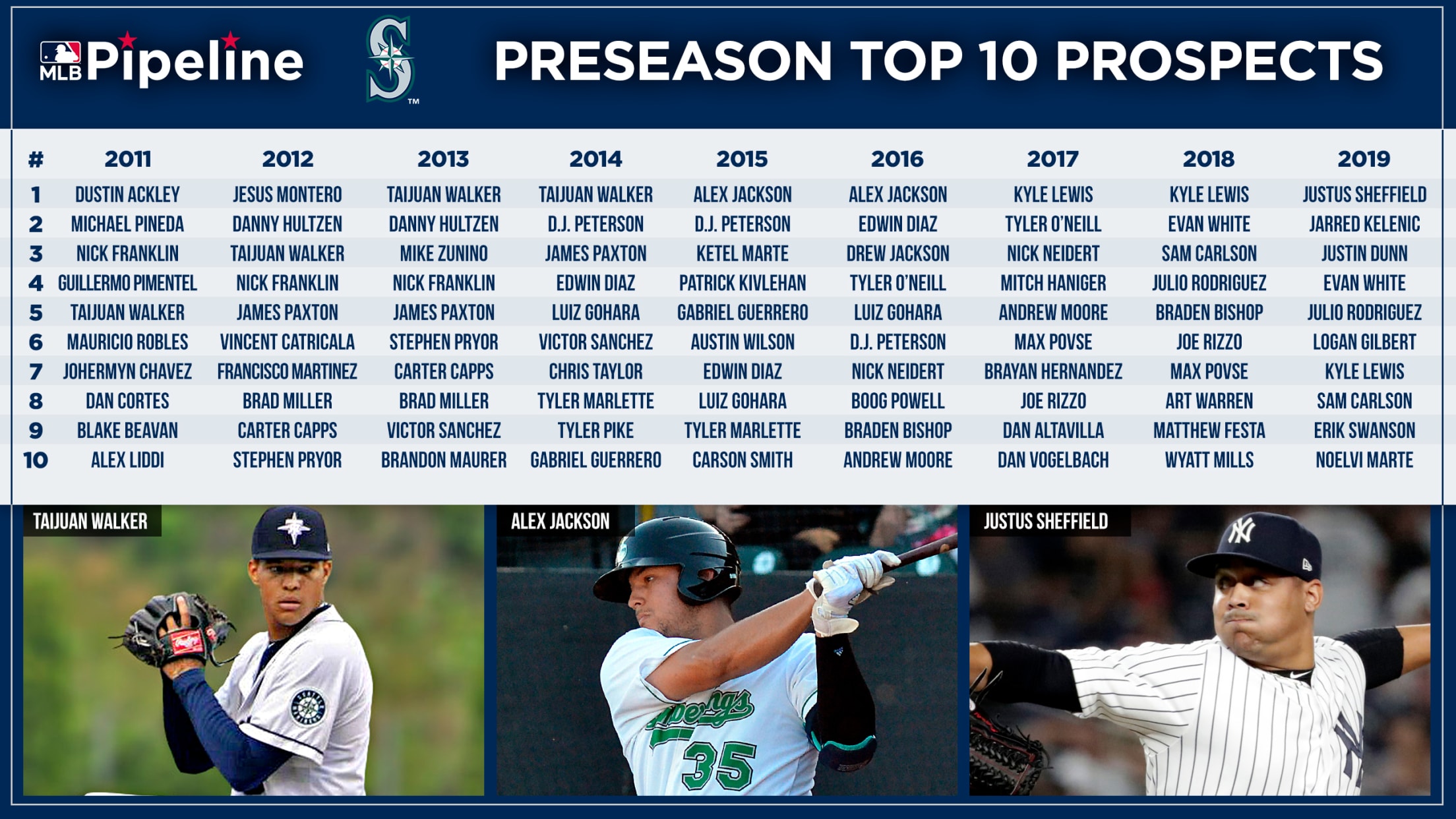 .
How they were built
Draft: 14 | International: 4 | Trade: 11 | Free agent: 1
Breakdown by ETA
2019: 13 | 2020: 7 | 2021: 4 | 2022: 5 | 2023: 1
Breakdown by position
C: 1 | 1B: 2 | 2B: 1 | 3B: 1 | SS: 2 | OF: 8 | RHP: 12 | LHP: 3