Opening Day FAQ: Mariners vs. Astros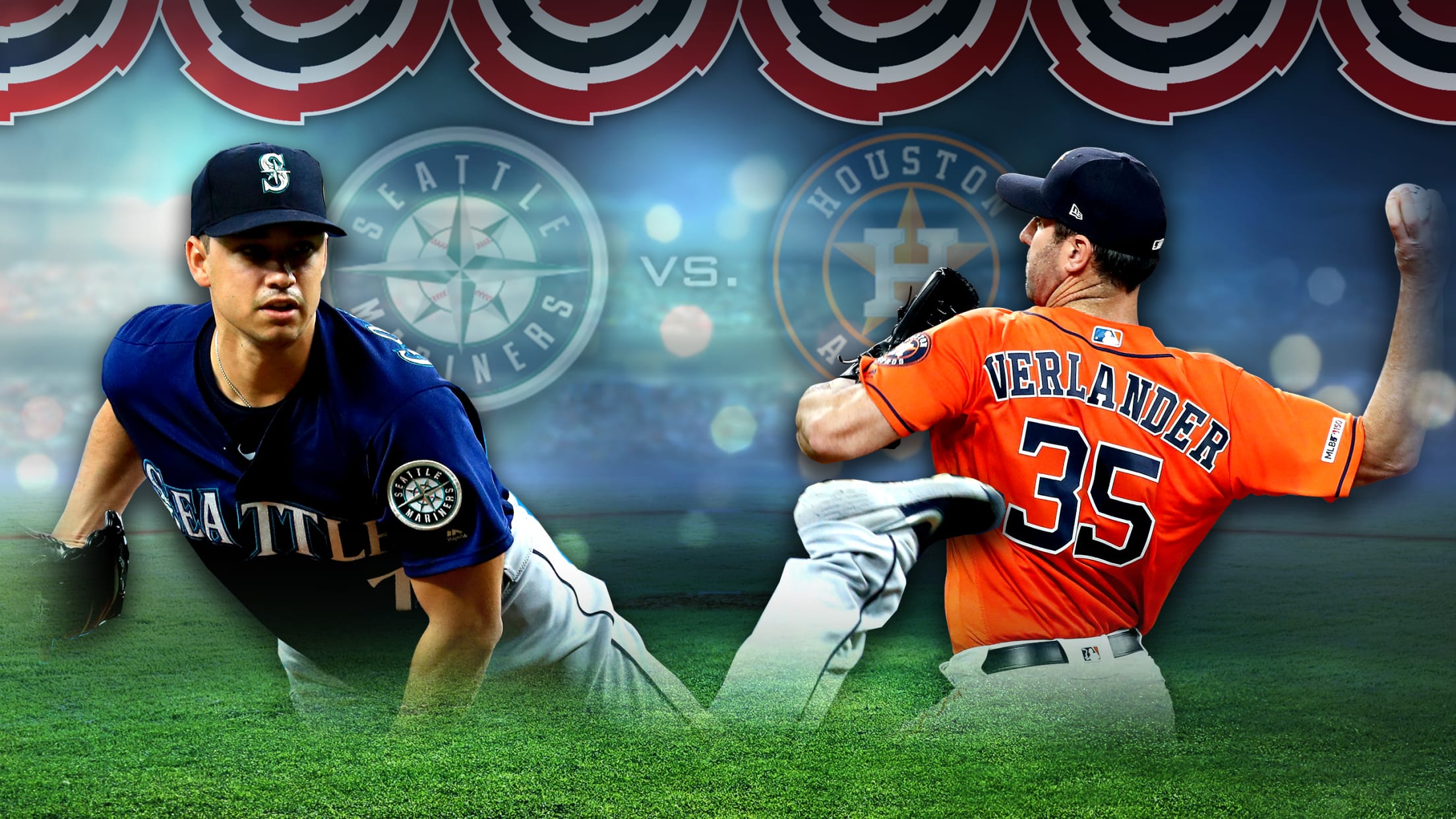 HOUSTON -- The pomp and pageantry of Opening Day will look vastly different this year with no fans in the stands when the Mariners visit the Astros on Friday to begin the season at Minute Maid Park. There should be no lack of motivation for either team, though, in a
HOUSTON -- The pomp and pageantry of Opening Day will look vastly different this year with no fans in the stands when the Mariners visit the Astros on Friday to begin the season at Minute Maid Park. There should be no lack of motivation for either team, though, in a season that's been reduced to 60 games in the wake of the coronavirus epidemic.
The rebuilding Mariners, who shot off to a 13-2 start last year, figure to stay in contention at least for half the season in a deep American League West. The Astros, despite losing pitcher Gerrit Cole to the Yankees and some other key free agents, are still the team to beat in a division they've won three years in a row.
• Mariners set stage for next wave in 2020
Under new manager Dusty Baker, Houston has the reigning AL Cy Young Award winner in Justin Verlander, who will start Friday, and the reigning AL Rookie of the Year in Yordan Alvarez, who will begin the year on the injured list. A deep and potent offense is led by Alex Bregman, who finished a close second to Mike Trout in last year's AL MVP race, as well as '17 AL MVP José Altuve and '17 World Series MVP George Springer.
• Deep, talented Astros have eyes on the prize
When is the game and how can I watch it?
First pitch is scheduled for 8:10 p.m. CT/6:10 p.m. PT. The game will be televised on AT&T SportsNet in Houston and ROOT Sports in Seattle, along with MLB.TV, and there will be radio broadcasts on 790 AM in English and 850 AM in Spanish in Houston and 710 ESPN Seattle and the Mariners Radio Network.
What will the starting lineups look like?
Mariners: Seattle's youth movement will be in full bloom with three rookie starters -- Evan White, Kyle Lewis and José Marmolejos -- as well as Shed Long Jr., who has played in just 42 MLB games. Kyle Seager, as a nine-year starter, is the only real veteran in the group. White will be making his Major League debut after getting the jump from Double-A and Marmolejos is another first-timer after impressing as a non-roster invitee. Lewis has played just 18 MLB games as a late-season callup last year.
None of Seattle's position starters were in last year's Opening Day lineup, as Seager and Mallex Smith were on the injured list, Daniel Vogelbach was on the bench and the other six were in the Minors. Manager Scott Servais wants to give Long a look in the leadoff role, but the lineup figures to be flexible as the young group establishes itself in the coming weeks.
Lineup
1) Shed Long Jr., 2B
2) Evan White, 1B
3) Kyle Seager, 3B
4) Kyle Lewis, CF
5) Daniel Vogelbach, DH
6) Austin Nola, C
7) José Marmolejos, LF
8) J.P. Crawford, SS
9) Mallex Smith, RF
Astros: Even without Alvarez, who hit 27 homers and drove in 78 runs in 87 games in a bang-up rookie season last year, Houston's offense is dangerous. Last year, the Astros set a Major League record with a .495 slugging percentage and led the Majors in walks (645), batting average (.274) and on-base percentage (.352). And that was with shortstop Carlos Correa and Altuve spending a substantial amount of time on the injured list. When healthy, it's arguably the best lineup in baseball.
Baker doesn't figure to change much in the lineup, short of flip-flopping Bregman and Michael Brantley in the three and four sports from how they ended the playoffs. Aledmys Díaz figures to start at designated hitter against a lefty. That's a spot that will be assumed by Kyle Tucker against righties until Alvarez comes back.
Lineup
1) George Springer, CF
2) Jose Altuve, 2B
3) Alex Bregman, 3B
4) Michael Brantley, LF
5) Yuli Gurriel, 1B
6) Carlos Correa, SS
7) Josh Reddick, RF
8) Aledmys Díaz, DH
9) Martín Maldonado, C
Who are the starting pitchers?
Mariners: Marco Gonzales makes his second straight Opening Day start after ending Félix Hernández's streak of 10 straight last year. The 28-year-old lefty beat the A's in the Opening Series in Tokyo and went on to a 16-13 season with a 3.99 ERA in 34 starts.
None of that success came against the Astros, however, as Gonzales went 0-2 with a 5.66 ERA in four starts against the AL West champs in 2019, and he is 0-4 with a 7.36 ERA in seven career outings vs. Houston, including six starts.
Astros: Verlander will be making his 12th career Opening Day start and third with the Astros. Verlander's first Opening Day start came for the Tigers in 2008, when he was 24 years old. He started seven openers in a row and nine of 10 for Detroit before being dealt to the Astros in '17. Since then, he's won another Cy Young Award, thrown his third no-hitter and won a World Series ring.
Verlander, 37, had one of the best seasons of his career last year, going 21-6 with a 2.58 ERA, 300 strikeouts and a 0.80 WHIP in 223 innings. He underwent groin surgery in mid-March that sidelined him a couple of months, but the pandemic shutdown gave him plenty of time to heal.
How will the bullpens line up after the starter?
Mariners: The biggest unknown for Seattle is a bullpen that will carry 11 pitchers to open the season on the expanded rosters. The Mariners don't have an established closer and will likely use right-handers Matt Magill and Dan Altavilla in late-inning situations. Magill saved five games in the final weeks of 2019, but Altavilla has not notched an MLB save.
Free-agent signee Yoshihisa Hirano would have been in that mix as well, but he just joined camp this week after previously testing positive for COVID-19, while Austin Adams is another who'll open the season on the injured list after not fully recovering yet from left knee surgery. Former Cubs right-hander Carl Edwards Jr. is among the rest of a group made up largely of promising but unproven youngsters.
Astros: Having lost key reliever Will Harris in free agency (Nationals) and with veterans Brad Peacock and Austin Pruitt on the injured list and Joe Smith on the restricted list, the Astros are facing some depth issues entering the season. Houston has two relievers who have never pitched above Double-A (Enoli Paredes and Brandon Bailey), and two who have a combined five games at Triple-A (Blake Taylor and Cristian Javier). Taylor is the lone lefty in the bullpen.
There's experienced depth at the end of the bullpen, with All-Star setup man Ryan Pressly and closer Roberto Osuna, the latter of whom made the Opening Day roster but whose status for Friday is still in doubt after he reported late to camp.
Chris Devenski, Bryan Abreu and Joe Biagini could assume larger roles to start the season. Meanwhile, Cy Sneed has been stretched out to three innings and could piggyback with a starter while he gets built up.
Any injuries of note?
Mariners: Starting catcher Tom Murphy was placed on the 10-day IL on Thursday with a broken bone in his left foot. Mitch Haniger, a 2018 All-Star right fielder, is on the 45-day injured list and unlikely to return this season, as he hasn't played since last June and is currently rehabbing from offseason surgery on a herniated disk. Reliever Gerson Bautista went down with a strained right elbow shortly after Summer Camp opened, and the Mariners lost promising outfield prospect Julio Rodriguez to a fractured left wrist last week, but the 19-year-old wasn't expected to make the Major League roster this season.
Astros: Alvarez and José Urquidy, who was expected to be the No. 4 starter to begin the year, have been on the IL with undisclosed injuries. Peacock (right shoulder inflammation) and Pruitt (right elbow bone bruise) were placed on the 10-day IL on Thursday along with Rogelio Armenteros, who underwent right elbow surgery in March.
Who is hot and who is not?
Mariners: Lewis, the club's first-round Draft pick in 2016, has looked locked in at the plate in intrasquad action, but the Mariners didn't play any exhibition games against other teams, so it's hard to judge too much. The 25-year-old flashed his power potential last September when he homered in six of his first 10 games after being promoted from Double-A. White is another rookie who looked strong in camp. Smith has also swung the bat well since being cleared to begin intrasquad games on Sunday. After some promising late-season production last year, Long has been searching to regain his timing both in Spring Training and Summer Camp, and Vogelbach didn't go deep in either Cactus League games or Summer Camp intrasquad games after leading Seattle with 30 homers last season.
Astros: In two exhibition games against the Royals on Monday and Tuesday, Springer reached base in all seven plate appearances, including four walks, a double and a hit by pitch. He's a dangerous weapon at the top of the order who had 39 homers in only 122 games last year. Reddick also swung the bat very well during intrasquad games, as well as hitting a homer Monday in Kansas City. Brantley, Gurriel and Bregman were among those who also homered in intrasquad games, while Díaz battled neck stiffness early in camp and swung the bat well in the past week.
Anything else fans might want to know?
• The Mariners went 1-18 against the Astros last year and 0-10 at Minute Maid Park. Their last win in Houston came on Sept, 19, 2018. They were 7-2 at MMP that season.
• The Astros haven't lost an Opening Day game since moving to the AL in 2013, going 7-0 in that span to start the season.
• Springer has homered on Opening Day in three consecutive seasons, joining Khris Davis as the only players to do that in the last three years.
• The Astros went 60-21 at home last year, becoming just the 13th team in franchise history to win 60 home games in a single season and first since the 1998 Yankees.
• Baker, 71, begins this season 137 wins shy of 2,000 for his career. He takes over for AJ Hinch, who was fired in January in the wake of the sign-stealing scandal. Hinch had guided the Astros to three consecutive 100-plus-win seasons and three straight AL West titles.
• Dee Gordon is the other established veteran position player for the Mariners besides Seager, but he'll open the season in a backup role at second base and shortstop as the club pushes its youth movement.
• Mallex Smith led the AL with 46 stolen bases for Seattle last year, but hit just .227/.300/.335 and will likely bat at the bottom of the order until he raises those numbers back toward the .296/.367/.406 he posted with the Rays in 2018.