Zunino back with Mariners after Triple-A stint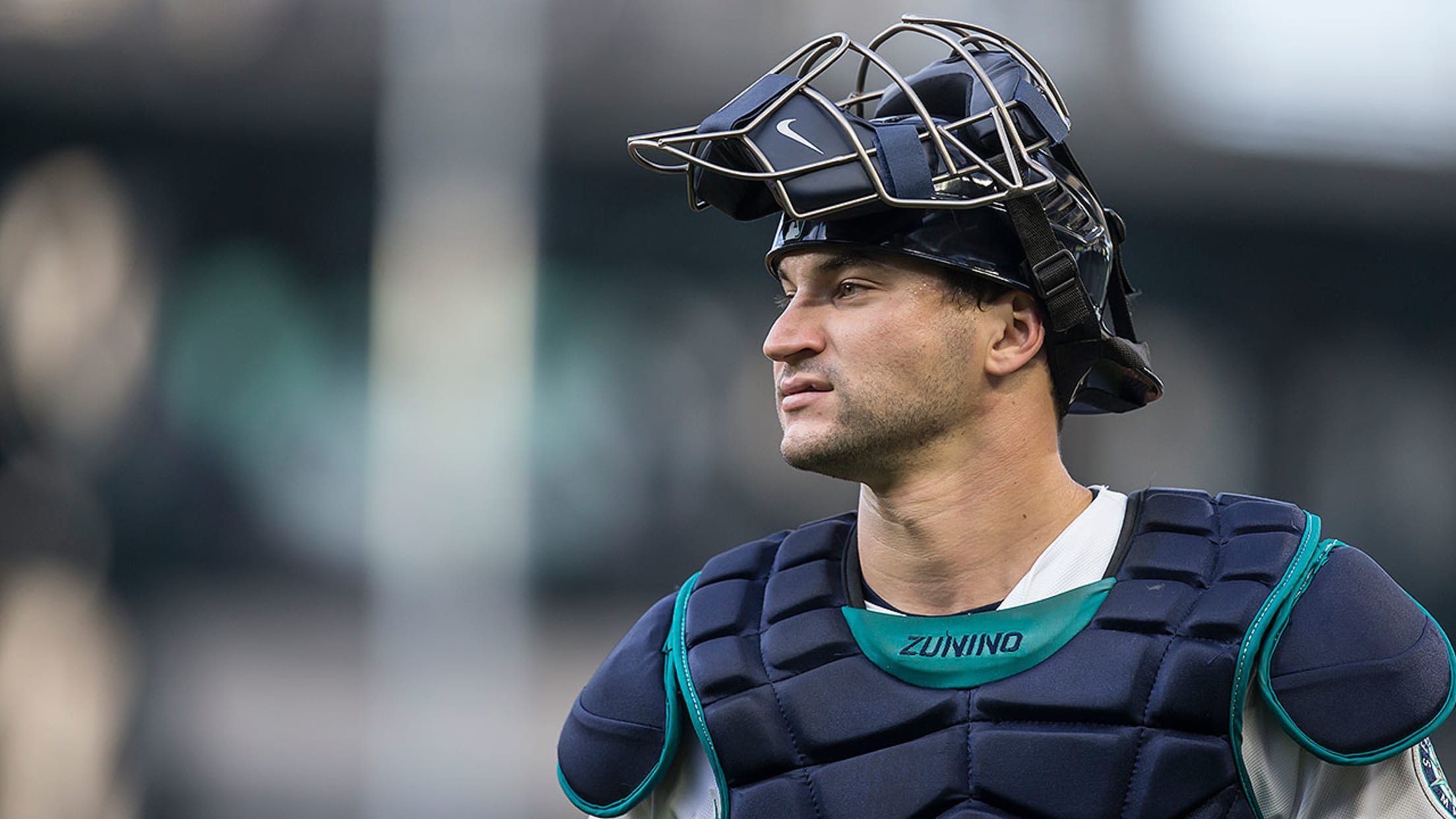 Mike Zunino batted .193/.252/.353 from 2013-15 with the Mariners. (AP)
SEATTLE -- Mike Zunino, whose Major League career with the Mariners stalled last season, will get another shot with the club as he was recalled from Triple-A Tacoma on Thursday to replace injured backup catcher Steve Clevenger.The club also brought up reliever Tom Wilhelmsen and optioned fellow right-hander Donn Roach
SEATTLE -- Mike Zunino, whose Major League career with the Mariners stalled last season, will get another shot with the club as he was recalled from Triple-A Tacoma on Thursday to replace injured backup catcher Steve Clevenger.
The club also brought up reliever Tom Wilhelmsen and optioned fellow right-hander Donn Roach back to Tacoma.
Zunino, the third overall selection in the 2012 Draft, played 295 games for Seattle from 2013-15, but hit just .193 with 38 homers and 102 RBIs. The new Mariners administration felt he'd been rushed to the big leagues too quickly and would benefit from an extended stint in Triple-A, and he hit .282 with 15 homers and 51 RBIs in 69 games this year.
"I knew he'd be back at some point," manager Scott Servais said. "Would it be June 1? July 1? August 1? Sometimes circumstances dictate that, and that's kind of what happened here. But he's earned it. He's made some adjustments. He's made strides and he still does a great job behind the plate. He's going to have plenty of opportunity to impact our club."
Clevenger was placed on the 15-day disabled list after fracturing the third metacarpal bone in his right hand on a foul tip in the third inning of Wednesday's 8-1 loss to the Pirates. The 30-year-old said he'll need surgery to insert a plate in his hand to help the healing and holds out hope of returning before the end of the season.
Clevenger put up a .221/.309/.303 line with one home run and seven RBIs in 68 at-bats while appearing in 22 games. He was acquired in an offseason trade from the Orioles to fill the backup role behind veteran Chris Iannetta.
Zunino likely will fill a similar role, though he may play more often than Clevenger in order to continue his progress and also allow Iannetta to get a little more rest.
"I'm prepared," Zunino said. "I was playing every down in Tacoma, so whatever they need. Anything I can do to help. For me, it's just about being a consistent, reliable Major League baseball player. I worked a lot with the bat, but I love to work with the pitching staff and I'm going to bring that, too."
Zunino said he simplified his offensive approach and regained confidence during his time in Tacoma.
"I feel night-and-day different," he said. "The biggest thing is knowing that some bad stuff has happened and going back in Triple-A and putting up some good numbers, you know that you can do it. So coming back here and hopefully I'll be able to get off to a good start and just help this team any way I can.
"I'm just excited. You never want to get sent back down, but to be able to get this opportunity again is just pure excitement. I'm just looking forward to seeing what I can do here."
Greg Johns has covered the Mariners since 1997, and for MLB.com since 2011. Follow him on Twitter [
---
@GregJohnsMLB]() and listen to his podcast.