Mariners stung by 6 Twins homers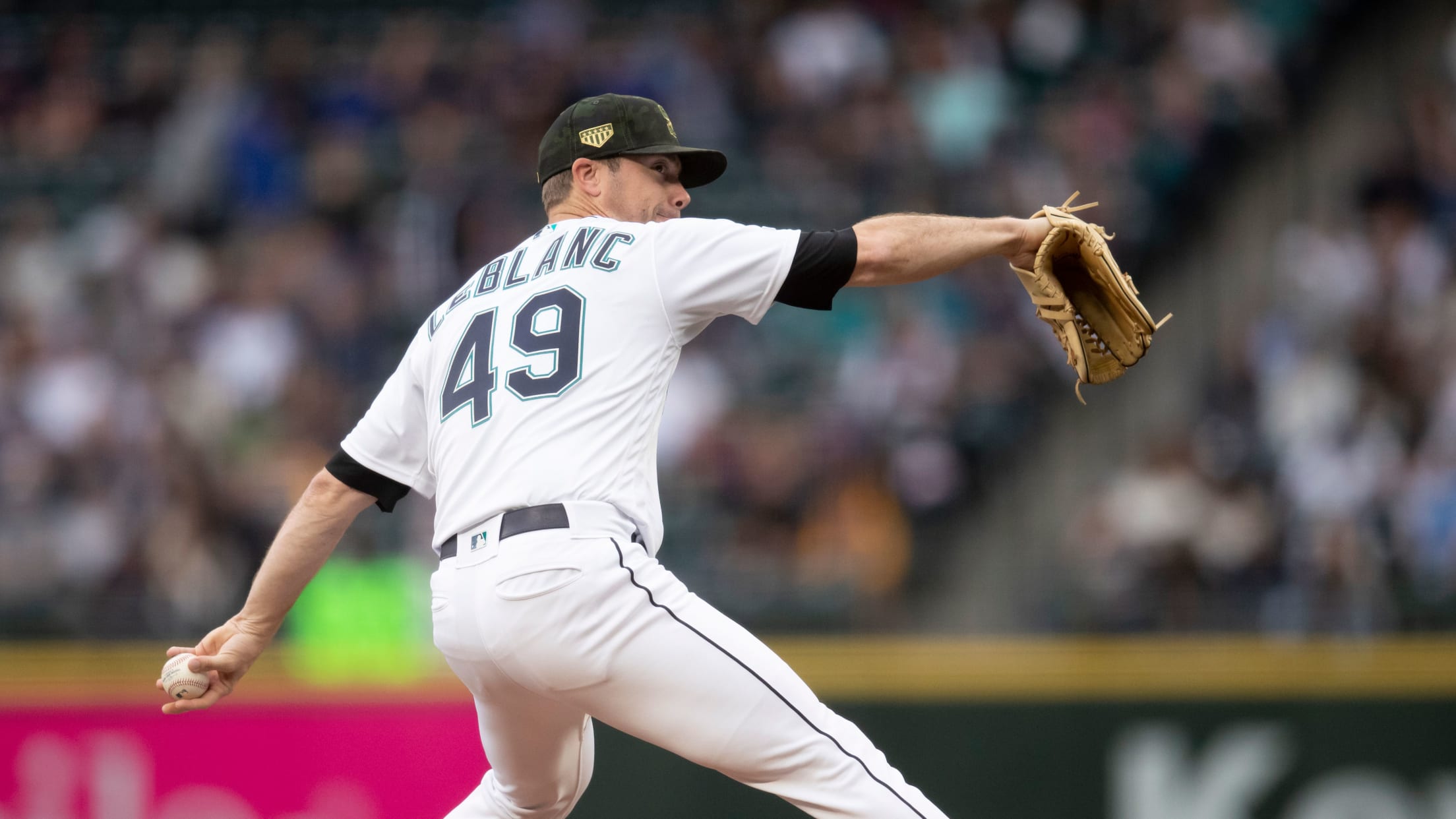 SEATTLE -- Wade LeBlanc's return didn't go as planned. But then again, not much has over the past month for the Mariners as their slide continued Saturday with an 18-4 shellacking from the Twins at T-Mobile Park. The Twins launched six home runs, including four off LeBlanc in 2 1/3
SEATTLE -- Wade LeBlanc's return didn't go as planned. But then again, not much has over the past month for the Mariners as their slide continued Saturday with an 18-4 shellacking from the Twins at T-Mobile Park.
The Twins launched six home runs, including four off LeBlanc in 2 1/3 innings as he came off a five-week stint on the injured list with a strained right oblique.
"They pounded us," Mariners manager Scott Servais said. "What are you going to say? They hit the tar out of the ball tonight. We made a lot of mistakes, our pitching is going through a tough spell right now and they're on everything. I'd like to say it's baseball, but we've got to make some adjustments."
The lopsided loss continued a troubling trend for Seattle, which has gone 4-15 since April 27, and given up 10-plus runs in seven of those setbacks. After opening the season with an MLB-leading 13-2 record, the Mariners are an MLB-worst 9-24 since, falling to 22-26 and last in the American League West.
Minnesota won its fifth straight, sits atop the AL Central at 30-15 and has outscored Seattle 36-11 in the first three games of the four-game series.
C.J. Cron cracked two of the Twins' round-trippers off LeBlanc, giving him 12 on the season and three in the series. Byron Buxton got things going early with a grand slam in a five-run second inning and Miguel Sano, fresh off the injured list for the Twins, hit his first of the season during a five-run third.
The Twins kept tacking on with Jonathan Schoop belting a pair of homers off the Mariners' bullpen -- a three-run blast off rookie reliever Parker Markel in the third and two-run drive off Ryan Garton in the sixth -- and by the time it was done, the Mariners had given up season highs in runs and home runs and had used six pitchers, including backup catcher Tom Murphy, who threw a 1-2-3 ninth.
"Those guys over there, there's not much you can say," LeBlanc said. "You want to say that's the best-hitting team I've ever faced in my life. That's how they looked tonight. And it wasn't just me, it was five different styles of pitchers we threw at them. They hit everybody, except Murphy. We should have started him."
The Mariners have led the Majors in long balls all year, but the Twins have outhomered them 11-4 in this series and moved into a tie with Seattle at 87 on the season -- even having played two fewer games. In home runs per game, the Twins are tops in MLB with 87 in 45 games (1.93 per game), with Seattle at 87 in 47 (1.85) and the Astros at 85 in 46 (1.85).
The Mariners have also allowed the second-most homers in MLB with 82 in 47 games, trailing only the Orioles (93 in 45 games).
"Our pitching has struggled in this series," Servais said. "The Twins can hit. They've got power. We haven't gotten them off anything."
No win for you
Twins starter Jose Berrios went into the bottom of the fifth with a 15-0 lead, but he couldn't get through that frame to pick up the needed five innings for a pitcher victory. The Mariners bunched six hits and four runs off him before Minnesota manager Rocco Baldelli went to his bullpen to get the final out.
Edwin Encarnacion had three hits on the night, including an RBI single in the fifth-inning flurry. But the normally homer-happy Mariners were held without a long ball for the second night in a row and are now 0-8 in games without a home run this season.
Quite a catch(er)
Murphy showed some versatility as he entered the game in the eighth as a defensive replacement in left field and made the final out of the inning on a fly ball by Cron.
Murphy then took to the mound for the ninth and retired the Twins in order, including strikeouts of Miguel Sano and Jason Castro, as he reached 90 mph with his fastball. The 28-year-old had never pitched since high school until May 1, when he made his first mound appearance for the Mariners and gave up two runs on a walk and a hit in an 11-0 loss to the Cubs.
He had even less experience in the outfield.
"Maybe once in high school, maybe," he said. "That's about it. And shagging during BP. That's it."
Murphy did pitch from Little League through his prep days in New York and leaned on those days to drop a slider on Castro to finish the inning.
"That's just an old thing I used to throw in high school, but it seemed to work," he said. "It kind of puts things in a little different perspective when you're out there and not just grinding away behind the plate. So that was cool."