Dipoto foresees less active winter in Year 2
GM's roster makeover saw improvements in Majors, Minors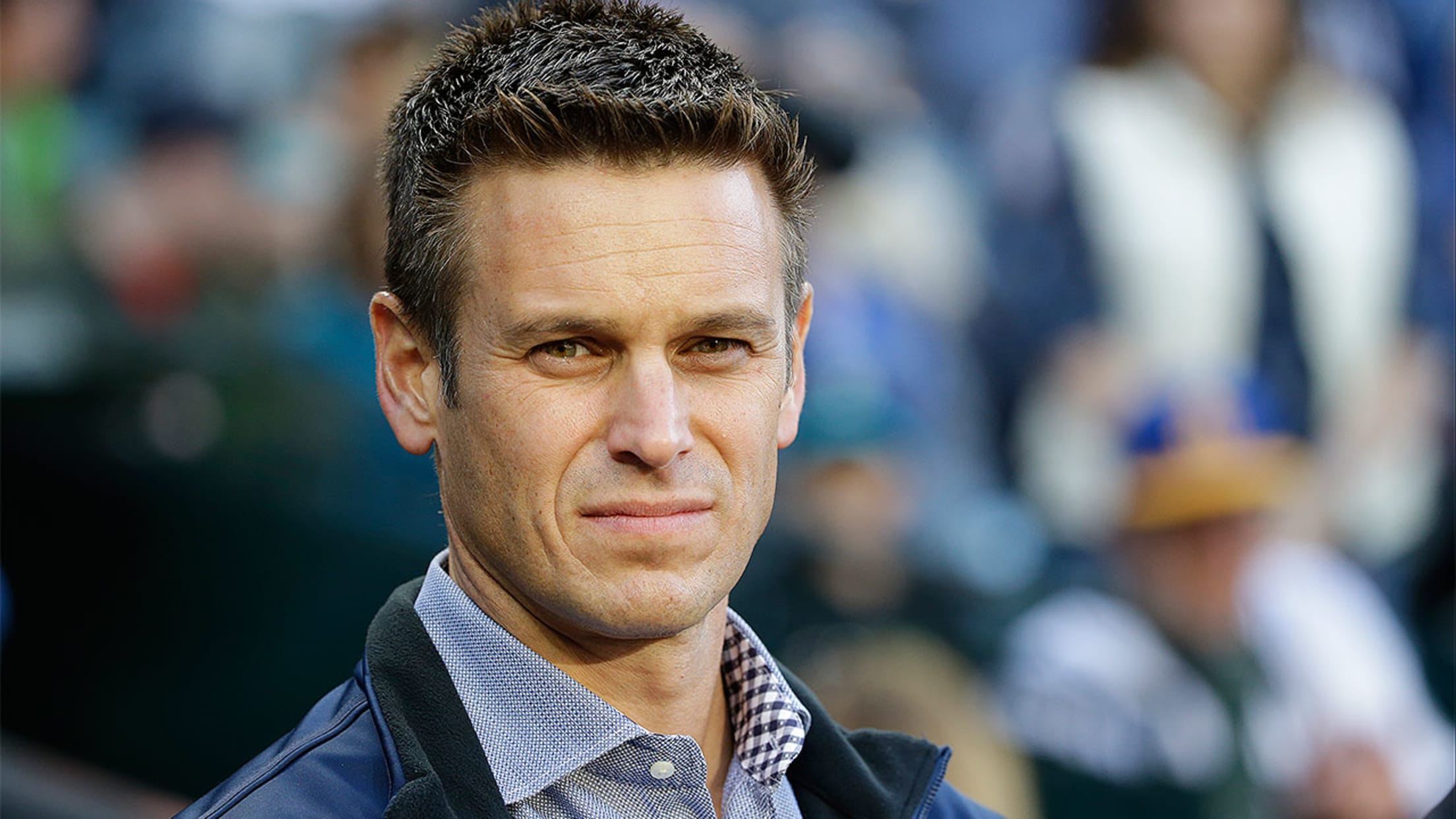 Mariners general manager Jerry Dipoto said there will be moves made this offseason, but not like his frenetic first year. (AP)
SEATTLE -- It's been just more than a year since Jerry Dipoto took over as general manager of the Mariners. One very busy year indeed.Since Dipoto replaced Jack Zduriencik in late September 2015, he's engineered 27 trades that sent away 34 players and brought back 25 new ones. He's signed
SEATTLE -- It's been just more than a year since Jerry Dipoto took over as general manager of the Mariners. One very busy year indeed.
Since Dipoto replaced Jack Zduriencik in late September 2015, he's engineered 27 trades that sent away 34 players and brought back 25 new ones. He's signed seven Major League free agents and claimed six others.
He's churned the roster so much that many of the new players he acquired have since been dealt away -- of the 46 players currently on the team's Major League roster, only 22 are holdovers from Zduriencik's regime.
Which raises the question: Now that Dipoto's had a year to make his mark, will the tide of turnover continue or will this winter be a little calmer?
"Last year, there was a lot of turnover, and I think the turnover was largely because of how we wanted to play the game," Dipoto said. "It's very easy in hindsight to look back at single trades and say, 'Oh, you shouldn't have done that for that.'
"I'm not a moron. I know which ones you shouldn't have done after looking in hindsight, but the reality is that in aggregate, what you're trying to do is build enough organizational depth and controllable pieces to move forward with, and in order to do that, sometimes you rob Peter to pay Paul."
Dipoto inherited a roster locked into existing long-term deals with Robinson Canó, Félix Hernández, Nelson Cruz and Kyle Seager, so he worked around the fringes with the goal of making the team deeper and more athletic.
While results of his moves were mixed, the overall picture saw the Mariners win 10 more games in 2016 at the big league level and improve dramatically in a Minor League system where all seven affiliates reached postseason play.
"Sometimes you create flexibility on a roster, sometimes it's creating flexibility within a payroll mechanic, and sometimes it's just the players you're able to access with what you're trading," Dipoto said. "I think we did enough of that last year that you certainly won't see quite as much turnover this year, because we built a foundation that works.
"There will be some change. We do have pending free agents, we do have some roster decisions to make, and obviously as the offseason begins we're going to have some holes to fill. But I think we have fewer critical holes to fill. We have a deeper organization than we had at this time last year."
The only departing free agents are first basemen Dae-Ho Lee and Adam Lind, outfielders Norichika Aoki and Franklin Gutierrez and reliever Drew Storen, though the club also has to decide whether to pick up contract options on outfielder Seth Smith and catcher Chris Iannetta.
But Dipoto isn't wired to sit still, so there will be moves coming. He came to Seattle a year ago with a clear vision, and there still is work to be done.
"Jerry Dipoto will turn something," manager Scott Servais said. "I think you have to. I think you look at all the teams in our division, and Texas continues to do things, and they've nailed it. Whether it was the Ian Desmond signing, the guys they picked up at the Deadline and what they did with Cole Hamels, you've got to keep turning it."
Servais notes that getting better includes improving the roster from players 26 through 40, not just the top 25.
"All those guys show up here," he said. "We saw them all this year, you're going to see them all again next year. How can you get deeper? How do you have more options?"
In other words, don't expect blockbuster trades and monster free-agent signings. But do expect Dipoto to continue working to improve the roster wherever possible or "raising the floor" around the core veterans, as he likes to say.
"More than anything, we want to go into Spring Training with a degree of momentum, rather than with a great deal of change," he said. "We've already changed enough for these guys. There's going to be change, but it's not going to be an overhaul. That I think will be step one toward building something more lasting."
Greg Johns has covered the Mariners since 1997, and for MLB.com since 2011. Follow him on Twitter [
---
@GregJohnsMLB]() and listen to his podcast.