Inbox: Is Diaz destined for All-Star Game?
Beat reporter Greg Johns fields questions from fans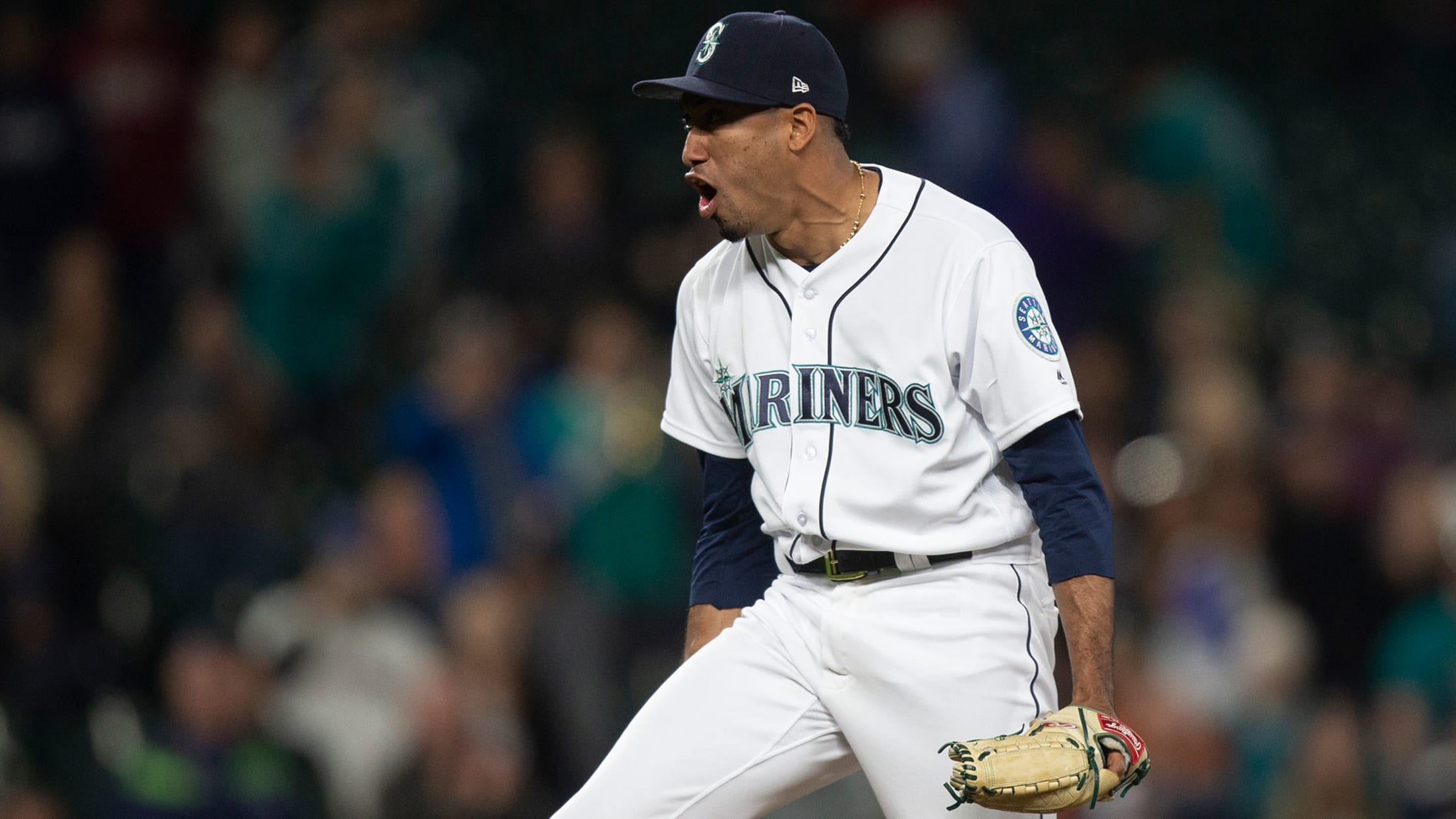 Is Edwin Diaz on his way to a first All-Star Game appearance? -- Jacob S., Ephrata, Wash.If they selected the All-Star teams in the first week of May, the Mariners closer would certainly be on it. Despite two recent slips in his last three outings, Diaz is tied for the
Is Edwin Diaz on his way to a first All-Star Game appearance?
-- Jacob S., Ephrata, Wash.
If they selected the All-Star teams in the first week of May, the Mariners closer would certainly be on it. Despite two recent slips in his last three outings, Diaz is tied for the Major League lead in saves and has converted 13-of-14 of his opportunities. He's struck out 31 batters in 18 1/3 innings while allowing just six hits, and there's no question he's one of the rising young relief stars in the game.
Until Michael Trout and Justin Upton got to his slider in the ninth inning Saturday with a double and homer, respectively, in that wild win for the Mariners, opposing hitters had been 0-for-24 with 17 strikeouts in at-bats ending with that pitch. In other words, Diaz is human, but he's been dazzlingly dominant most of the first five weeks and a big reason Seattle is 19-14 and winning tons of close games.
:: Submit a question to the Mariners Inbox ::
That said, they don't pick the All-Star teams for another two months, and Diaz will need to keep producing to earn a trip to Washington, D.C., in July. The same could be said of right fielder Mitch Haniger, who certainly has thrust his name into the early conversation as well.
What's the latest on Kyle Lewis? Any way he might provide some help in left field later this year?
-- Roger L., Wenatchee, Wash.
I wouldn't expect to see the Mariners' top prospect, according to MLB Pipeline, in the Major Leagues this season. The big push right now is just to get Lewis healthy and back on track in his Minor League development after another clean-up knee surgery this offseason. He's currently working out and rehabbing at the club's facility in Peoria, Ariz., and getting close to joining Class A Advanced Modesto, which is where he ended last season.
With Ichiro no longer playing, what happens with all the Japanese journalists who covered him?
-- Ken A., Seattle, Wash.
There were a dozen or more journalists specifically following Ichiro since Spring Training, and that number swelled dramatically over the weekend at Safeco Field when Ichiro's new role was announced on Thursday and then Shohei Ohtani made his first Seattle appearance with the Angels.
At least one Japanese journalist, Keizo Konishi of Kyodo News, will continue following Ichiro, but most of the group will either switch to covering other athletes or sports in the U.S. or return to Japan. Konishi has been chronicling Ichiro's story since he came to MLB and isn't about to stop now.
When will Dave Sims return to the broadcast booth?
-- Bill S., Portland, Ore.
Sims is still rehabbing and recovering from the Achilles' tendon surgery he needed after getting hurt playing in a pickup basketball game a few weeks ago. But he says everything is progressing well and he's expecting to be back doing three innings a game at first, starting May 17 when the Mariners open a series against the Tigers in Seattle.
There are rumors that the Mariners might be interested in Matt Harvey. How come they would be willing to take on his salary now? Why not spend that money last offseason?
-- Bart, Moses Lake, Wash.
First off, any rumors at this point are strictly conjecture. But a lot of teams will be interested in Harvey if the Mets can't work out a trade with anyone in the next few days and he clears waivers and becomes a free agent after being designated for assignment.
When a player's contract is designated for assignment -- often abbreviated "DFA" -- that player is immediately removed from his club's 40-man roster, and 25-man roster if he was on that as well. Within seven days of the transaction (it was previously 10 days), the player must either be traded, released or placed on irrevocable outright waivers.
I don't rule the Mariners out if that becomes the case. At that point teams no longer would be on the hook for his remaining $4.5 million salary and would just need to pay the MLB minimum, which would be about $400,000 for the rest of the year.
At that price, Harvey likely will be worth a flyer for some team looking to see if he can get back to being the young rising star he was three years ago. But there's a reason the Mets cut him loose when Harvey declined to be sent to the Minor Leagues to work out his issues after posting a 7.00 ERA this year, and I wouldn't bank on him being anybody's solution. Additionally, he's a free agent after this year, so it's not even a case of picking up a guy and hoping to patch him together by 2019.
If Ben Gamel keeps struggling, when do you think Guillermo Heredia will get more starts?
-- Mike M., Spanaway, Wash.
That's a fair question as Gamel hasn't gotten on track since coming off the disabled list in mid-April and is hitting just .167, though he is 3-for-9 over his last four games. I'm sure he'll continue to start against most right-handers for now, since Heredia has hit .224 with a .609 OPS against righties in his career as opposed to .289 with a .760 OPS against lefties. But, Heredia is an excellent defender, and has actually hit both righties and lefties about the same in limited opportunities this season, so he'll no doubt get more chances soon if Gamel doesn't heat up.
Who will be the next inductee into the Mariners Hall of Fame?
-- Christopher H., Mercer Island, Wash.
Jamie Moyer was the last inductee in 2015, joining Alvin Davis, Dave Niehaus, Jay Buhner, Edgar Martinez, Randy Johnson, Dan Wilson, Ken Griffey Jr. and Lou Piniella. I would think Raul Ibanez is at least under consideration, and Rick Rizzs figures to join Niehaus someday in this select group. The rules require a player to be out of baseball two years before being considered, so clearly Ichiro will be a slam dunk as soon as he's two years removed from playing.