Inbox: Who will get Opening Day nod?
Mariners beat reporter Greg Johns answers fan questions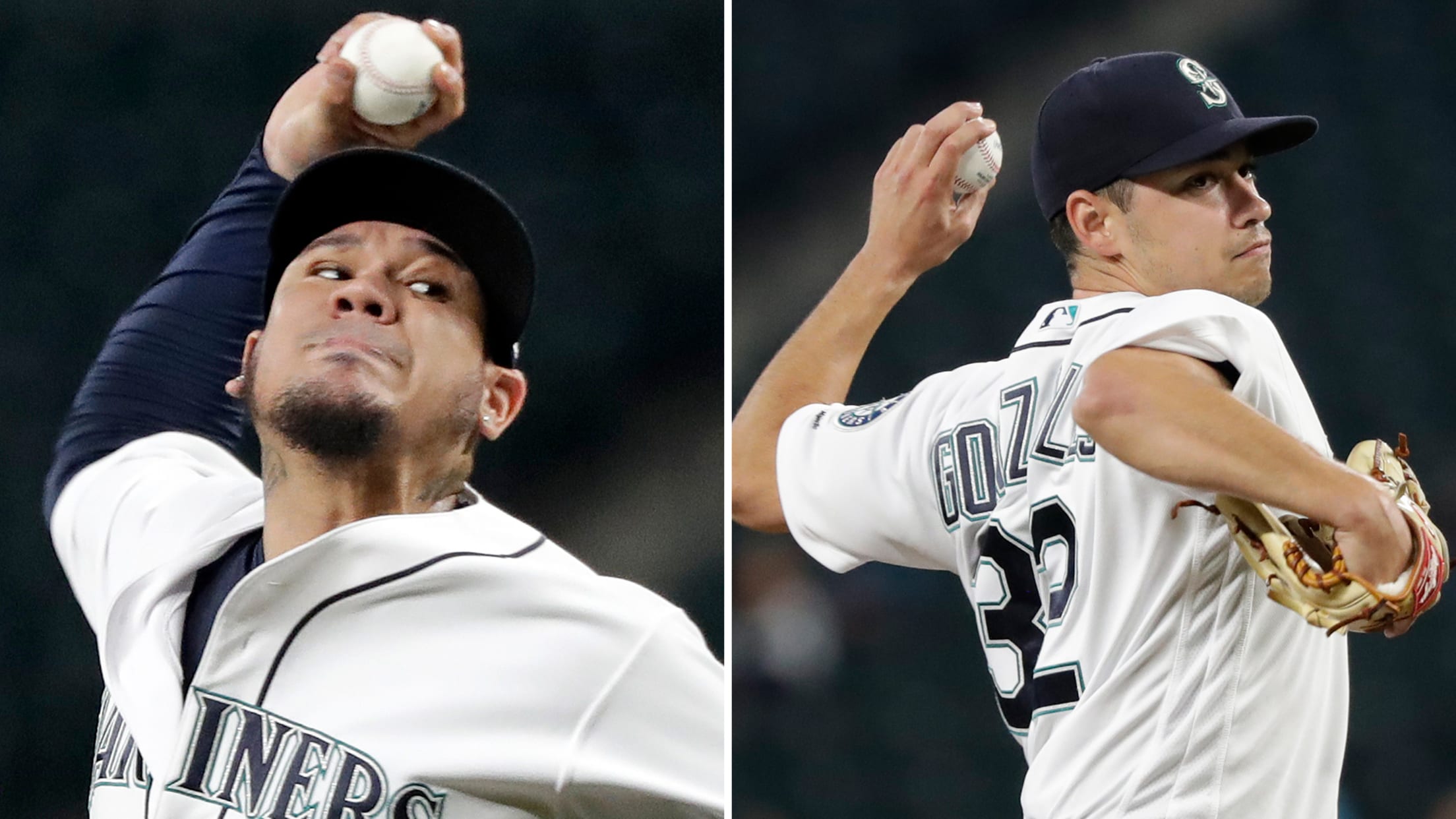 Who do you think is the No. 1 one starter in the Mariners' rotation right now, and who gets the Opening Day start? -- Curly J., Sunnyside, Wash.Based on last season's results -- and with James Paxton being traded to the Yankees -- I'd make the case that Marco Gonzales
Who do you think is the No. 1 one starter in the Mariners' rotation right now, and who gets the Opening Day start?
-- Curly J., Sunnyside, Wash.
Based on last season's results -- and with James Paxton being traded to the Yankees -- I'd make the case that Marco Gonzales is the Mariners' top returning starter after leading the club with a 13-9 record and 4.00 ERA. We'll have to see how newcomer Yusei Kikuchi looks this spring before deciding if he warrants consideration, though his reputation clearly puts him in that picture as well.
:: Submit a question to the Mariners Inbox ::
Mike Leake was the Mariners' most-durable starter last year with a team-high 31 starts and 185 innings while going 10-10 with a 4.36 ERA and Wade LeBlanc is the savvy veteran who posted the lowest ERA for any of the rotation members last year while going 9-5 with a 3.72 ERA.
But who will be the Opening Day starter on March 20 against the A's in Tokyo? That's a question that figures to play out over the course of Spring Training and could largely depend on how Felix Hernandez looks in camp. If Hernandez comes in sharp and in shape, the Mariners could let him make some history despite his rough 2018 campaign.
If Hernandez gets the call, his 11th consecutive Opening Day start with the same team would move him into a tie for second all-time behind only Robin Roberts (Phillies, 1950-61). And Hernandez is 7-2 with a 1.53 ERA in 11 Opening Day starts, including a 2-1 win last year against Corey Kluber and the Indians.
Will he get that opportunity again in Tokyo? That will indeed be an interesting storyline to watch this spring during what will be Hernandez's final season on a contract still owing him $27 million.
Why isn't Kikuchi ranked as one of the Mariners' top prospects?
-- Dakota H., Bonney Lake, Wash.
To be regarded as a "prospect" by MLB Pipeline, players must have rookie eligibility, which for the most part means less than 130 at-bats or 50 innings pitched in the Major Leagues. But they don't include players who are 25 or older and have competed in professional leagues in Japan, Korea, Taiwan or Cuba. So Kikuchi, at 27, isn't included on prospect rankings, though he will still be a rookie in MLB and eligible for Rookie of the Year honors and such.
It seems that Logan Gilbert has been buried under all of the new names coming into the system this offseason. What is his ceiling and when can we expect him in the big leagues?
-- Justin K., Gig Harbor, Wash.
You're right, June's first-round Draft pick has been largely overshadowed by the acquisitions of top pitching prospects Justus Sheffield and Erik Swanson from the Yankees and Justin Dunn from the Mets. Gilbert came down with mononucleosis shortly after signing with Seattle and has yet to pitch professionally, but the 6-foot-6 right-hander definitely figures prominently among the projected group of young arms that general manager Jerry Dipoto is collecting.
Gilbert is currently ranked as the Mariners' No. 6 prospect per MLB Pipeline, which puts him behind Sheffield (No. 1) and Dunn (3) and ahead of Swanson (11), though those three are ahead of him developmentally since they all have considerable pro experience. Gilbert will likely start this season in Class A West Virginia or Class A Advanced Modesto, so he's at least a year or two away from an MLB opportunity.
Saw rumors that the Mariners are pursuing Sonny Gray. Have you heard anything about it? If we did get him, which starter would most likely end up in bullpen?
-- Janae P., Keizer, Ore.
I've seen Seattle mentioned as one of the potential trade targets for the Yankees right-hander in some media reports, but frankly I don't see any chance of that happening. Gray will be a free agent after earning $7.5 million this season, so clearly he doesn't fit the 2020-and-beyond window Dipoto has been targeting. The Mariners were interested in Gray at the July 31 Trade Deadline in '17 when the A's dealt him to the Yankees, but I certainly don't see the club trading away prospects for a one-year rental now.
Who are the Mariners' top catcher and third-base prospects? None I am aware of with MLB potential. If Seattle did find a trading partner for Kyle Seager or expect top prospects for giving up Mitch Haniger, wouldn't these be two position priorities?
-- Hap F., Santa Barbara, Calif.
The catching cupboard isn't as bare as you think, assuming 26-year-old Omar Narvaez lives up to hopes after being acquired from the White Sox for Alex Colome. Narvaez isn't a "prospect" as he's started 177 big league games, but he has four years of team control remaining. The Mariners are also pretty high on Cal Raleigh, June's third-round Draft pick out of Florida State.
I don't think Seager (or Haniger) will be traded this year. But since you asked, Joe Rizzo, a second-round pick in 2016, is the top prospect at third base, though he's still a ways off as a 20-year-old who played at Class A Advanced Modesto last year. In the shorter term, recently signed veteran free agent Timothy Beckham will likely start out at shortstop, but he's capable of playing third base if needed.