Producer-engineer Cremin retiring from booth
Rizzs praises storied career of broadcasting 'brother'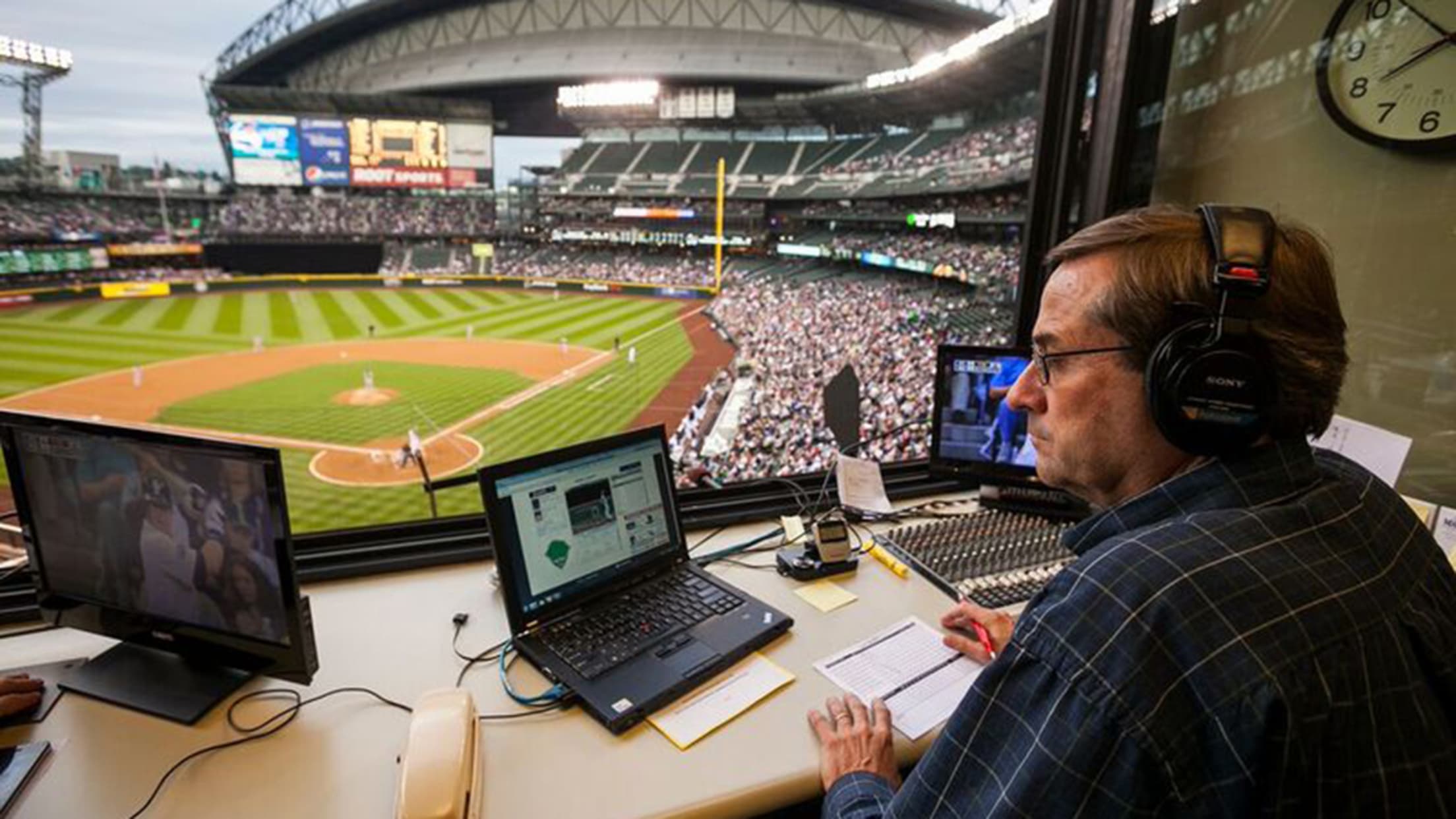 Kevin Cremin spent 35 years as a producer-engineer for the Mariners. (Ben VanHouten)
ANAHEIM -- As a handful of players are loosening up on the field, getting in some early running four hours before game time, Kevin Cremin is busily setting up the gear and testing the equipment for the Mariners' radio crew in the visitors' broadcast booth at Angel Stadium.It's a chore
ANAHEIM -- As a handful of players are loosening up on the field, getting in some early running four hours before game time, Kevin Cremin is busily setting up the gear and testing the equipment for the Mariners' radio crew in the visitors' broadcast booth at Angel Stadium.
It's a chore Cremin has handled for nearly 6,000 games in press boxes across the country over the past 35 years as the producer-engineer for the Mariners' flagship station. But the finish line is near. Cremin is retiring at the season's end, which means this is his final weekend.
Cremin got his job in 1983 after impressing a young Dave Niehaus as a part-time helper when the Mariners were playing in Cremin's native Kansas City. He's since become a fixture on Seattle's broadcast team and around baseball, as well as with fans who know him as "producer-engineer Kevin Cremin" from the sign-off call by Niehaus and now Rick Rizzs at the end of every Mariners broadcast.
What goes through a man's mind when he knows this is it?
"I'm glad I don't have to do this again," Cremin said with a laugh. "But at the same time, you're thinking, 'I guess I won't be doing this again,' and you get a little nostalgic. I've been to all of these parks so many times.
"And this one," Cremin said, glancing around Angel Stadium, "when we first started coming here, Dave had only been away from here a little while, and it was always a big deal for him to come back. And it was for me, too. It was a great old ballpark. There used to be orange groves around here, and now there are apartments in the parking lot. That's what happens."
Yes, time passes and things change. And for Rizzs, who started with the Mariners in 1983 on the same day as Cremin, it'll be another transition in a booth he's shared with select few for so many years.
"It's hard to believe these are the final games he's going to be with us," Rizzs said. "I'll believe it probably next spring when he's not there. It'll be very strange to look over to my side and not see him there. Because he's a heck of a lot more than a producer-engineer to me, he's a brother. We've been attached at the hip for 35 years."
Cremin fondly recalls how he landed a job he knew nothing about when he first started, and the ensuing years of watching baseball and building a life around the game. His job as producer requires hours of preparation before each game, lining up guests, editing interviews, setting up advertising schedules, unearthing information to feed to the broadcasters and weaving a live production together seamlessly every night.
"If there was a space in Cooperstown, N.Y., for producer-engineers, Kevin Cremin would be the first guy in," Rizzs said. "He makes our job so much easier."
But that job comes with a toll. Lengthy road trips away from family, late-night flights arriving in a stream of cities, the constant need to check his watch and phone and never quite feeling like the job is turned off.
"I look forward to retirement and being able to do what I want to do, when I want to do it, and not having to think about work all the time," Cremin said. "But, gosh, I've really enjoyed it. We just go to the ballpark and do a ballgame. That's pretty good. I fell into this job 35 years ago. It worked for me and worked for them, and it's been a pretty good run."