Mariners part ways with Bogar, Candaele
Acta to become bench coach, Brosius to move to third-base coach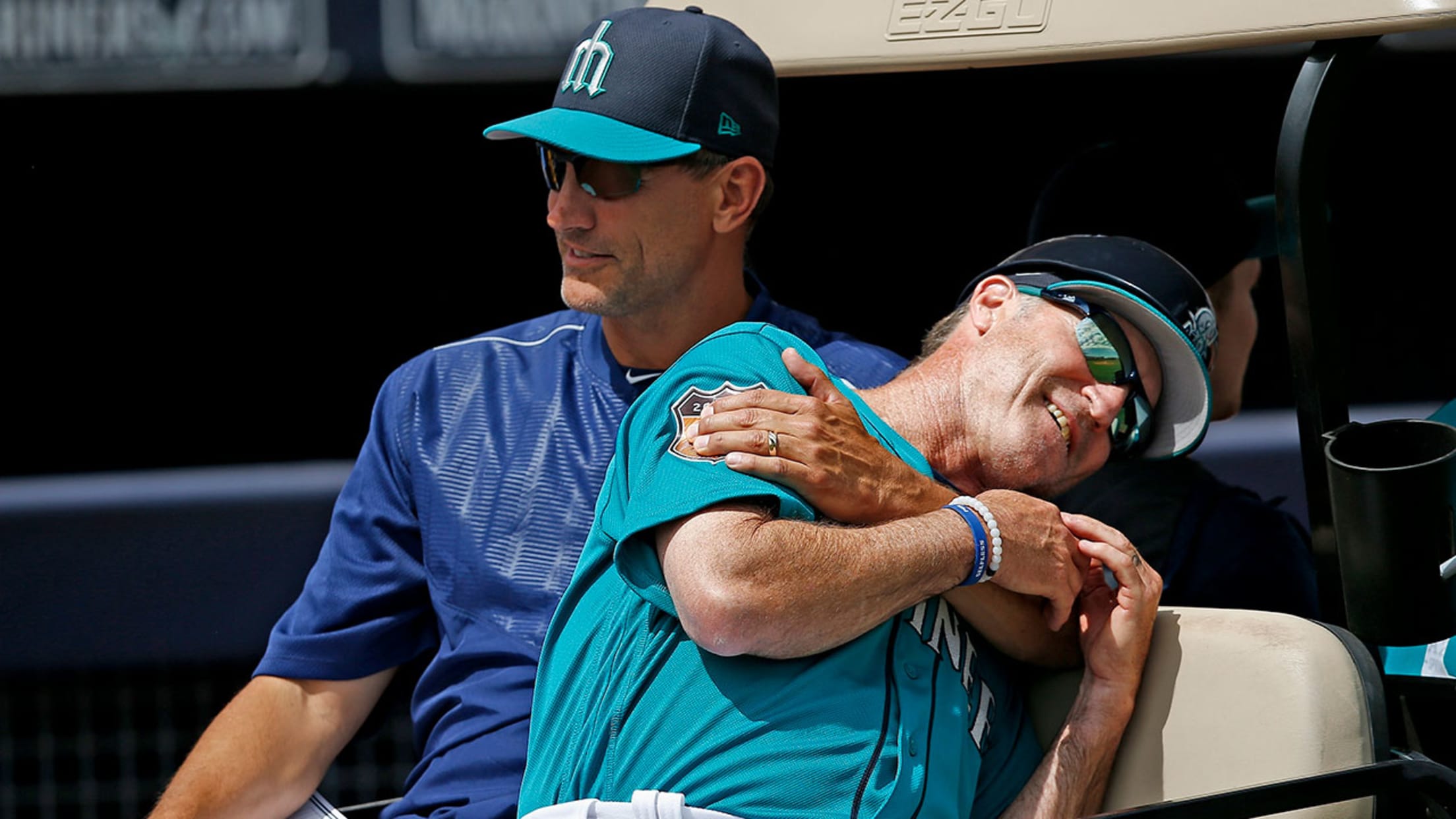 Seattle announced a coaching staff shakeup Tuesday, parting with bench coach Tim Bogar and first-base coach Casey Candaele. (AP/Ross Franklin)
SEATTLE -- Bench coach Tim Bogar and first-base coach Casey Candaele will not return to the Mariners' coaching staff next season, the club announced Tuesday.Third base coach Manny Acta will move into the bench coach position, with assistant coach Scott Brosius taking over Acta's spot at third base. Special projects
SEATTLE -- Bench coach Tim Bogar and first-base coach Casey Candaele will not return to the Mariners' coaching staff next season, the club announced Tuesday.
Third base coach Manny Acta will move into the bench coach position, with assistant coach Scott Brosius taking over Acta's spot at third base. Special projects coach Chris Prieto has been promoted to fill Candaele's spot at first base.
"Making change is never easy," said manager Scott Servais, whose club finished in a tie for third in the American League West at 78-84. "You do have relationships with these guys. The guys we let go, both Tim and Casey, are very good baseball guys that I certainly respect and are friends of mine. But it's a business, and we've got to get better."
Hitting coach Edgar Martinez and pitching coach Mel Stottlemyre Jr. will remain in their same positions, while Nasusel Cabrera -- who took over as interim bullpen coach when Mike Hampton stepped down at midseason -- will remain in a yet-to-be-determined role.
The Mariners are still looking to fill the bullpen coaching spot and add another assistant who can help Martinez with the hitters, as Brosius did this season. Servais said Cabrera is under consideration to return as the bullpen coach, but the club will also look at outside candidates.
Bogar and Candaele's departures are the first significant changes to Servais' staff since he took over as manager in 2016. Bogar was a finalist for the managing job when Servais was hired, and he worked as Servais' right-hand man the past two years.
Bogar, 50, previously worked as bench coach with the Rangers, and he was the interim manager for Texas for the final 22 games in 2014. He has also served as bench coach and first- and third-base coach with the Red Sox from 2009-12. In addition to his bench coach duties with Seattle, he and Acta oversaw the team's infield defense.
Candaele, 56, coached first base and worked with the outfield defense and baserunning the past two years in Seattle. He was the Minor League coordinator for the Rangers from 2011-15.
Acta, 48, will take on additional duties as the new bench coach. He will also coach the infielders and be responsible for defensive positioning. Acta is a former manager with the Indians from 2010-12 and Nationals from 2007-08. Next year will be his 14th year as a big league coach or manager.
Brosius, 51, was added to Servais' staff as an assistant coach last year. He will coach baserunning as well as handle the third-base coaching duties. Brosius spent eight seasons (2008-15) as head coach at Linfield College after a 10-year Major League career with the A's and Yankees.
Though Brosius wasn't labeled as the "assistant hitting coach" to Martinez last season, he largely served in that role, and Servais indicated that the concept of having two hitting coaches for the first time was a positive.
"I thought it worked out extremely well," Servais said. "It starts with Edgar and his ability to work with people and not have a huge ego. Anybody who has been around Edgar knows he's about as humble as it gets, and that's what it takes for that to work.
"From the get-go out of Spring Training, I thought it worked very well. Edgar had certain areas of strength and Scott had [strength] in others. In putting together pregame plans, how we're going to attack the opposing pitcher, we have a lot of meetings, the video, how the message is getting across. I thought the dynamic worked very well."