Mariners FanFest takes hiatus to protect field
New infield, outfield grass installed at Safeco in November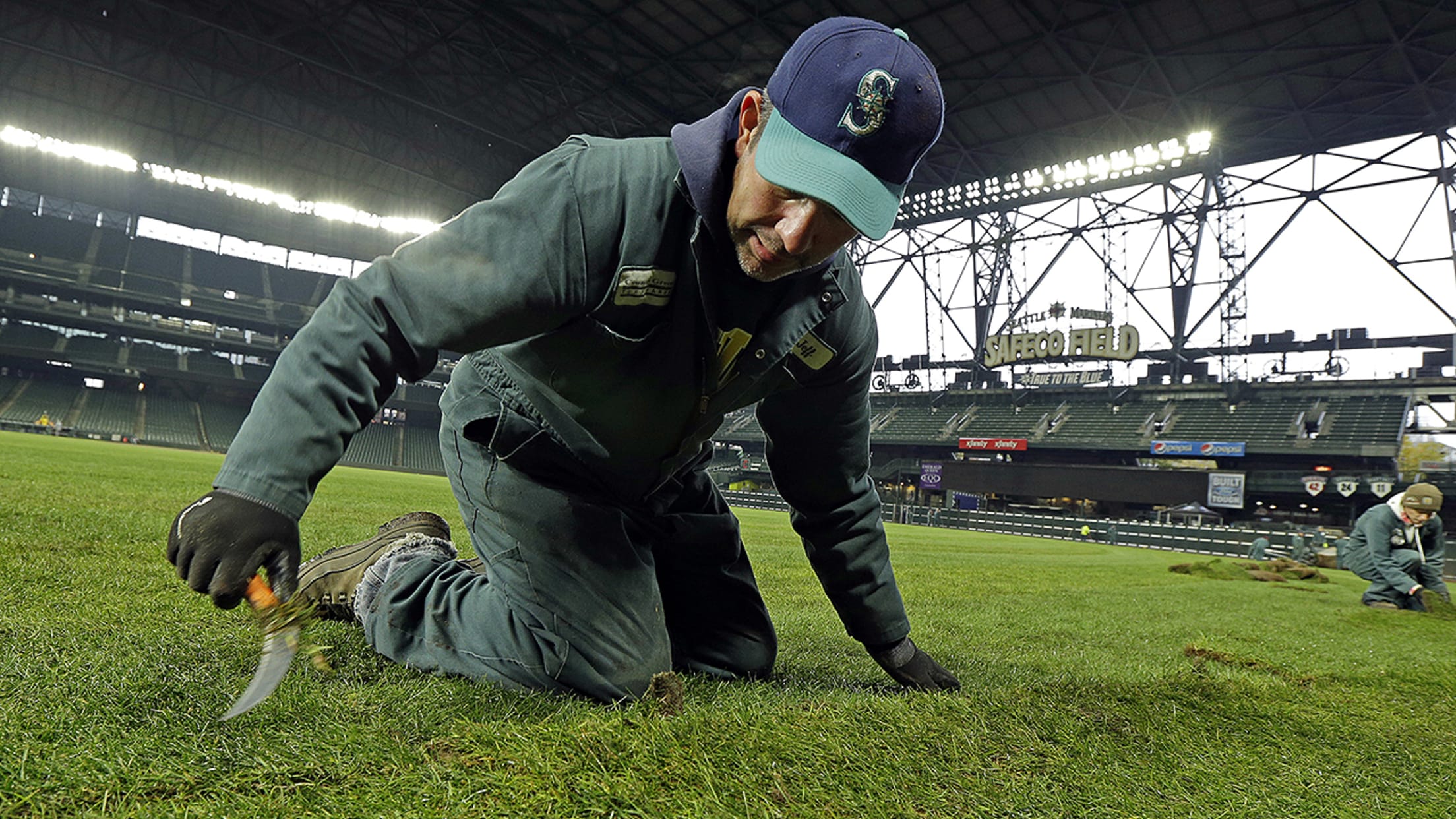 Jeff Fox, a worker with Country Green Turf Farms, which is based near Olympia, Wash., hand cuts a piece of turf as he installs one of the last sections of new bluegrass, Thursday, Nov. 9, 2017, along the outfield warning track at Safeco Field in Seattle, the home of the Seattle Mariners MLB baseball team. Thursday was the final day of work to replace all of the grass in the stadium, which is the first complete replacement of the turf and playing surface since the Mariners played their inaugural game in the facility in 1999. (AP Photo/Ted S. Warren) (Ted S. Warren/AP)
SEATTLE -- After a 19-year run with growing attendance and popularity, Mariners FanFest will take a one-year hiatus this offseason to avoid any problems with the newly installed playing surface at Safeco Field.The two-day event, which is usually held shortly before the start of Spring Training, will return in January
SEATTLE -- After a 19-year run with growing attendance and popularity, Mariners FanFest will take a one-year hiatus this offseason to avoid any problems with the newly installed playing surface at Safeco Field.
The two-day event, which is usually held shortly before the start of Spring Training, will return in January 2019.
New infield and outfield grass was put in last month as the entire playing surface was redone for the first time in the stadium's history.
"FanFest is predicated on our fans, especially our young fans, being able to take the field, run the bases, hit a home run and play catch in the outfield," said team president Kevin Mather. "While disappointing, we felt a one-year break in FanFest was a better option than having an event that didn't provide the full experience our fans deserve."
The Mariners still plan to bring manager Scott Servais and some players to the Seattle area in January for several appearances and public events.
The annual Mariners Caravan will visit 19 cities around the Northwest from Jan. 8-26, with players, broadcasters and staff visiting schools and holding autograph sessions at various stops.
Last year's FanFest drew 22,730 fans, which was second to the record attendance of 25,290 in 2015.