Tuesday's top prospect performers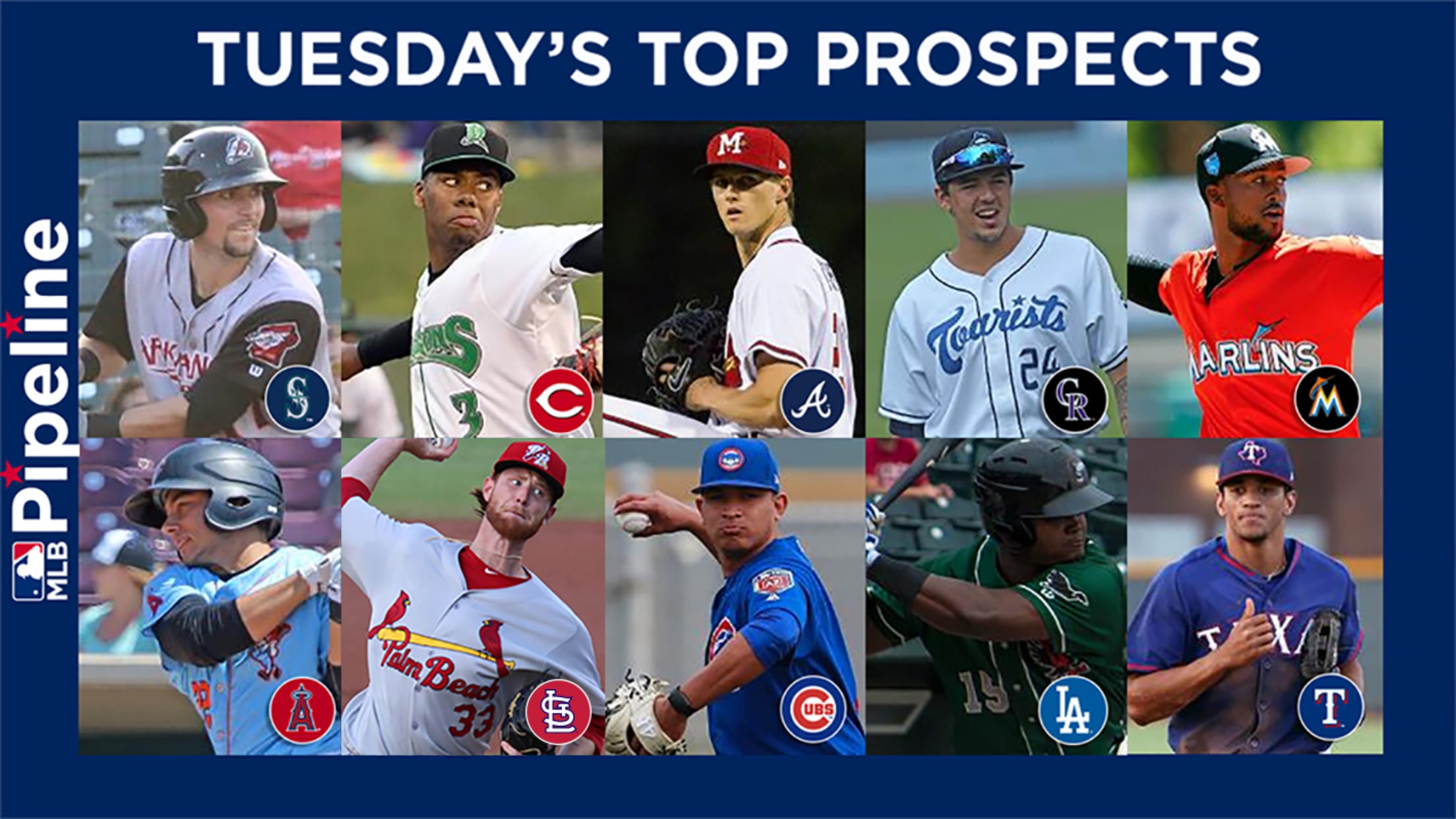 Here's MLB Pipeline's roundup of the top prospect performances in the Minor Leagues on Tuesday.:: Complete prospect coverage ::Mariners prospects Braden Bishop and Chuck Taylor led the way offensively to power Double-A Arkansas to a 16-10 win over Midland.The duo, Seattle's Nos. 5 and 28 prospects, hit atop the Travelers'
Here's MLB Pipeline's roundup of the top prospect performances in the Minor Leagues on Tuesday.
:: Complete prospect coverage ::
Mariners prospects Braden Bishop and Chuck Taylor led the way offensively to power Double-A Arkansas to a 16-10 win over Midland.
The duo, Seattle's Nos. 5 and 28 prospects, hit atop the Travelers' lineup and combined to go 7-for-11 with six RBIs and six runs scored.
Bishop, who went 4-for-5, hit his fourth homer of the season, continuing what has been a hot stretch for him. The outfielder has raised his average 25 points -- up to .246 -- since May 25 and is 8-for-15 (.533) over his past three games.
Taylor, meanwhile, went 3-for-6 with a double, triple and three RBIs.
Other top prospect performances from Tuesday's action:
• No. 20 overall prospect Hunter Greene (Reds' No. 2) set a career high, completing five innings for Class A Dayton. The 18-year-old gave up one run on three hits while walking two and striking out four. Greene got off to a fast start and faced the minimum through three innings before giving up a solo homer in the fourth. He gave up two hits in the fifth, but was able to escape the jam to finish the outing strong.
MILB Video - Title: Greene get a strikeout - Url: http://www.milb.com/r/video?content_id=2097461883
• No. 26 overall prospect Kyle Wright (Braves' No. 2) spun another quality start for Double-A Mississippi. The 2017 first-round Draft pick threw 62 of his 96 pitches for strikes and matched his career high as he cruised through seven innings. Wright, who has a 4.27 ERA through 11 starts, walked two and struck out six.
• No. 94 overall prospect Colton Welker (Rockies' No. 3) boosted his average to .303 with a 3-for-4 night for Class-A Advanced Lancaster. Welker put the JetHawks on the board early as he hit a solo shot, his fifth homer of the season, in the first inning. The 20-year-old later added a pair of singles to complete his thrd three-hit game of the season.
• No. 98 overall prospect Sandy Alcantara (Marlins' No. 2) picked up his third win of the season after throwing seven innings of one-run ball for Triple-A New Orleans. The right-hander, who has a 3.43 ERA this season, yielded five hits, walked two, hit two and struck out three.
• Angels No. 21 prospect David Fletcher put together his third multi-hit effort over the past four games as he went 3-for-4 for Triple-A Salt Lake. Fletcher, who is hitting .351 through 47 games, was a triple shy of the cycle as he hit his 22nd double and sixth homer in win over Reno.
MILB Video - Title: Watch: Fletcher rips homer - Url: http://www.milb.com/r/video?content_id=2099402883
• Cardinals No. 26 prospectCasey Meisner threw 67 of his 96 pitches for strikes as he threw 6 1/3 innings of one-run ball for Class A Advanced Palm Beach. Meisner only struck out two, which is tied for his fewest in a start this season, but yielded just five hits and lowered his ERA to 2.30 through six starts.
• Adbert Alzolay, the Cubs' No. 1 prospect, bounced back from a couple of rough starts (nine earned runs over 9 1/3 innings in his past two outings) to fire four perfect frames for Triple-A Iowa, but was removed with a Grade-1 lat strain. Before exiting the game, Alzolay threw 39 of his 60 pitches for strikes and struck out three.
MILB Video - Title: Alzolay finishes the fourth - Url: http://www.milb.com/r/video?content_id=2097143383
• Dodgers No. 16 prospect Starling Heredia paced Class A Great Lakes' offense as he drove in six runs in a win over South Bend. Heredia had been hitless in three straight games and had totaled just one hit over his past eight games (28 at-bats), but broke out of his slump in a big way. The 19-year-old hit his sixth homer of the season and added a pair of doubles as part of a 3-for-5 night.
MILB Video - Title: Watch: Heredia goes yard - Url: http://www.milb.com/r/video?content_id=2098729783
• Nick Neidert (Marlins' No. 8 prospect) matched his career high with 12 strikeouts for Double-A Jacksonville. The 21-year-old right-hander gave up three runs on five hits over six innings before handing off to the bullpen. The 12 strikeouts were a season high for Neidert, but big strikeout totals are nothing new for him, as he struck out 11 on May 17 and has fanned 26 over his past 14 2/3 innings.
MILB Video - Title: Neidert's 12th strikeout - Url: http://www.milb.com/r/video?content_id=2098019583
• Rangers No. 6 prospect Bubba Thompson did a little bit of everything for Class A Hickory in a win over Hagerstown. Batting atop the Crawdads' lineup, Thompson went 4-for-5 with a double, a homer, two RBIs, three runs scored and a stolen base. The four hits mark a career high for Thompson, who is hitting .279.
• Seuly Matias, the Royals' No. 3 prospect, continues to show that he's further developed his power. The Class A Lexington outfielder went 2-for-4 with a homer, his 14th, in what has been a breakout season as far as power is concerned. The 19-year-old hit 15 total homers over the past two seasons and has nearly reached that number in 37 games in 2018.
• Yankees No. 14 prospect Trevor Stephan fired an absolute gem in his second start with Double-A Trenton. The right-hander, who was tagged for six runs in 4 1/3 innings in his Thunder debut, surrendered two hits and struck out seven over 5 2/3 scoreless innings. While Stephan was carving his way through the Reading lineup, he has to leave the game in the sixth after being hit with a comebacker.