Mariners announce 2018 season schedule
Seattle opens up with home slate vs. Indians on March 29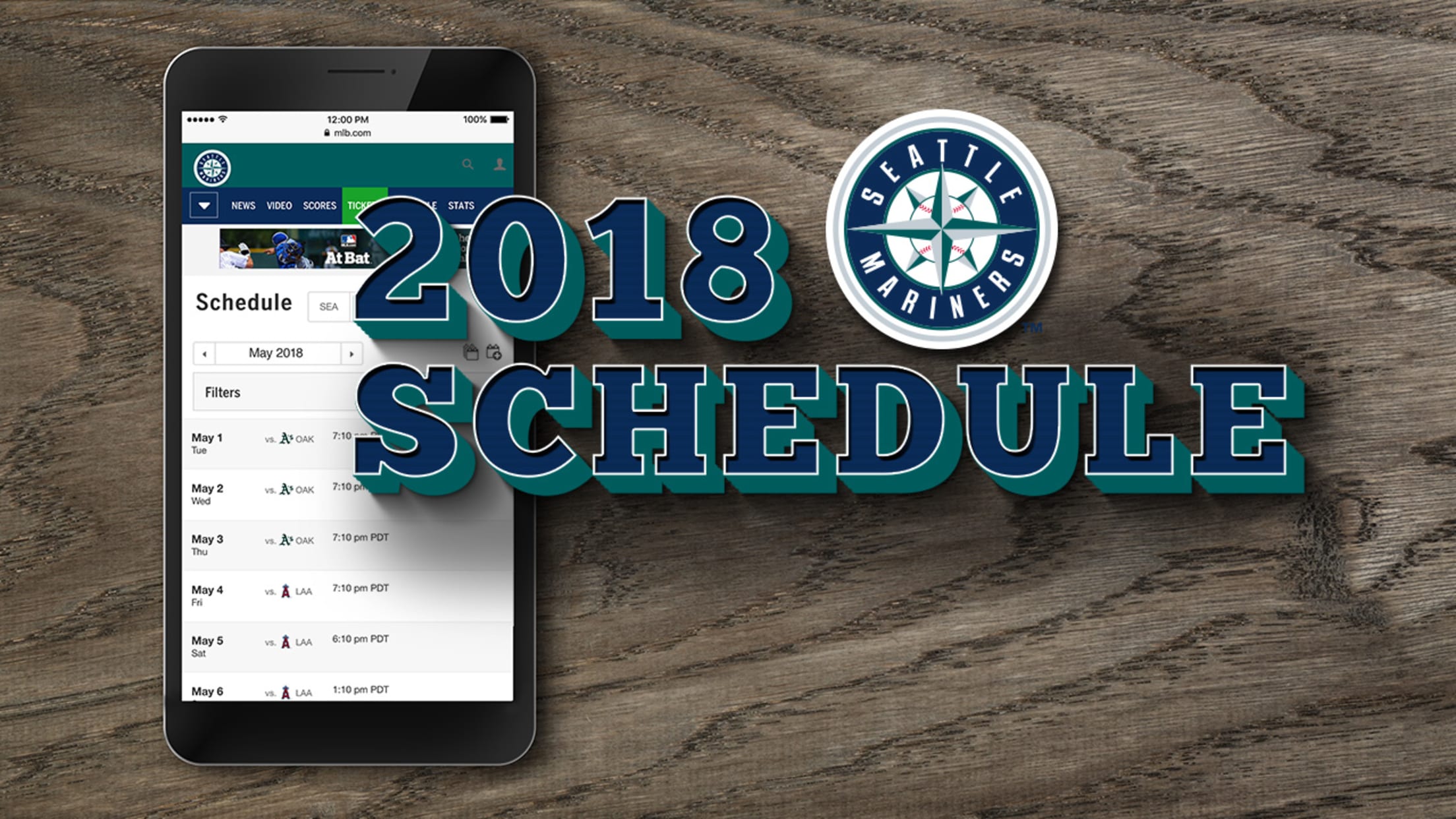 For just the second time in the past 10 years, the Mariners will open their season at home in 2018, according to the tentative schedule released Tuesday by Major League Baseball.The Mariners are slated to face the Indians on Opening Day on Thursday, March 29, in a 7:10 p.m. PT
For just the second time in the past 10 years, the Mariners will open their season at home in 2018, according to the tentative schedule released Tuesday by Major League Baseball.
The Mariners are slated to face the Indians on Opening Day on Thursday, March 29, in a 7:10 p.m. PT game at Safeco Field. It will be the third time Seattle and Cleveland have opened against each other, with the Indians winning both previous meetings -- in 1994 and '98. Both games were one-run Mariners losses, each started by Hall of Famer Randy Johnson.
• Mariners' 2018 season schedule
The 2018 schedule has some differences from previous years. The season starts four days earlier than normal in order to allow for more off-days during the season, as agreed upon by the new Collective Bargaining Agreement. Additionally, all teams will be opening on the same day for the first time since 1968.
The Mariners and Indians will play that first Thursday, then have an off-day before wrapping up the series on Saturday, March 31, and Sunday, April 1. Seattle then heads out on the road for an eight-game, nine-day trip to San Francisco, Minnesota and Kansas City.
The only time in the past decade the Mariners opened at home was in 2015, when they beat the Angels, 4-1, with Felix Hernandez on the mound.
Interleague Play in 2018 matches the American League West with the National League West. Seattle's first two Interleague series at home are in July, against the Rockies on July 6-8 and Giants on July 24-25.
The Dodgers come to Safeco Field for a three-game weekend series on Aug.17-19, and the Padres will be in Seattle on Sept. 11-12.
Other significant series include the Red Sox in Seattle for four games on June 14-17, the Blue Jays for four on Aug. 2-5 and Yankees for three on Sept. 7-9.
The Mariners will be home for the three major summer holidays: Memorial Day, May 28 vs. the Rangers; July 4 vs. the Angels; and Labor Day, Sept. 3 vs. the Orioles.
The Mariners end the season with 19 games against the AL West, including a 10-game road trip against the Angels, Astros and Rangers from Sept. 13-23, followed by the final homestand to close out the season from Sept. 24-30 against the A's and Rangers.
Start times for games will be released at a later date. The schedule is considered tentative and subject to change until it is finalized in January 2018.