Mariners set 25-man Opening Day roster
Ichiro added, expected to start in RF on Wednesday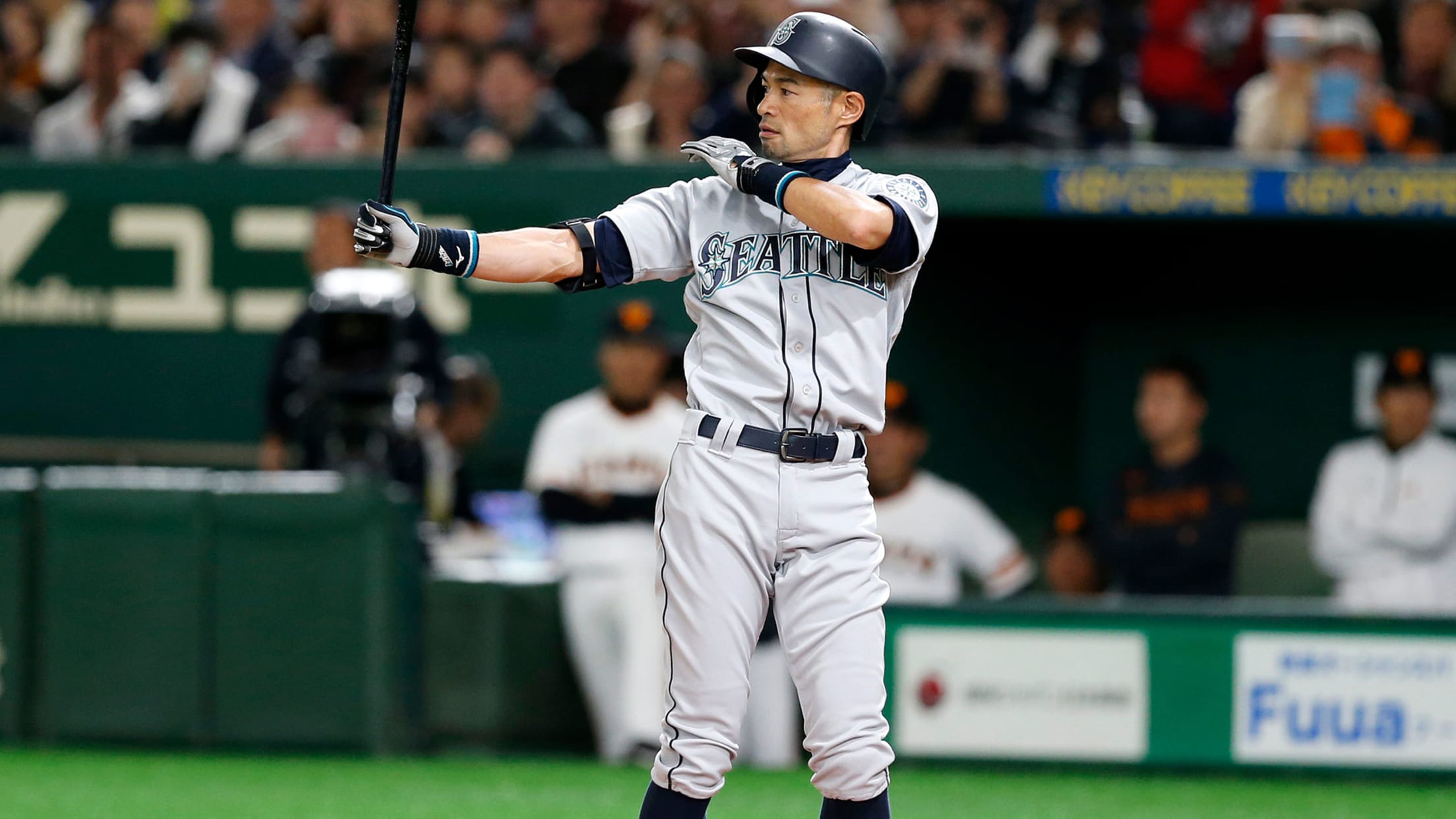 TOKYO -- The Mariners have set their 25-man roster for Opening Day and, indeed, Ichiro Suzuki was added to the Major League roster, and is expected to start in right field when Seattle takes on the A's in the first game of the Opening Series on Wednesday at 2:35 a.m.
TOKYO -- The Mariners have set their 25-man roster for Opening Day and, indeed, Ichiro Suzuki was added to the Major League roster, and is expected to start in right field when Seattle takes on the A's in the first game of the Opening Series on Wednesday at 2:35 a.m. PT in the Tokyo Dome.
Ichiro, who came to camp on a Minor League contract, was promoted to the Major League 40-man roster, while starting pitcher Tommy Milone and catcher Jose Lobaton were reassigned to Minor League camp.
Milone and Lobaton are part of the 30 players still in Tokyo, but they won't be on the roster for the two Opening Series games Wednesday and Thursday.
Reliever Shawn Armstrong, who also is on the trip, was one of five players placed on the injured list, as he's dealing with an oblique issue that cropped up after his last appearance in the final Cactus League outing last Wednesday. Also going on the 10-day injured list are third baseman Kyle Seager and relievers Gerson Bautista, Anthony Swarzak and Sam Tuivailala, none of whom made the trip to Tokyo.
From the remaining 28 players on the roster, the Mariners had to designate a 25-man active list for Wednesday's game, with starting pitchers Felix Hernandez and Mike Leake and center fielder Mallex Smith chosen as the inactives. Hernandez and Leake started the two exhibition games against the Yomiuri Giants. Smith has missed all spring with a strained right elbow, but is playing Minor League games now in Arizona and could be ready when the team returns to Seattle.
Since the start of Spring Training, we've been taking a stab at predicting the Mariners' final roster. Here's the final group, noting what differed from our latest prediction:
Catcher (2): Omar Narvaez and David Freitas
What's changed: These are the two we had all along, though it came down to the wire before Freitas was selected over Lobaton. Both Freitas and Lobaton made the trip to Tokyo, but the Mariners went with Freitas after his game-winning homer in Monday's exhibition game. Freitas was already on the 40-man roster, while somebody would have needed to have been moved to open a spot for Lobaton. Narvaez, acquired from the White Sox in exchange for Alex Colome in November, will get about 100-110 starts if all goes according to plan, and it wouldn't be a surprise if Freitas and Lobaton both wind up splitting the backup duties over the course of the year.
First base (2): Edwin Encarnacion and Daniel Vogelbach
What's changed: Though Ryon Healy initially was penciled in here as the incumbent, this is how we saw things playing out as camp progressed, as it became clear that Encarnacion wasn't going to be traded and Vogelbach put together another strong spring. The fact that Vogelbach is out of Minor League options clearly helped him, but the 26-year-old earned his spot by getting on base at an impressive clip and continuing to show his considerable pop during the spring. Encarnacion is the better defender, and outfielder Jay Bruce can also play first base, so Vogelbach appears destined to primarily get his time at designated hitter.
Second base (1): Dee Gordon
What's changed: Nothing. Gordon has an extra hop in his step and has looked healthy and quick again after moving back to his natural position. He'll open the season back in the leadoff role while Smith is sidelined. And if he gets on base consistently, he might wind up holding on to that spot, as he has previously been a National League batting champ, and led the Majors in stolen bases three of the previous four seasons until a broken big toe on his right foot got him off his game last year.
Third base (1): Ryon Healy
What's changed: Surgery to repair a tendon in Seager's right hand puts a whole different light on this spot as Healy now moves across the diamond. Healy started 103 games at third in 2016-17 for the A's, but played just three innings there last year for Seattle and isn't nearly as good a defender as Seager. But Healy provides some pop and is motivated to stick with the club after seemingly being headed to Tacoma as the odd man out in the first-base battle, and he made a couple nice plays at third in the exhibition games.
Shortstop (1): Tim Beckham
What's changed: This one played out as expected, with the veteran Beckham earning the starting role, while young J.P. Crawford was sent to Triple-A to open the year. Beckham can also play third base, so he could potentially slide into a utility role or help out at third whenever Crawford is deemed ready.
Outfield (6): Mitch Haniger, Domingo Santana, Ichiro Suzuki, Jay Bruce, Mallex Smith and Braden Bishop
What's changed: Only the fact that Ichiro has played well enough in the outfield that he'll start in right field instead of being limited to DH duties for the games in Japan. The rest of the group seemed apparent once Smith's strained right elbow ruled him out of the Opening Series. Haniger slides from right field to center, Santana holds down left and Bruce can play either corner, as well as first base. Bishop took advantage of Smith's absence with a strong camp and jumps from Double-A to the big leagues, at least until Smith returns.
Utility (1): Dylan Moore
What's changed: Nothing, though this one came down to the final week before Moore was given the nod over Kristopher Negron. That seemed the likely choice all along, given the 26-year-old Moore was acquired from the Brewers because the Mariners see long-term upside. At 33, Negron had more experience, but Moore earned his first Major League roster berth and manager Scott Servais says he'll get plenty of playing time, including a bigger role now at third base with Seager sidelined.
Starting pitchers (5): Marco Gonzales, Yusei Kikuchi, Mike Leake, Wade LeBlanc and Félix Hernández
What's changed: This group has been locked in from Day 1 of camp, with the only question being who'd earn the Opening Day start. That wound up going to Gonzales, with Kikuchi pitching game 2. Former ace Hernandez won't start until the fifth game of the first homestand, as Gonzales and Kikuchi will pitch in Tokyo and then come back again for the first two games in Seattle, with the other three following in order.
Relief pitchers (8): Right-handers Hunter Strickland, Dan Altavilla, Cory Gearrin, Chasen Bradford, Brandon Brennan, Nick Rumbelow and Matt Festa. Left-handers Zac Rosscup and Roenis Elias.
What's changed: Bautista's strained pectoral muscle in the last week of camp, and now Armstrong's oblique issue opened the door for Festa, but everything else played out as projected. Strickland will be the closer, Rosscup is the situational lefty and the other roles will sort themselves out as the season gets going. This is a spot where they're carrying an extra player with the 28-man roster, so Festa's stay could be short-lived. Brennan made the team as a Rule 5 Draft player and will be given every chance to show he belongs.
OPENING NIGHT ROSTER
Catcher: Omar Narvaez, David Freitas
Infielders: Tim Beckham, Edwin Encarnacion, Dee Gordon, Ryon Healy, Dylan Moore, Daniel Vogelbach
Outfielders: Braden Bishop, Jay Bruce, Mitch Haniger, Domingo Santana, Mallex Smith, Ichiro Suzuki
Starting pitchers: Marco Gonzales, Yusei Kikuchi, Mike Leake, Wade LeBlanc, Felix Hernandez
Relief pitchers: Dan Altavilla, Chasen Bradford, Brandon Brennan, Matt Festa, Cory Gearrin, Nick Rumbelow, Hunter Strickland, Roenis Elias, Zac Rosscup
Injured list: RHP Shawn Armstrong (left oblique strain), RHP Gerson Bautista (right pectoral strain), RHP Anthony Swarzak (right shoulder impingement), RHP Sam Tuivailala (ruptured right Achilles tendon), 3B Kyle Seager (torn tendon in left hand).