Notes: First scrimmage on radio; '21 sked out
Graveman glad to be back in action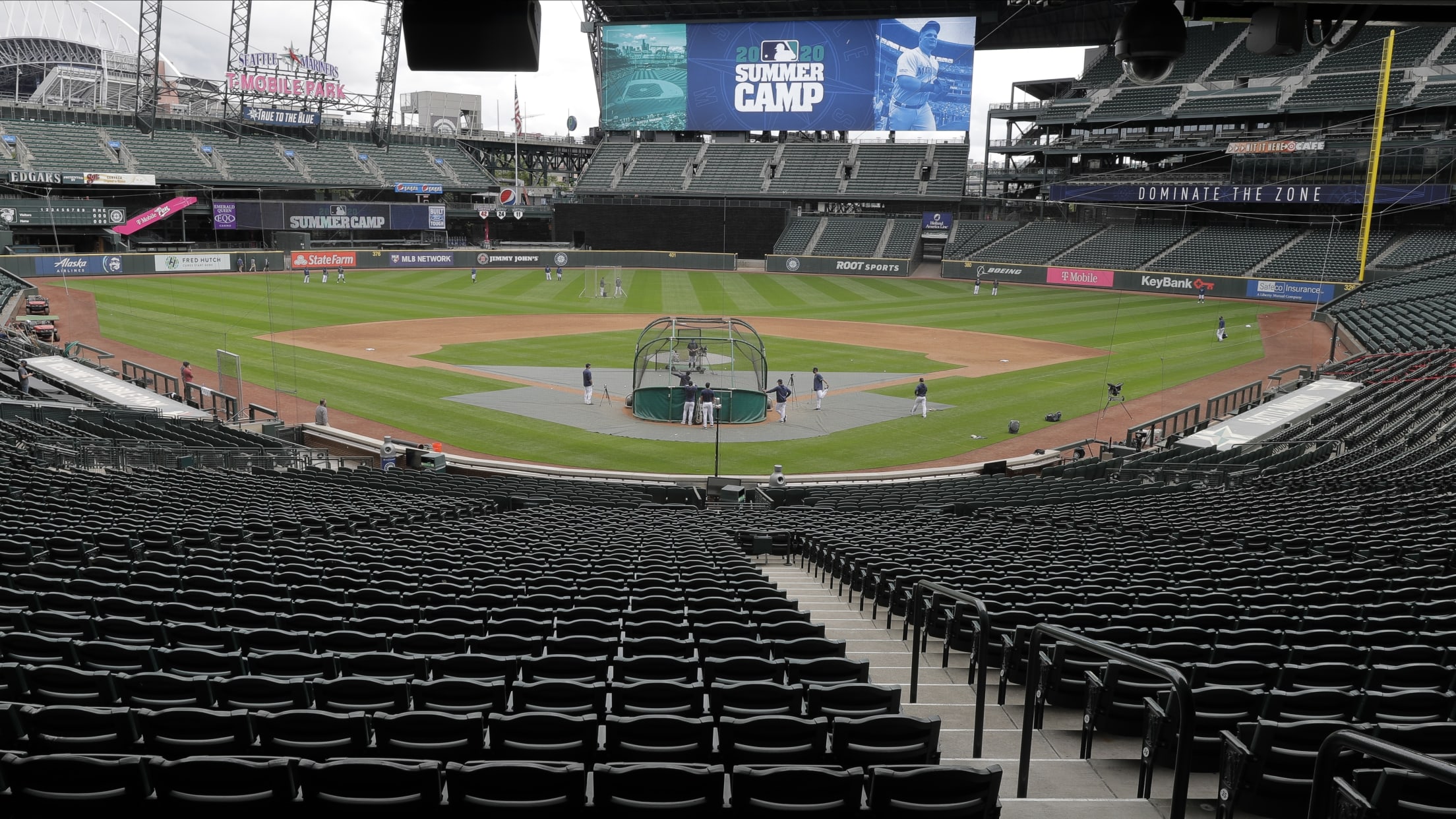 SEATTLE -- For fans waiting to hear the friendly voices of Rick Rizzs and Aaron Goldsmith calling a baseball game again, the Mariners will be in action Friday at T-Mobile Park with their first intrasquad contest of Summer Camp. The scrimmage, which starts at 2:45 p.m. PT, will be broadcast
SEATTLE -- For fans waiting to hear the friendly voices of Rick Rizzs and Aaron Goldsmith calling a baseball game again, the Mariners will be in action Friday at T-Mobile Park with their first intrasquad contest of Summer Camp.
The scrimmage, which starts at 2:45 p.m. PT, will be broadcast live on 710 ESPN Seattle radio and also carried on Mariners radio affiliates in Spokane, Yakima and the Tri-Cities. The action will also be streamed live -- with no audio -- on the Mariners' YouTube account using the same limited stadium cameras that have been showing workouts each day this week.
Discussions are still underway as to whether future intrasquad games will be broadcast on radio or televised on ROOT Sports. No fans will be allowed at T-Mobile Park as COVID-19 restrictions remain in place in King County.
Friday's game is scheduled for seven innings and will be an informal scrimmage, with some situational work mixed in. Pitchers, for example, could remain in even after getting three outs in an inning to get in extra work, or baserunners could be added at various points so defenders can work on bunt situations.
But with no exhibitions against other teams possible because of Seattle's distant location to other MLB clubs, this will be the closest the Mariners come to game action as they prepare for the 60-game regular season starting July 24 in Houston.
The team will play intrasquad games every day -- with the exception of a July 17 off-day -- until heading to Houston.
Logan Gilbert and Brandon Williamson, two of the Mariners' younger prospects, will start Saturday's intrasquad game, while Opening Day starter Marco Gonzales is slated to be one of the two starters on Sunday.
Are we ready for 2021 yet?
While MLB is yet to open the 2020 season in this unusual year, the league unveiled its tentative '21 schedule on Thursday, which has the Mariners opening at home against the Giants in an Interleague matchup on Thursday, April 1.
The 2021 Mariners schedule is here! 🎉 pic.twitter.com/fsSRyMEuOZ

— Seattle Mariners (@Mariners) July 9, 2020
The six-game opening homestand features three games against the Giants, followed by Easter Sunday off and then a three-game set against the White Sox on April 5-7.
The American League West faces the National League West in Interleague Play, and the Mariners will also host the Dodgers on April 19-20, the Rockies on June 22-23 and the D-backs on Sept. 10-12. Their only meeting with the Padres will be in San Diego on May 21-23, while they'll also travel to Dodger Stadium on May 11-12, to Coors Field to face the Rockies on July 20-21 and to Chase Field in Phoenix to face the D-backs on Sept. 3-5.
In a scheduling twist, the Mariners face just one AL West foe in their first 26 games in April, with a three-game home series against the Astros on April 16-18 and a four-game set in Houston on April 26-29.
The Mariners will be home on Memorial Day, May 31, to meet the A's, and also on the Fourth of July against the Rangers. The season concludes with a six-game homestand vs. the A's and Angels, with the final game set for Oct. 3.
Start times for all games haven't been released yet and the schedule won't become official until January.
Graveman gears up again
The Mariners held only a light workout on Thursday morning, as manager Scott Servais gave most of the players the day off prior to starting intrasquad action Friday. Right-hander Kendall Graveman faced live hitters for the first time in a batting practice session against Daniel Vogelbach and Tim Lopes, while reliever Aaron Fletcher also faced a variety of hitters for the first time.
Graveman threw 40 pitches, taking a break after 20 pitches to simulate a two-inning outing, as he worked to rebuild his arm strength after the 3 1/2-month layoff, during which he returned home to Alabama.
Kendall Graveman throwing live BP to Daniel Vogelbach this morning. He's the last of the six expected Mariners starters to face live hitters this week. They'll all advance now to intrasquad games starting tomorrow, with 2 weeks til Opening Day. pic.twitter.com/iODScLXLy7

— Greg Johns (@GregJohnsMLB) July 9, 2020
Graveman is the last of the Mariners' expected starters to face hitters as the club prepares to go with a six-man rotation that will start with Gonzales and also include Yusei Kikuchi, Taijuan Walker, Justus Sheffield and Justin Dunn.
The 29-year-old Graveman missed most of the past two years following Tommy John surgery, but like Walker is feeling fully healthy again after the lengthy layoff.
"I'm very excited," said the former A's Opening Day starter. "I can't hide it. I love this game and have a passion for this game. I'm ready to pitch. I feel like I'm a big league pitcher and can get guys out and help a team win. It's been driving me nuts to not be able to play the last two years, so I'm ready to get out and compete."