Servais looks to improve Mariners' baserunning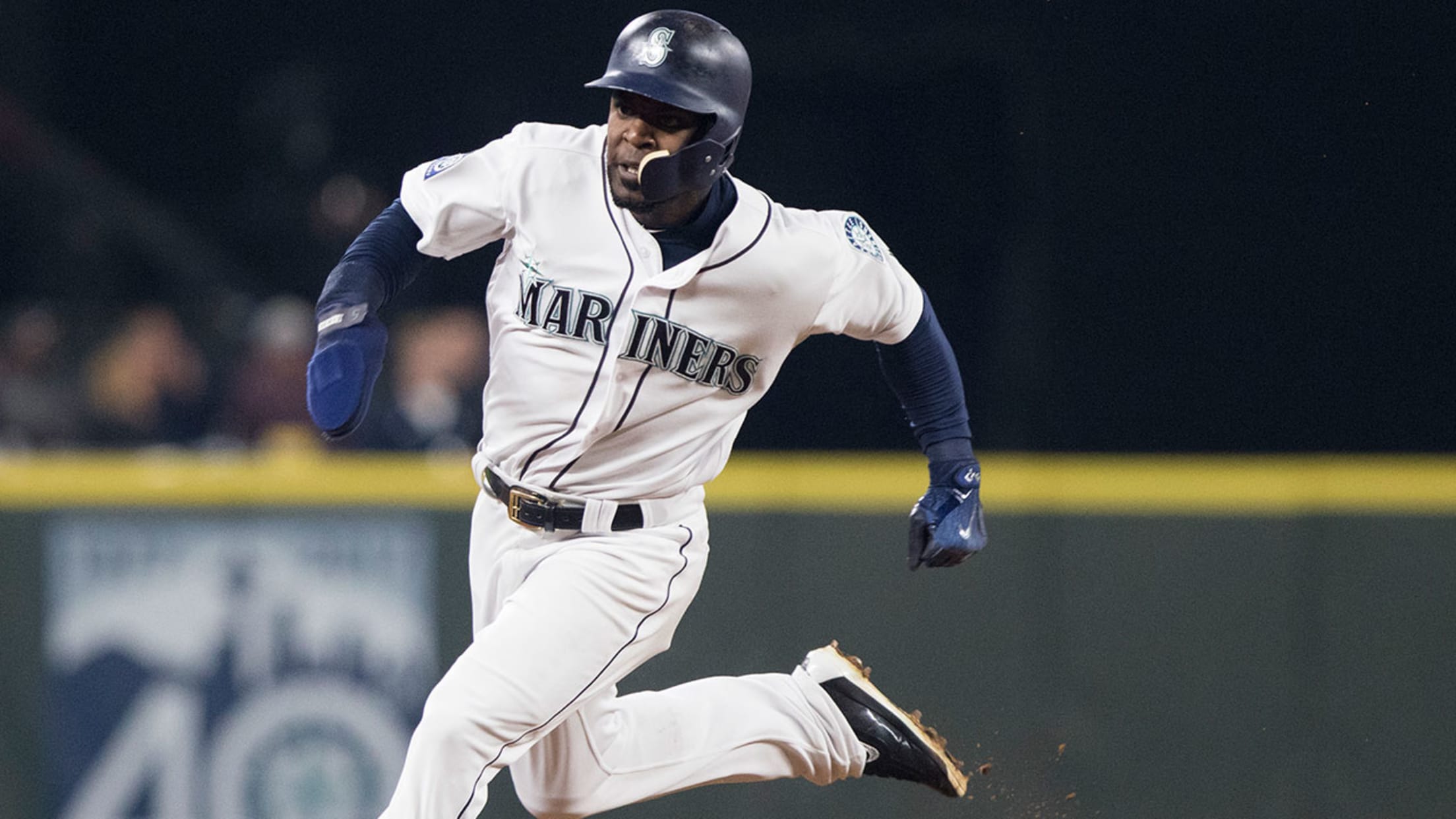 Seattle finished 28th in the Majors last year with a negative 10.7 Ultimate Base Running rating, a number Scott Servais looks to improve upon in 2018. (AP Photo/Lindsey Wasson)
SEATTLE -- There may be four months between now and the start of Spring Training, but that hasn't stopped Mariners manager Scott Servais from beginning to plot ways to improve one of his team's major weaknesses last year.After vowing to be an aggressive baserunning club that took advantage of improved
SEATTLE -- There may be four months between now and the start of Spring Training, but that hasn't stopped Mariners manager Scott Servais from beginning to plot ways to improve one of his team's major weaknesses last year.
After vowing to be an aggressive baserunning club that took advantage of improved speed and athleticism in 2017, instead the Mariners found themselves committing far too many mistakes on the bases and running into enough outs to leave Servais searching for solutions.
"It's the fundamental things that drive teams, coaching staffs and fans crazy," Servais said. "I get it. Whether it's making a key out on the bases, not getting the guy over from second to third or hitting the sac fly when it's needed, it's the little fundamental things [that] ultimately decide winning or losing at the Major League level. It's something we were not good at this year. And baserunning stood out."
The Mariners did have more speed last season. They stole more bases -- going from 24th in the Majors with 56 in 2016 to 13th with 89 in '17. But baserunning isn't just stealing bases; it's about taking the extra base whenever possible, avoiding needless outs, staying out of double plays, tagging up on fly balls, etc.
FanGraphs has a calculation called Ultimate Base Running (UBR) that attempts to measure teams' performance in these situations against the league norm. An average team would finish with a zero rating, while anything above or below average would indicate the number of runs that team gained or lost via baserunning.
The Mariners finished 28th out of the 30 MLB teams this past season with a negative 10.7 rating, after being 23rd in 2016 at negative 6.5. For comparison purposes, the Royals were first in the Majors this year with a plus 9.1.
It's worth noting that Seattle has long struggled in UBR ratings. The 2015 club, a year before the arrival of Servais and general manager Jerry Dipoto, was dead last in MLB with a minus 18.4. FanGraphs only started tracking UBR in 2002 and Seattle had a positive rating two of the first four seasons. But in the ensuing 12 years, only one Mariners team had a positive UBR, with the '14 club posting a plus 2.9 while going 87-75.
Servais wants to change that trend. The second-year manager started daily film sessions midway through last season that he called the "Good, Bad and Ugly," pointing out the best and worst baserunning plays from the previous game as a reminder of the importance. He met with players who made mistakes, called out those who struggled and after the season dismissed first base coach Casey Candaele, who oversaw baserunning.
But he knows this is an area that must improve if the Mariners want to compete in the American League West.
"We've got to bridge the gap," he said. "We're not going to turn over our roster a ton. We'll add a piece here or there, but how we play the game fundamentally and the attention to detail really has to get better in Spring Training.
"And it starts with me. I'm the manager of the club and I'm putting plans together and how we want to address it is something I've been thinking long and hard about here over the last couple weeks. How are we going to get after this? It'll be a priority and it'll be up to me to get it done."
Every team conducts baserunning drills, but those don't always translate to game-speed conditions. So Servais intends to change that when the club gathers again next February in Peoria, Ariz.
"You'll see us do different things in Spring Training than you've ever seen before," he said. "It'll be a priority for us. You may see days where we don't take batting practice and we run the bases. It needs to be stressed to our guys how important it is."
Servais says a lot of baserunning is about awareness of the changing defensive positioning with shifts, thinking ahead and correctly reading the ball off the bat.
"You have to find a way to do it at game speed and I think I've got a way to do it," he said. "Whether it's getting Minor League players involved and setting up real game situations, we will do creative things to get better at this.
"I'm not afraid to try anything and think outside the box to connect with our players and to get them to see the value of it and teach them. And that's what we're going to do. Whether you have 12 years in the league, eight years in the league or one year in the league, everybody has to do it."