4 Mariners benefiting from Summer Camp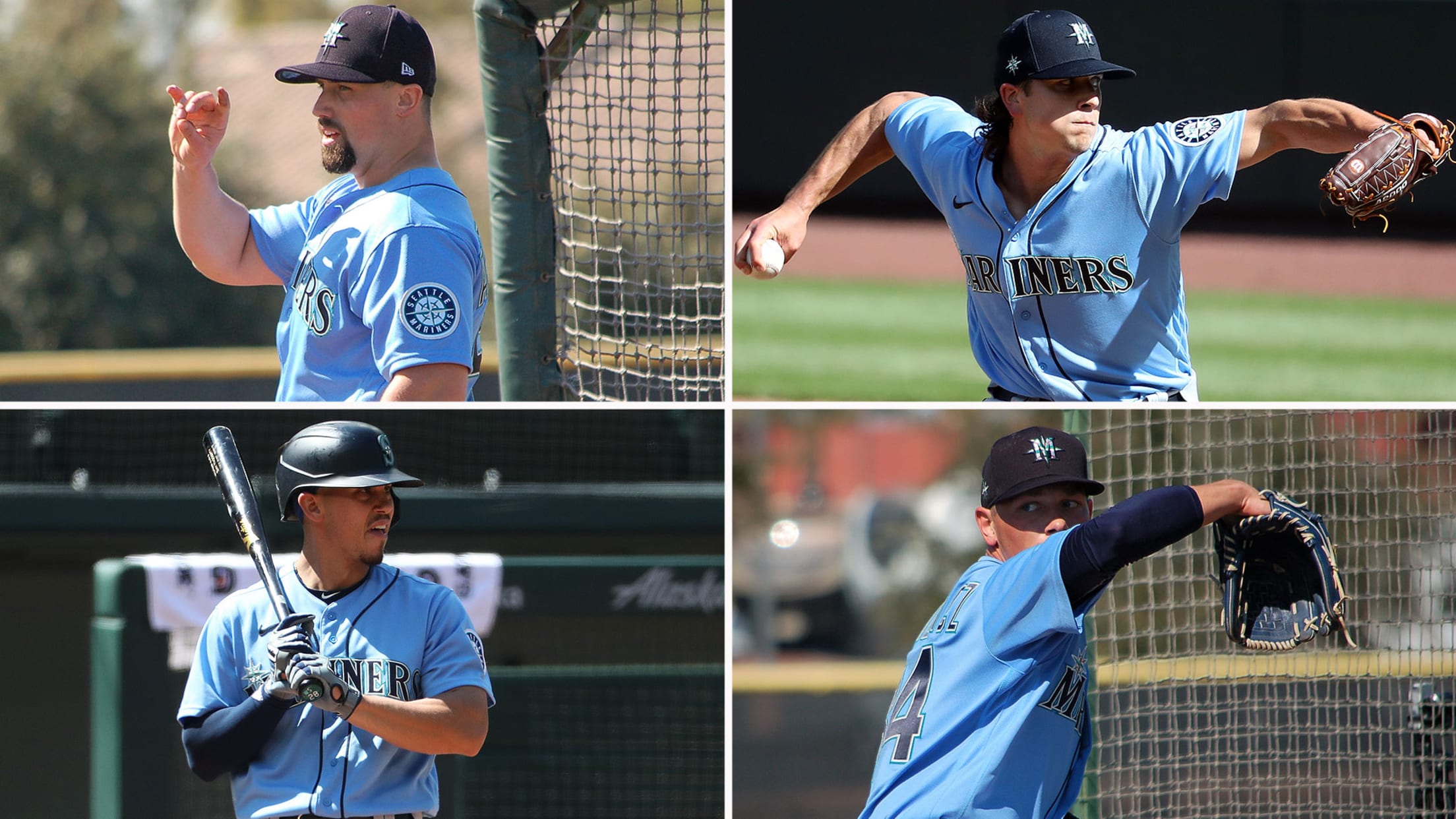 SEATTLE -- After nearly two weeks of Summer Camp, it's apparent that a few things have changed regarding the Mariners. With Mallex Smith and Dylan Moore just now being cleared to practice, their Opening Day spots on the 30-man roster are no longer assured. Veteran reliever Yoshihisa Hirano also has
SEATTLE -- After nearly two weeks of Summer Camp, it's apparent that a few things have changed regarding the Mariners.
With Mallex Smith and Dylan Moore just now being cleared to practice, their Opening Day spots on the 30-man roster are no longer assured. Veteran reliever Yoshihisa Hirano also has missed all of camp and, unlike Smith and Moore, was placed on the injured list Tuesday to further muddy his status.
But other players have stepped up, refreshed by the break and the chance to get healthy, stronger or wiser.
Here are four Mariners who've gotten off to good starts in the training camp reboot and potentially improved their positions in the pecking order:
Dan Altavilla
Since teasing the Mariners in 2016 as a hard-throwing 23-year-old, Altavilla has bounced back and forth between the Majors and Minor Leagues with varying degrees of success and some arm issues. But the 5-foot-11, 226-pounder has been the best-looking reliever in Summer Camp with his fastball consistently in the upper 90s and touching 102 on Wednesday, along with a hard, sharper 90-91 mph slider.
With Hirano sidelined indefinitely, Altavilla has thrust himself into contention for late-inning duties alongside Matt Magill and Austin Adams.
"I know we've tried Dan in a number of roles," manager Scott Servais said. "He looks like a different animal right now. He really does. He's got a ton of confidence, he's made an adjustment to his breaking pitch. It's not quite the sweeping slider he's thrown in the past, it's shorter and tighter and he's really commanding it well. So he's a guy who has jumped up so far in this camp."
Taylor Williams
The 28-year-old reliever from Camas, Wash., was claimed off waivers from the Brewers about 10 days into Spring Training in Arizona in February and didn't have much time to establish himself before the shutdown. But he spent the down time working with Mariners pitching strategist Trent Blank in Arizona on how to best deploy his arsenal, and he has opened eyes in intrasquad action.
Williams was a highly regarded prospect with Milwaukee before being sidetracked by Tommy John surgery in 2015, and while his mid-90s fastball returned, the right-hander struggled with command over the past three years with the Brewers.
"He made a few adjustments in how he's using his pitches," Servais said. "Trent worked with him on where his stuff may work more effectively in the strike zone. He was a guy that lived down with the sinker. We got him to throw a few more balls up, and he's throwing the ball really well."
Sam Haggerty
Haggerty, who played 11 games with the Mets last year, was claimed off waivers in January to compete for the utility infielder job. But the 26-year-old was largely overlooked in Spring Training in Arizona as Tim Lopes and Moore appeared to be the primary competitors for that role while Haggerty was sidelined by an elbow injury.
But he healed up over the break and has played well in Summer Camp, getting time at shortstop and second base as well as the outfield. With Moore just returning now after clearing the COVID-19 protocols, Haggerty has taken advantage of the opportunity to thrust himself into contention for a spot on the expanded roster with his needed versatility.
"He's 100 percent healthy now," Servais said. "He's a guy who can stand in at shortstop and play second or third and anywhere in the outfield. Those kind of players are pretty valuable on a Major League roster."
Anthony Misiewicz
His name is tough to spell and he's not one of the club's big-name prospects, but the 25-year-old southpaw was intriguing the Mariners with his stuff in Spring Training and that has only continued since camp re-opened in Seattle.
Misiewicz was drafted by Seattle in the 18th round out of Michigan State in 2015, then traded to the Rays in August of 2017 as part of a package for catcher Mike Marjama and reliever Ryan Garton. But general manager Jerry Dipoto liked him enough to re-acquire him after that season, and he split time with Double-A Arkansas and Triple-A Tacoma last year.
"He's one of the left-handers we brought into camp [as a non-roster invite], and he's throwing really well," Servais said. "He's got an outstanding breaking ball, and the guy has opened some eyes here the last couple times he's been out there."