Mariners working to fix Griffey statue
Sculptor will be in Seattle to assess damage from vandalism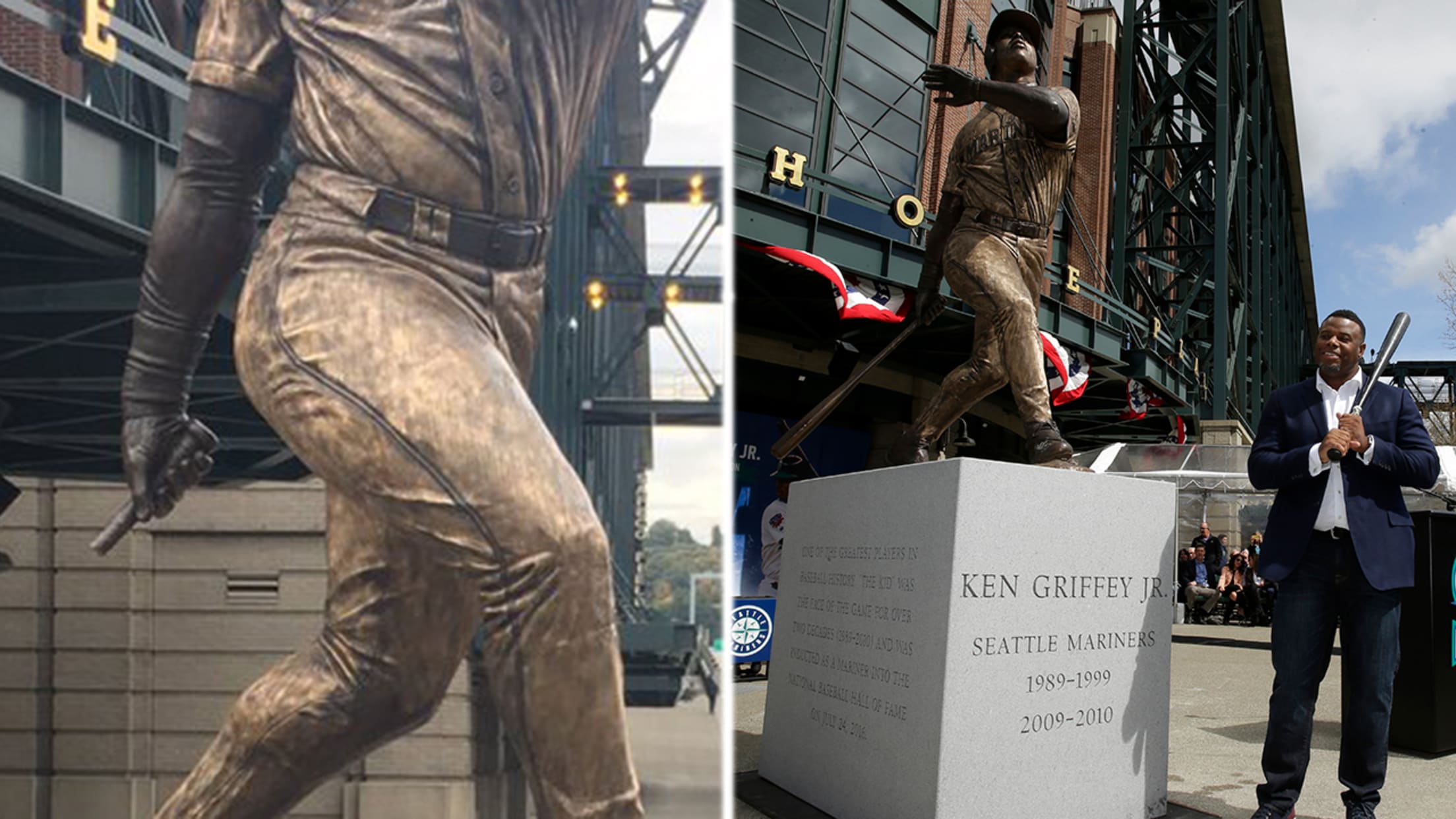 The bat was broken off the Ken Griffey Jr. statue at Safeco Field on Tuesday night. (Courtesy of the Mariners)
SEATTLE -- Ken Griffey Jr. dealt with numerous broken bats during his 22-year playing career, but the Mariners vowed the bronze statue of their Hall of Fame center fielder at the front gate of Safeco Field will be repaired and returned to its original state.Someone broke off the bat in
SEATTLE -- Ken Griffey Jr. dealt with numerous broken bats during his 22-year playing career, but the Mariners vowed the bronze statue of their Hall of Fame center fielder at the front gate of Safeco Field will be repaired and returned to its original state.
Someone broke off the bat in Griffey's hands on the 7-foot statue about 5 p.m. PT on Tuesday. Seattle police, responding to calls from a witness who saw the incident taking place, arrested an adult male who was booked into King County Jail on suspicion of felony malicious mischief, Seattle Police Detective Mark Jamison told the Seattle Times.
Chicago artist Lou Cella, the sculptor who created the statue, had planned to be in Seattle next week for different reasons, according to Mariners director of public information Rebecca Hale. Cella will assess the damage and determine how best to make repairs.
"He still has all the molds for everything," Hale said. "So if necessary, they can cast a new bat, and he knows of a foundry in the Seattle area he feels comfortable with actually doing the repair work. The statue was cast with several pieces and welded together, so it's very likely this repair can be made fairly seamlessly."
Police recovered the broken bat and returned it to the Mariners, but Hale said it has several dents in it and it will be up to Cella to decide if it would be better to cast a new bat or repair the broken piece.
The statue was unveiled outside the front gate of Safeco Field -- at the corner of Edgar Martinez Drive and Dave Niehaus Way-- on April 13 and greeted Mariners fans arriving for games during the 2017 season without incident until Tuesday night.
KING-TV reported that Kelsey Klevenberg, a businessman in a meeting across the street from the stadium, saw a man slowly bending the bat back and forth until it snapped. Klevenberg chased the man down the street and saw the bat in a garbage can before police arrived.
"If there's one thing you don't do in Seattle, Washington, it's mess with the statue of Ken Griffey Jr., the savior of baseball," Klevenberg told KING-TV.
Hale said Cella will look for ways to reinforce the bat to avoid further problems and the club will discuss if there's anything that needs to be done to protect the statue.

"To put it behind a fence, we feel that would be a shame and the last thing we want to have to do," Hale said. "The thing we love about the statue and its location is that fans interact with it and not just on game days. People are always standing next to it and touching it and getting pictures and enjoying the significance of this homegrown hero.
"It's a hugely important thing for us at the Mariners. We haven't said much about it, but it's very disheartening. It's almost like a wound to the organization, and we absolutely want to do what's necessary to make it whole and right. It's such an important part of our history. We love Ken and our fans love the statue. We'll have to figure out what to do going forward."