Canha, Khrush return to lineup; Piscotty sits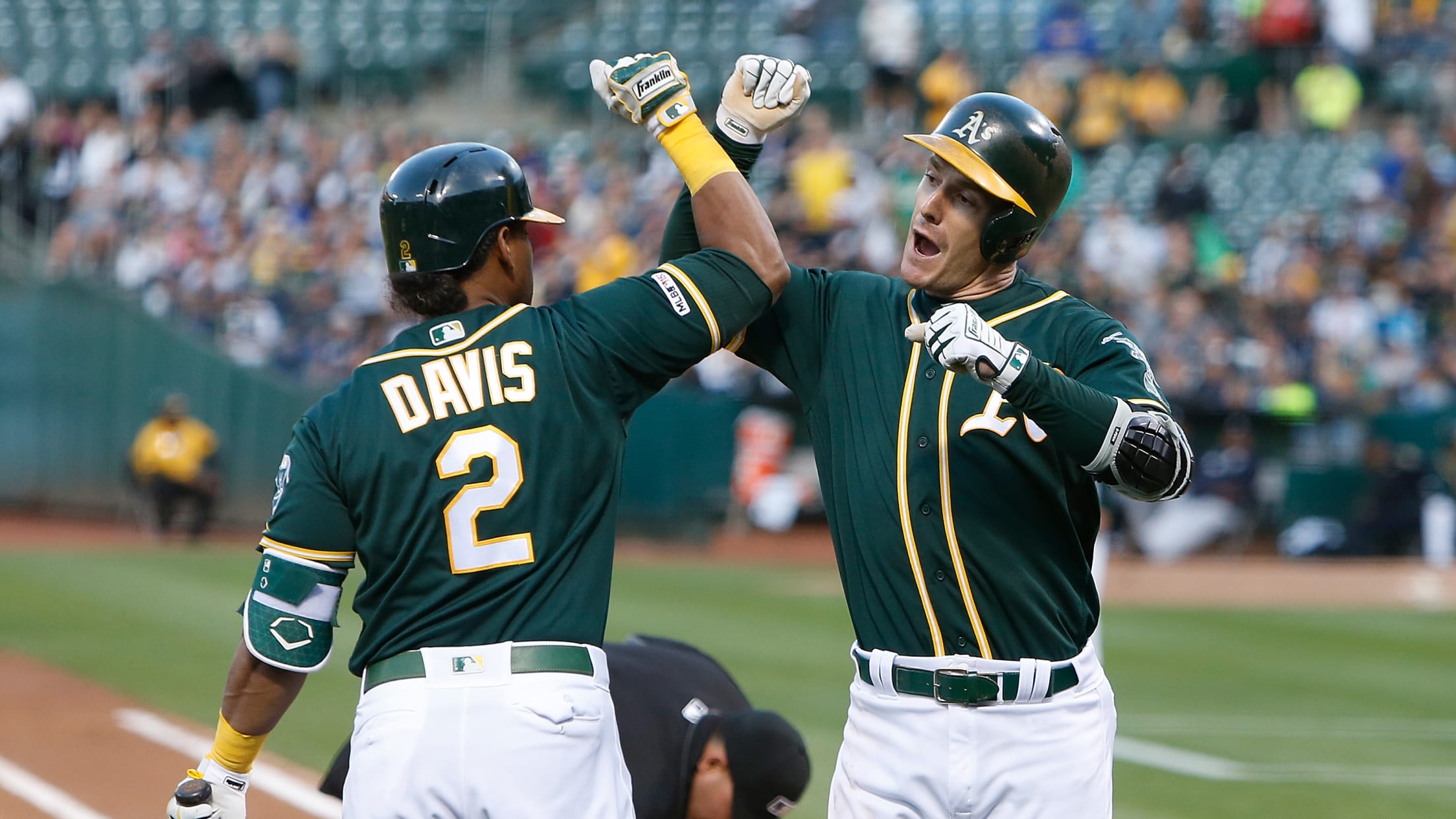 SEATTLE -- After the A's clinched a postseason berth on Friday, the club's offense returned to full strength against the Mariners. Outfielder Mark Canha and designated hitter Khris Davis returned to the starting lineup, batting fifth and sixth, respectively. Canha was held out of Thursday's 3-1 win over Seattle due
SEATTLE -- After the A's clinched a postseason berth on Friday, the club's offense returned to full strength against the Mariners.
Outfielder Mark Canha and designated hitter Khris Davis returned to the starting lineup, batting fifth and sixth, respectively. Canha was held out of Thursday's 3-1 win over Seattle due to a left groin strain that he sustained in Wednesday's win over the Angels, while Davis had missed the previous two games with a stomach bug.
• Shop for A's postseason gear
"It's nice to have them back, and they wanted to play, obviously," A's manager Bob Melvin said. "This is kind of the day maybe we give [center fielder Ramon] Laureano off with his workload, but he didn't want anything to do with that. This time of year, late in the season with a lot on the line, these guys want to play and will do anything they can to get in the lineup."
Piscotty to get at-bats
It will be difficult to find Stephen Piscotty at-bats after he returned from the injured list Thursday due to so many outfielders playing well right now, but Melvin will look to find a chance to install Piscotty over the final three games of the regular season.
Given Piscotty's postseason experience, he could find himself on Oakland's potential postseason roster if he feels comfortable in his return from a right ankle sprain.
"A lot of hard work, determination and pain tolerance went into getting back in this position," Melvin said of Piscotty. "It's nice to have a guy that has been instrumental with this team over the course of the season. As he's shown in his career with us, he gets big hits. That would suggest he does well in the postseason and does have a good track record."