A's recall lefty Buchter, place Canha on IL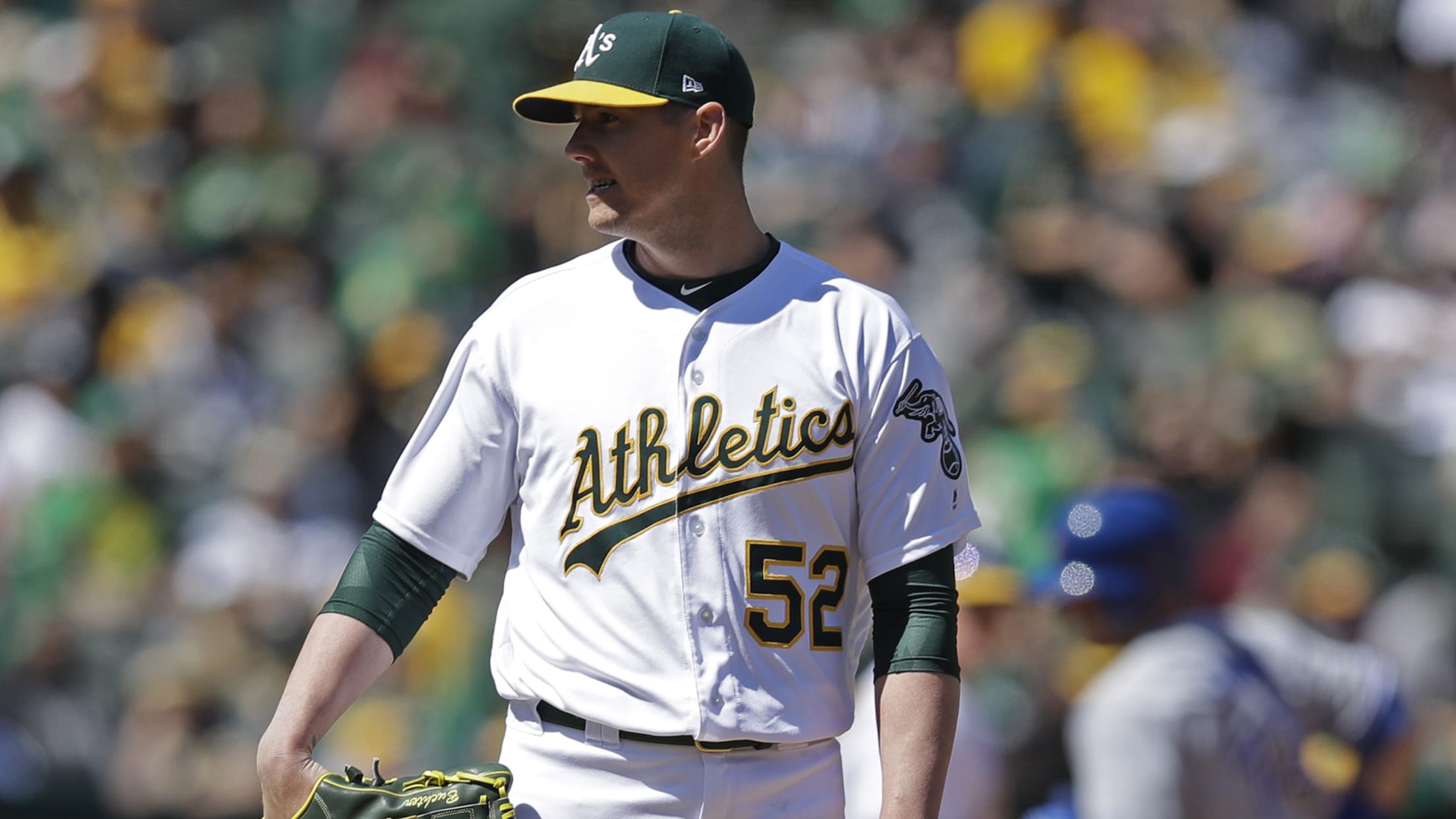 OAKLAND -- Ryan Buchter was expected to return to the A's at some point this year, but his stint in the Minor Leagues was shorter than even he might have expected. Buchter's option to Triple-A Las Vegas lasted just one week as he was recalled by Oakland before Monday's game
OAKLAND -- Ryan Buchter was expected to return to the A's at some point this year, but his stint in the Minor Leagues was shorter than even he might have expected.
Buchter's option to Triple-A Las Vegas lasted just one week as he was recalled by Oakland before Monday's game in Boston, after Mark Canha was placed on the 10-day injured list with a right wrist sprain.
The move gives the A's a left-hander in the bullpen after they had been without one in Buchter's absence. The club also is placing more of an emphasis on pitching for the three-game series against the Red Sox, now going with a nine-man bullpen. Catcher Nick Hundley and utility man Chad Pinder will be the only two hitters available off the bench for the time being.
Buchter pitched in just one game for Las Vegas, turning in a scoreless inning. He returns to the Major Leagues after his ERA ballooned to 7.04 over 13 appearances with Oakland to begin the season. After a strong first year with the A's in 2018 where he compiled a 2.75 ERA in 54 appearances, a short time in the Minor Leagues may have been just what Buchter needed to get back on track.
"I think all in all, you get a little perspective sometimes," A's manager Bob Melvin said. "I got sent down in my career after a few years, and it makes you realize how great it is here at the big league level. He's been a really good lefty over his career so it was just a matter of time."
Canha is heading to the injured list for just the second time in his career. His wrist injury developed in Sunday's loss to the Blue Jays, when the issue forced him to depart from the game. Canha flew to Los Angeles on Monday afternoon and is scheduled to undergo an MRI with Dr. Steven Shin on Tuesday. He was batting .200 with two home runs and four RBIs in 18 games, spending time at first base, left field and center field.
With Matt Olson (right hand surgery) expected to head out on a rehab assignment Tuesday and near a return to the Major Leagues, Canha's injury also buys time for Kendrys Morales -- the player likely on the roster bubble once Olson returns -- before the A's have to make a decision.
"You don't want to speed him up," Melvin said of Olson. "We still want to make sure he gets the proper amount of at-bats. Is there a little bit more urgency with Canha down? Yeah. But we have a lot of season left and we want to make sure once he gets back, we don't get any setbacks because of it."
Trivino to return in Boston
Lou Trivino has not pitched in a game since April 17 against the Astros, as a cut under his thumb has kept him out of action, but that's about to change in the next couple of days.
With his thumb nearly at full recovery, Melvin said he expects the right-hander to pitch at some point during the three-game series in Boston. The A's could use Trivino, who has been dominant as the setup man to Blake Treinen, posting a 1.42 ERA over 12 appearances with a 16-1 strikeout-to-walk ratio in 12 2/3 innings of work.
Davis to play the field
Khris Davis' arm troubles while playing left field have relegated him strictly to a DH role over the past few seasons, but with the A's set to play three games in a National League park against the Pirates starting Friday night, Melvin said he wants to get Davis' power bat in the lineup, even if it means allowing him to play defense.
"I don't know if it's going to be every day," Melvin said. "I know he's been working hard and taking balls in the outfield. We want him in the lineup, so that means some games in left."