Shapiro affirms commitment to Blue Jays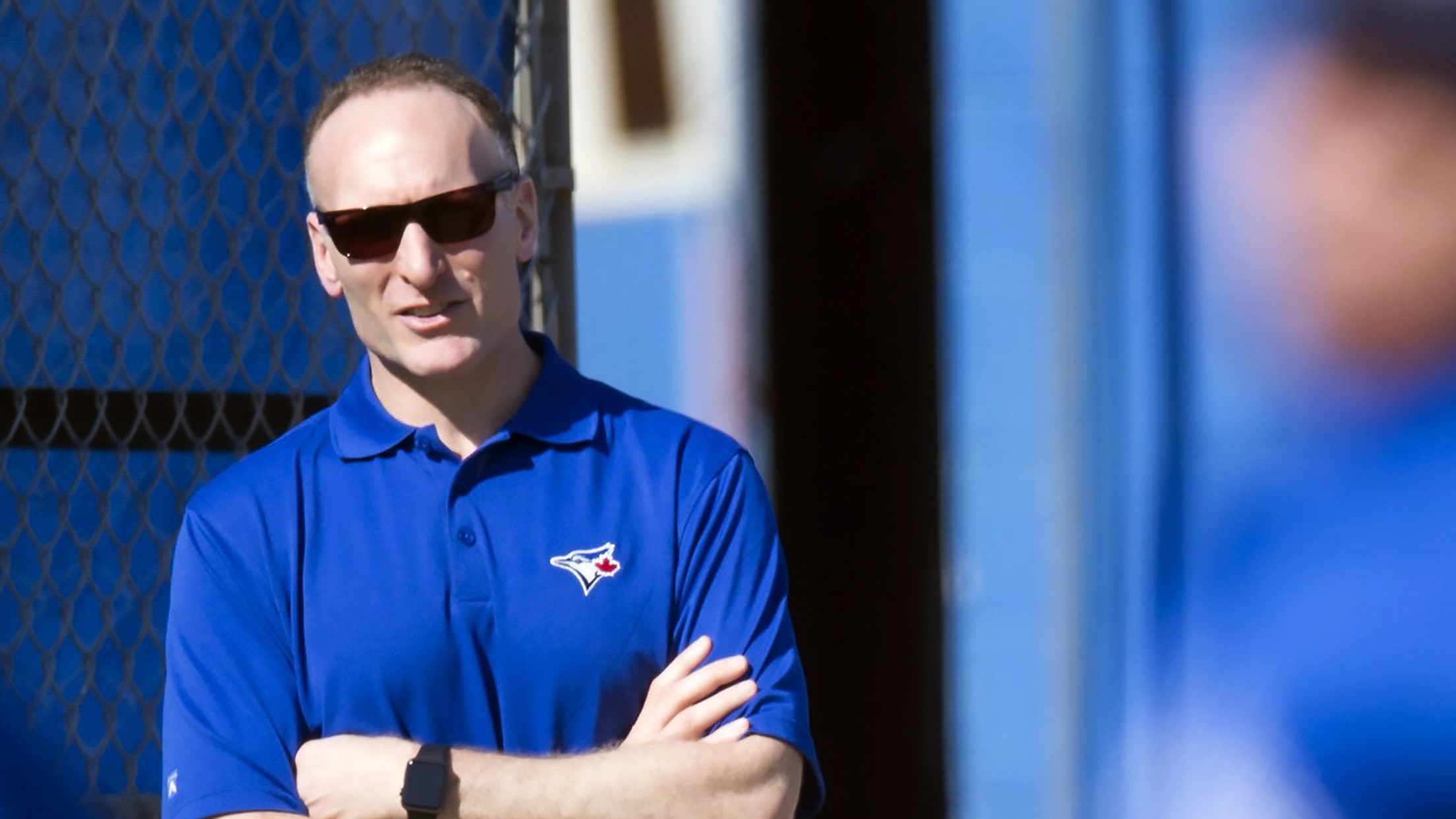 FILE - In this Feb. 22, 2016, file photo, Toronto Blue Jays President and CEO Mark Shapiro watches the first official spring training baseball workout in Dunedin, Fla. Shapiro is the man in the middle of the ALCS. Toronto's president and CEO spent half of his professional baseball life with the Indians before leaving them last year to join the Blue Jays. Now, with both teams meeting with a chance to make the World Series, Shapiro made it clear he'll always have deep fondness for Cleveland, but all that affection will be gone as soon as the first pitch is thrown in Game 1. (Frank Gunn/The Canadian Press via AP, File) (Frank Gunn/AP)
TORONTO -- Mark Shapiro reiterated his commitment to the Blue Jays' organization on Friday afternoon by firmly stating that Toronto is "where I want to be."Shapiro's comments came a few days after a report in the New York Post suggested he was a possible candidate for the Mets' vacant president/general
TORONTO -- Mark Shapiro reiterated his commitment to the Blue Jays' organization on Friday afternoon by firmly stating that Toronto is "where I want to be."
Shapiro's comments came a few days after a report in the New York Post suggested he was a possible candidate for the Mets' vacant president/general manager position.
The Blue Jays have never released the full terms of Shapiro's contract as club president, but he is believed to be in Year 3 of a five-year deal.
"I'm not going to comment on that specifically," Shapiro said when asked about the report. "I can comment on how I feel about being here, and I can comment on where my thoughts and focus are. I feel as, if not more, excited to be here than the day I chose to come here over three years ago, for all the same reasons.
"At the top of the list, the city and the country. What that's meant to me personally, and my family, being here. It has been an exceptional place to be. And then, for the potential of the franchise. If anything, living it for the past 2 1/2 years, I feel even more bullish on what an incredible opportunity there is here to build something over multiple years that captures an entire nation."
Speculation about Shapiro's future has been a hot topic in Toronto since Sportsnet Fan590 radio host Bob McCown suggested the Blue Jays' front office had a fractured relationship with ownership group Rogers Communications. McCown said on the air that there were internal issues between the two parties, and he even floated the idea that Shapiro would leave or be dismissed before manager John Gibbons.
Those rumors were mentioned in the New York Post report, which provided a reason for why Shapiro might be interested in the Mets' job. Shapiro was asked about those reports and his relationship with Rogers, and he remained emphatic that the pairing is on solid ground.
"I don't know where those reports come from," Shapiro said. "I've received nothing but strong support. I probably have a level of operational day-to-day trust and empowerment, if not unparalleled, among the best in all of Major League Baseball. I feel a strong sense of support and alignment with the people I report to."
Toronto's vice president of business operations, Ben Cherington, was linked to the Mets in the same New York Post report. Shapiro would not specifically comment on the potential opening, but he did say that the Blue Jays would never get in the way of an employee seeking to advance his career with a promotion.
The same approach might even be taken with an employee who was seeking to make a lateral move to another team. Toronto previously had a club policy under former president Paul Beeston that allowed teams to speak to their employees only if it was for a better job.
"This is a personal philosophy for any organization that I oversee, I rarely say 100 percent of the time, but I believe in a blanket policy of granting permission for almost anyone, in any situation," Shapiro said.
"I'm sure there could be a rare exception to the rule, but I think if you build a culture and an environment to work in, that people value and want to stay and want to be in, a lot of times they'll choose to stay. I've lived that personally, and other times they have a great opportunity to advance their career."