Trumbo begins season on O's injured list
Slugger still recovering from knee surgery; bullpen comes into focus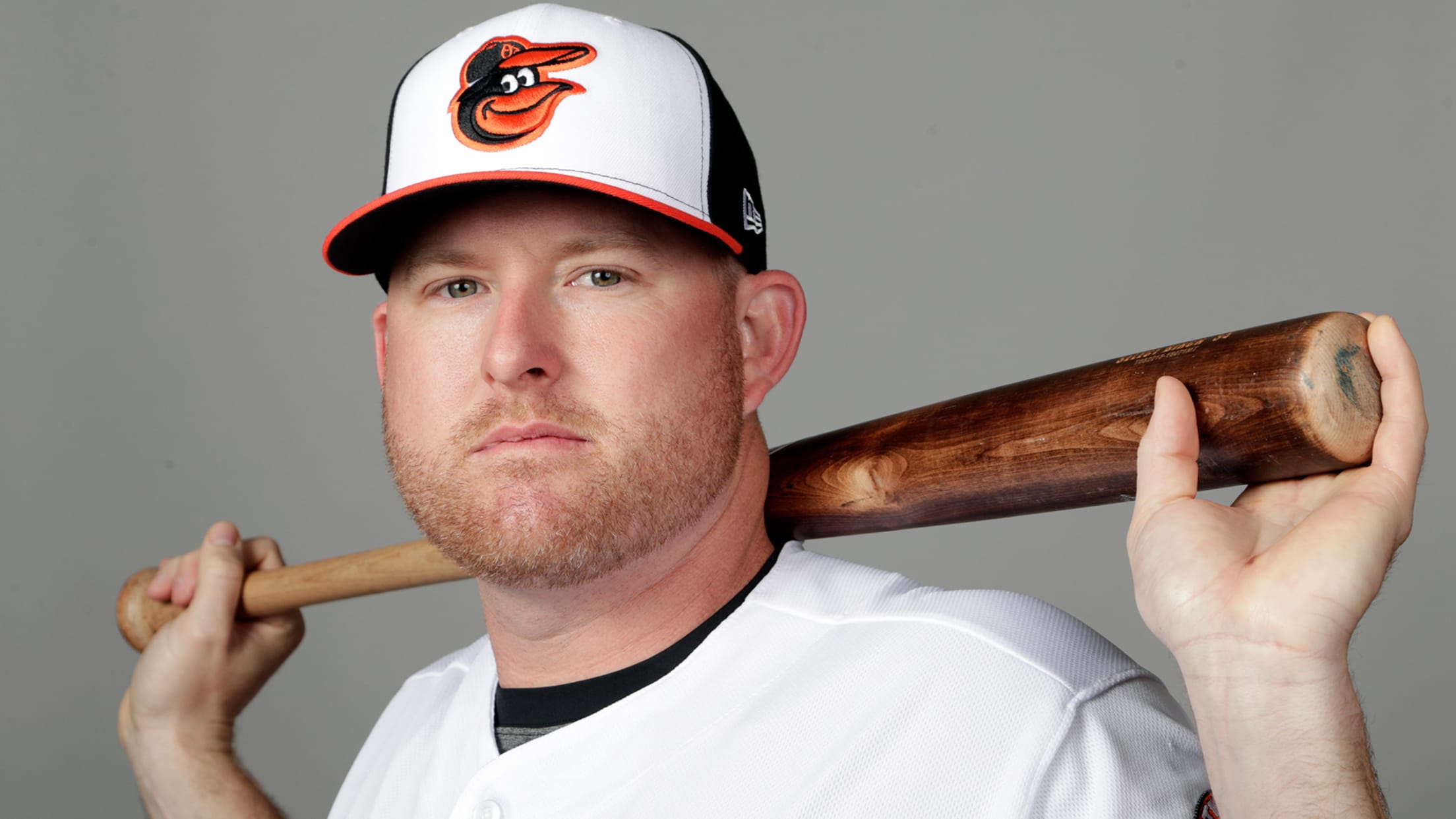 SARASOTA, Fla. -- Mark Trumbo spent all spring working his way back from right knee surgery without a setback. His 2019 debut will have to wait, nonetheless. Orioles manager Brandon Hyde said Sunday that Trumbo will begin the season on the injured list. The veteran slugger is scheduled to remain
SARASOTA, Fla. -- Mark Trumbo spent all spring working his way back from right knee surgery without a setback. His 2019 debut will have to wait, nonetheless.
Orioles manager Brandon Hyde said Sunday that Trumbo will begin the season on the injured list. The veteran slugger is scheduled to remain in Florida when the team heads for New York later this week.
"He's just not ready to play," Hyde said. "I want Mark to be healthy when he joins us and I don't want a lesser version. And it's not fair to him."
Trumbo went 2-for-12 (.167) with a walk in six spring games, after making his Grapefruit League debut on March 13. And though Trumbo cleared every hurdle in his rehab from surgery to repair a chondral defect, he simply ran out of time to work his right knee into full game strength.
"We're going to back off some of the baseball stuff," said Trumbo, 33. "What's really crucial is to make some strength gains and get a little more flexibility in the leg. We're going to target those things over the next couple of weeks."
Doctors originally recommended between 9-12 months of recovery, Trumbo said earlier this spring. He went under the knife a little more than seven months ago.
"I give him so much credit for everything he's done during his whole rehab process," Hyde said. "Really give him a ton of credit for trying to come back from a tough injury earlier than anybody has, but this is the right thing for him, for us, for everybody."
All of that made Trumbo unlikely to break camp, though he and the Orioles long considered that a potential goal.
"I can go out there and take some at-bats, but it just wasn't a good version of me," Trumbo said, "It just makes way more sense to get it right and go out there and do what I can."
Without Trumbo in the fold, Hyde said he plans to "get creative with" the club's open designated hitter spot. Trey Mancini and Chris Davis are the obvious candidates to assume DH duties; Trumbo's absence also gives the Orioles flexibility to carry both Rio Ruiz and Renato Nunez on their Opening Day roster. Nunez, who is out of options, has been slowed defensively lately due to right biceps soreness.
A nine-year veteran, Trumbo hit .261 with 17 home runs and a 110 OPS+ during an injury-plagued 2018, which he started on the shelf with a quad strain. He is in the final year of a three-year, $37.5 million contract.
Sisco, Scott optioned; roster takes shape
The Orioles brought their potential Opening Day roster into sharper focus with a final wave of cuts that included Chance Sisco, Tanner Scott, Evan Phillips and Josh Rogers, all of whom will begin the season at Triple-A Norfolk. The club also reassigned catchers Carlos Perez and Andrew Susac, and infielder Jace Peterson to Minor League camp.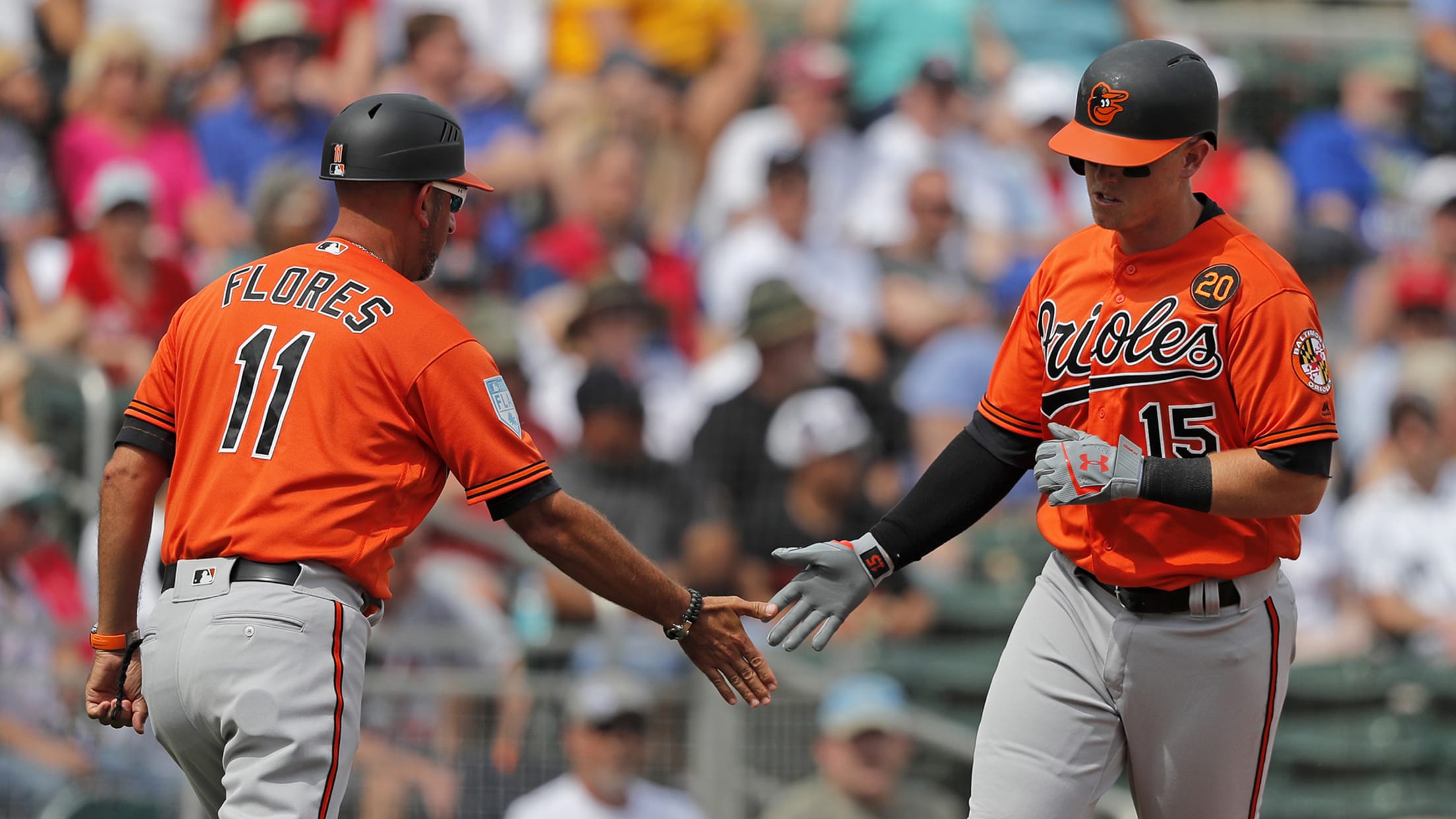 But the headliner here is Sisco, who the Orioles decided over the weekend would be better suited for more seasoning despite hitting .383 with a 1.298 OPS in Grapefruit League play. Their questions center more on Sisco's defense; without him in the fold, Baltimore appears likely to break camp with glove-first options Pedro Severino and Jesus Sucre behind the plate. Bringing Sucre north would require an additional 40-man roster move. The other backstop remaining in camp, Austin Wynns, has been sidelined recently with left oblique soreness.
Scott arrived in Florida a favorite to break camp after making 53 Major League appearances in 2018, but could not escape the control issues that have plagued him throughout his career. Scott allowed eight runs and issued six walks in nine innings of Grapefruit League play.
Phillips' spring was much more productive, with 10 strikeouts in nine appearances of scoreless relief. He heads to Norfolk all the same, along with Rogers, who is probably the first man up when the Orioles need an extra starter. The moves leave 13 pitchers remaining in Major League camp, and the Orioles could potentially break with all of them.
If that happens, their bullpen would look like this to open 2019:
RHP Mychal Givens
RHP Miguel Castro
LHP Richard Bleier
RHP Nate Karns
LHP Paul Fry
RHP Pedro Araujo
LHP John Means
RHP Jimmy Yacabonis
RHP Mike Wright
Wright appears to have won the No. 5 starter job, but factors in here because, due to off-days, the fifth starter will begin the year in the bullpen regardless. The Orioles don't need a No. 5 man until the second week of the season.
Baltimore technically has 28 players left in Major League camp, though that includes Mark Trumbo, who will open the year on the injured list, and Wynns, who appears likely to. Opening Day starter Alex Cobb is currently nursing a right groin strain and potentially could as well.
Additional roster move
The O's also reassigned infielder Jace Peterson to Minor League camp. A non-roster invite, Peterson, 28, was always a long shot to make the Opening Day roster. But he enjoyed a productive spring regardless, hitting .297 with a .813 OPS in 20 games. Peterson has played parts of the past five seasons in the Majors, including 93 games with Baltimore in 2018 when he hit .195 in 200 at bats.
Peterson's departure leaves Hanser Alberto as the lone infielder with questionable status left in camp, as Drew Jackson appears to have won a super utility role and Nunez and Riuz both seem destined for Baltimore. Alberto is on the 40-man roster but out of Minor League options.
Fry test time
In a preview of a strategy they could utilize fairly regularly during the season, the Orioles played a "bullpen game" against the Phillies, one half of their split-squad doubleheader on Sunday. The O's intentions were twofold: they had to find enough pitching to cover two games simultaneously, but they were also purposeful in tabbing left-handed Paul Fry to start the game. Fry can't technically be considered an "opener" because he was followed by another reliever, but he remains a potential candidate to open in the regular season at some point. Fry allowed two unearned runs over 1 2/3 innings Sunday. All of his 35 career Major League appearances have come in relief.
Injury update
Hyde confirmed that Austin Hays, Baltimore's No. 4 prospect per MLB Pipeline, underwent an MRI on Sunday after injuring his right thumb sliding headfirst in Minor League camp. Hyde said he was not aware of the results, and the club did not provide an immediate update. Hays was optioned last week after hitting .351 with a 1.277 OPS in 12 spring games. He was limited to 75 Minor League games last season due to right shoulder and right ankle injuries.
Up next
The Orioles conclude Grapefruit League play on Monday by welcoming the Mets to Ed Smith Stadium for a 1:05 pm finale. Dylan Bundy takes the ball for the O's opposite Zack Wheeler.