Here are the Marlins' 2019 Top 30 Prospects
There's no question that the Marlins' farm system has improved since Bruce Sherman and Derek Jeter purchased the franchise from Jeffrey Loria in September 2017. Whether it's strong enough to eventually return the big league club to contention remains very much in question, however. Undergoing yet another rebuild, Miami has
There's no question that the Marlins' farm system has improved since Bruce Sherman and Derek Jeter purchased the franchise from Jeffrey Loria in September 2017. Whether it's strong enough to eventually return the big league club to contention remains very much in question, however.
Undergoing yet another rebuild, Miami has traded Dee Gordon, Giancarlo Stanton, Marcell Ozuna, Christian Yelich and J.T. Realmuto in the last 14 months, turning its five best players when Jeter assumed control of baseball operations into big leaguers Jorge Alfaro and Starlin Castro plus 15 prospects, 12 of whom are on our latest Marlins Top 30 list. The best of them is right-hander Sixto Sanchez, who has drawn comparisons to Pedro Martinez but also missed most of 2018 with elbow inflammation -- and he's still the safest bet among the many high-risk/high-reward types Miami has collected.
Top 30 Prospects lists
| | |
| --- | --- |
| AL East | BAL, BOS, NYY, TB, TOR |
| NL East | ATL, MIA, NYM, PHI, WSH |
| AL Central | CLE, CWS, DET, KC, MIN |
| NL Central | CHC, CIN, MIL, PIT, STL |
| AL West | HOU, LAA, OAK, SEA, TEX |
| NL West | ARI, COL, LAD, SD, SF |
| Division | Team |
Outfielders Lewis Brinson (since graduated to the big leagues) and Monte Harrison have yet to prove they can make enough contact to deliver on their five-tool promise, while right-handers Sandy Alcantara and Jorge Guzman still must demonstrate that they can harness their overpowering stuff. Cuban outfielder Victor Victor Mesa signed in October for $5.25 million, a franchise record for a position player, yet generates mixed reviews about his offensive upside.
Here's a look at the Marlins' top prospects:
1) Sixto Sanchez, RHP
2) Victor Victor Mesa, OF
3) Monte Harrison, OF
4) Nick Neidert, RHP
5) Sandy Alcantara, RHP
Biggest jump/fall
Here are the players whose ranks changed the most from the 2018 preseason list to the 2019 preseason list:
Jump: Jordan Holloway, RHP (2018: 29 | 2019: 14) -- Came back from Tommy John surgery to touch 99 mph and show the best curveball in system.
Fall: Merandy Gonzalez, RHP (2018: 16 | 2019: NR) -- Needs better command to reach his middle-reliever ceiling.
Best tools
Players are graded on a 20-80 scouting scale for future tools -- 20-30 is well below average, 40 is below average, 50 is average, 60 is above average and 70-80 is well above average. Players in parentheses have the same grade.
Hit: 55 -- Brian Miller (Jose Devers, Tristan Pompey)
Power: 55 -- Monte Harrison (Joe Dunand)
Run: 70 -- Thomas Jones
Arm: 70 -- Monte Harrison (Will Banfield)
Defense: 60 -- Victor Victor Mesa (Jose Devers)
Fastball: 80 -- Jorge Guzman
Curveball: 60 -- Jordan Holloway (Braxton Garrett, Jordan Yamamoto)
Slider: 60 -- Riley Ferrell
Changeup: 60 -- Nick Neidert
Control: 60 -- Nick Neidert (Sixto Sanchez)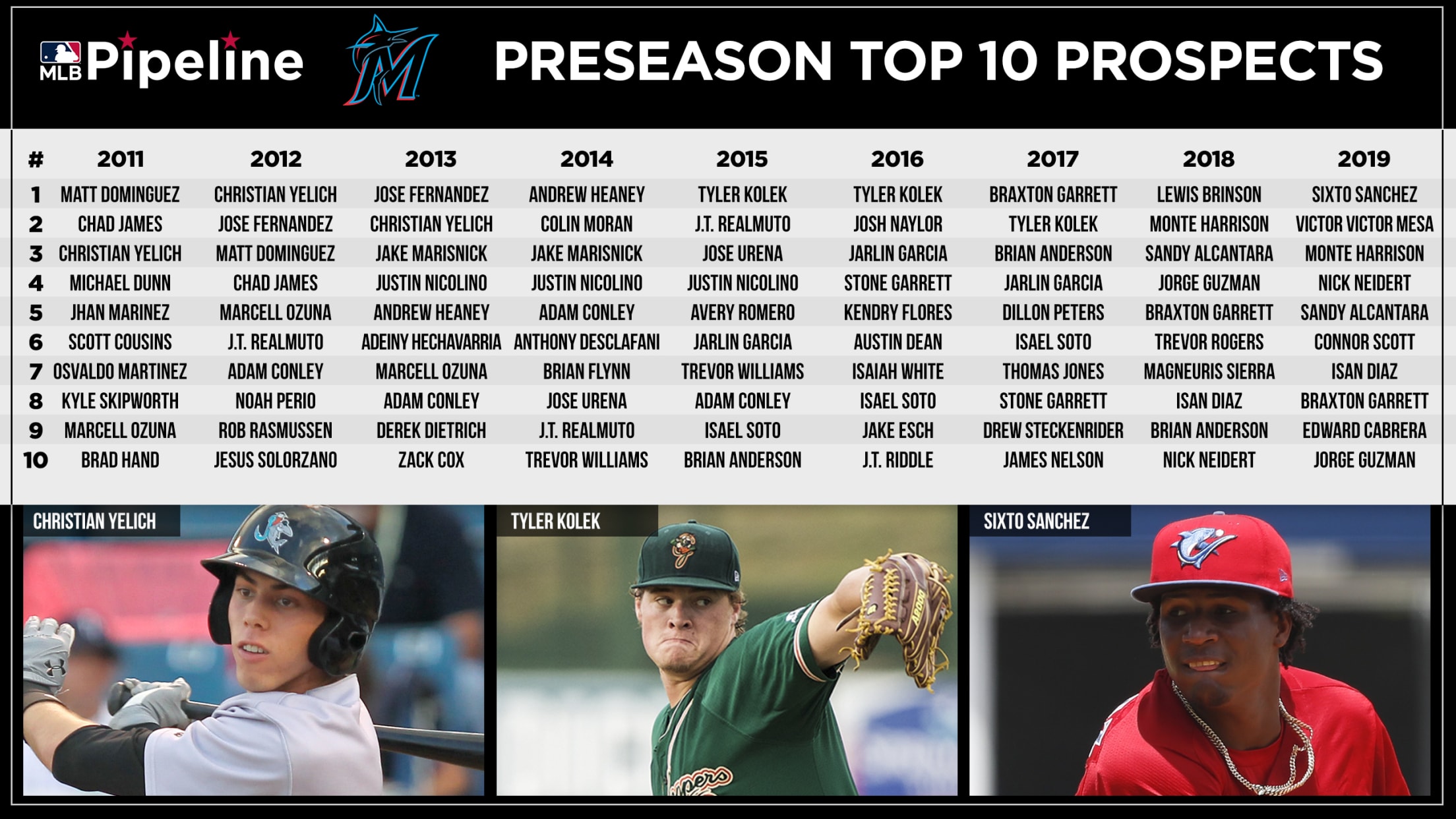 .
How they were built
Draft: 12 | International: 3 | Trade: 14 | Rule 5: 1
Breakdown by ETA
2019: 8 | 2020: 8 | 2021: 9 | 2022: 5
Breakdown by position
C: 1 | 1B: 0 | 2B: 2 | 3B: 1 | SS: 4 | OF: 7 | RHP: 11 | LHP: 4