Ziegler ready to lead 'pen with veteran presence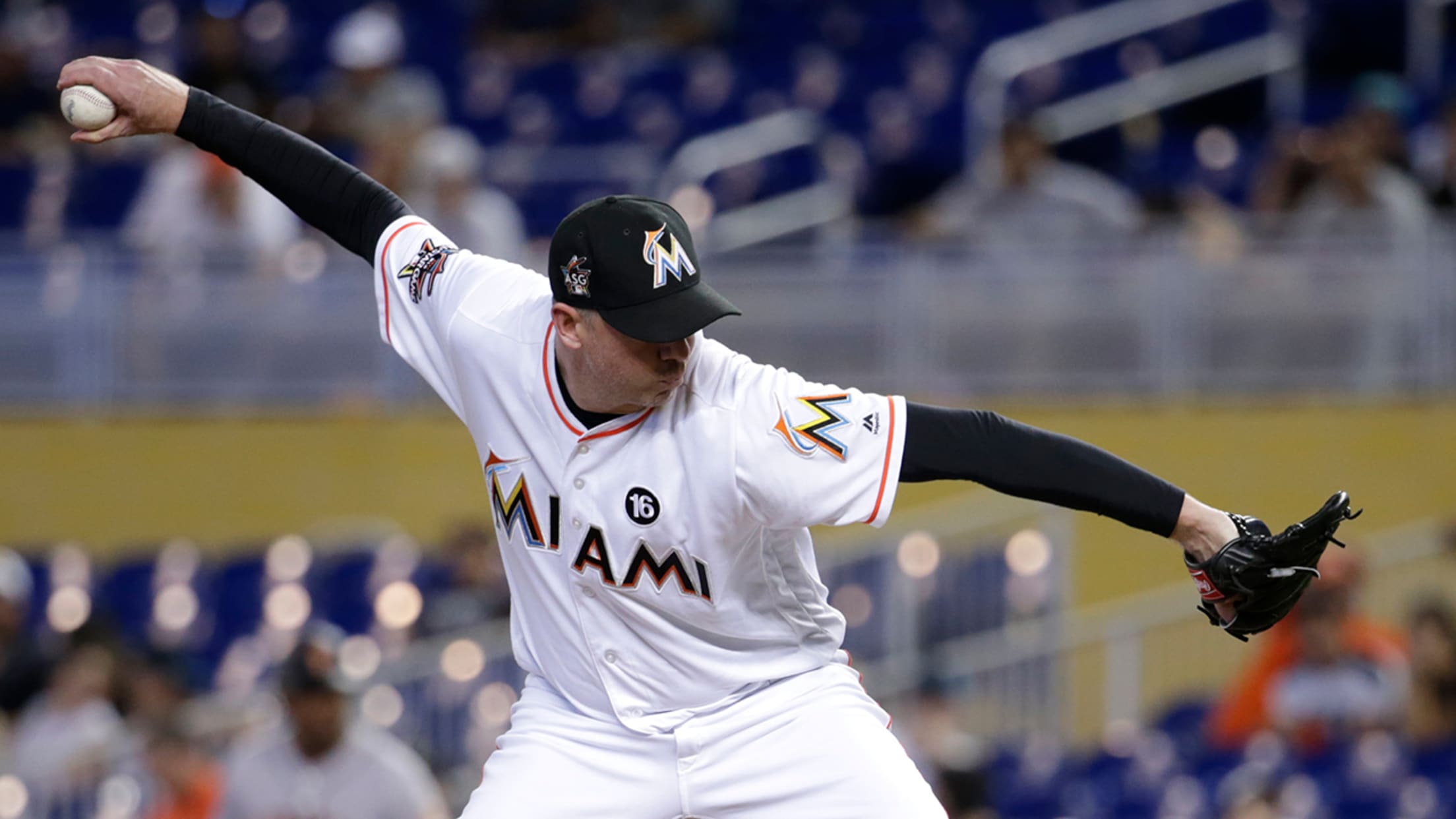 JUPITER, Fla. -- When the game is on the line and the noise level in the ballpark rises, Brad Ziegler has conditioned himself to stay calm. The 38-year-old right-hander has been around long enough to know how to settle himself in the most tense situations, one reason he will be
JUPITER, Fla. -- When the game is on the line and the noise level in the ballpark rises, Brad Ziegler has conditioned himself to stay calm. The 38-year-old right-hander has been around long enough to know how to settle himself in the most tense situations, one reason he will be closing on a youthful Marlins squad.
Not letting the moment become too big is something Ziegler actually has trained himself to do. He's gained insights on breathing techniques by reading books on the most elite military unit in the United States.
"I've read a lot of Navy SEAL stories," Ziegler said. "When the battle is going on, they actually have trained themselves to slow their heart rate, to slow their breathing, because that's when they can stay ultra focused, and they know the enemy is not that way. That's one advantage they have over them."
Ziegler's Pastime for Patriots foundation supports the Special Operations Warrior Foundation.
"I've got a military foundation," Ziegler said. "I'm friends with Navy SEALs. I've read books; I wanted to know more about them. They see us on TV all the time and we can't find anything about them."
In many ways, Ziegler is Miami's unconventional closer. He has the mentality to handle the most stressful innings, but he doesn't fit the hard-throwing late-innings closeout profile.
The 6-foot-4 right-hander has a submarine-style delivery and, according to Statcast™, an 83.1 mph sinker. In 2017, he averaged 4.98 strikeouts per nine innings.
At a point where power pitching is preferred, Ziegler offers a less-electric but steady presence. He's also aware his role could change as Miami grooms more options. Kyle Barraclough and Drew Steckenrider are hard throwers who could eventually replace Ziegler, even at some point in the season.
"It's just not traditional," manager Don Mattingly said of Ziegler. "Really, he's been successful. The only times it doesn't go right is when ground balls are getting through. For the most part, he's been successful. There were a few games last year it seemed every ground ball went through a hole. When you see five or six balls get through, at some point, you're like, 'That's a little unlucky.'"
Mattingly noted in 2013 when the Red Sox won the World Series, they had ground-ball specialist Koji Uehara closing.
However Ziegler is used, he will go with the flow. He's handled a multitude of roles over his 10-year career, and he treats each inning he pitches the same.
"I've always really tried hard to go out, and the game situation doesn't matter," Ziegler said. "I've got to get the hitter out. If I get the hitter, it doesn't matter if we're up by one or we're up by six, I'm still trying to get the hitter out."
Ziegler has 95 career saves, including 10 in the second half of last year, after AJ Ramos was traded to the Mets.
Compared to setup relievers, the biggest difference for closers is that there's more urgency to get the final outs.
"The environment in the stadium changes," Ziegler said. "They play different music. The crowd gets amped. The crowd may be on its feet if there's a couple of outs. You see the other team all of a sudden has this, 'It's our last chance' mentality. They're all on the top step when they might have just been sitting back the five innings before that.
"There's definitely a lot around you that changes, but the bottom line is when you get on the mound and you're facing the hitter, it's still just you against the hitter at that point. That's the same as it is, no matter what inning."