Dean recalled from Triple-A; O'Brien optioned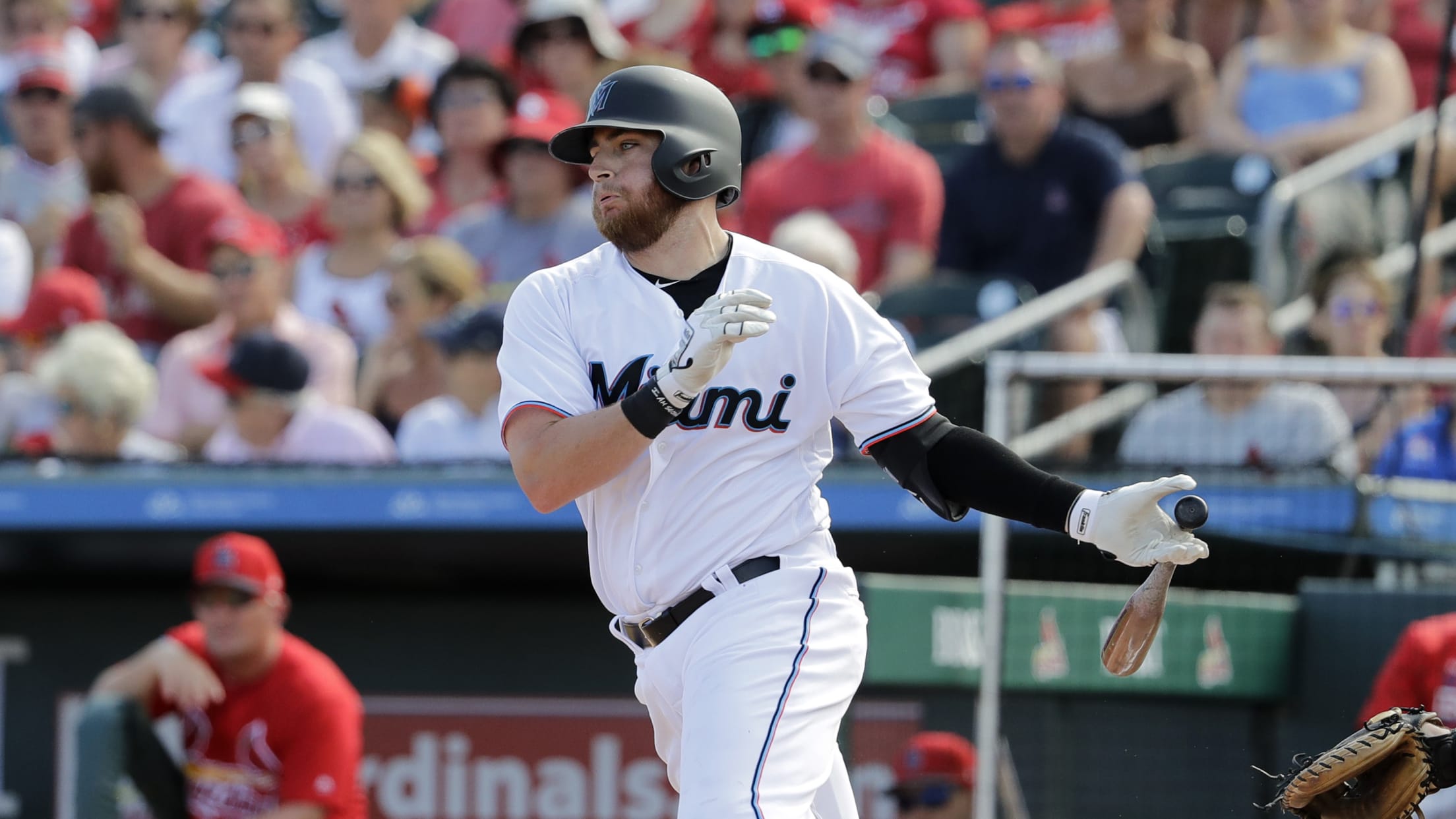 MIAMI -- Ranked last in the National League in runs scored, the Marlins on Friday decided to shuffle up their roster a bit. The club recalled Austin Dean from Triple-A New Orleans and optioned Peter O'Brien to Triple-A. Dean, ranked by MLB Pipeline as Miami's No. 26 prospect, will get
MIAMI -- Ranked last in the National League in runs scored, the Marlins on Friday decided to shuffle up their roster a bit. The club recalled Austin Dean from Triple-A New Orleans and optioned Peter O'Brien to Triple-A.
Dean, ranked by MLB Pipeline as Miami's No. 26 prospect, will get most of his playing time in right field.
The 25-year-old was off to a hot start with the Baby Cakes, hitting .375/.483/.458 with six RBIs.
"Austin, last year it seemed like he kind of turned the corner as far as hitting, and the year he had," manager Don Mattingly said. "He backed that up with a good spring. We'll get another look at this."
The Marlins come off being swept in three games at Cincinnati, scoring one run in the series.
O'Brien has had his struggles making contact this season, hitting .111 in nine games, with one home run and two RBIs. He struck out 14 times in 27 at-bats.
"We were hoping for the power from Pete," Mattingly said. "We thought that brought another dimension for us. We haven't been able to get it yet, but hopefully that will get there for us as the season goes."
Dean is the third different regular right fielder the Marlins have used this season. On Opening Day, Garrett Cooper handled the position, but he strained his left calf in the second game. Cooper has just initiated his throwing and hitting progression.
Dean made his MLB debut last August, and in 34 games with the Marlins in 2018, he hit .221 with four home runs and 14 RBIs.
Miami entered Friday's game with the Phillies ranked 15th in the National League with 34 runs scored. Only the Tigers, with 33 runs, have fewer runs scored in the Majors.
Return of Realmuto
One of the first orders of business for J.T. Realmuto at Marlins Park on Friday was getting a haircut before preparing to face his former team.
Shortly before the start of Spring Training, the Marlins traded Realmuto to the Phillies for catcher Jorge Alfaro, pitching prospects Sixto Sanchez and Will Stewart, and $250,000 in international bonus money. Friday marked the first time the 28-year-old catcher faced his former team.
"I'm happy to be back," Realmuto said. "Happy to see the guys and just catch up with everybody."
An All-Star with the Marlins in 2018, Realmuto was a third-round pick by Miami in '10. He was with the big league club from '14-18.
"Obviously, the Marlins' organization means a lot to me," he said. "They brought me in as a 19-year-old kid and brought me to the big leagues. I have a lot of feelings for this organization. They mean a lot to me. This organization holds a special place in my heart."
Realmuto heaped praise on the Marlins' young pitching staff, the strength of the franchise.
"We've seen it coming for years," Realmuto said. "They've got a great staff over there, and the 'pen. They've got really good starters -- a lot of good arms with good stuff. I'm not really that excited to face them to be honest with you. They've got some good guys over there. It will be a fun challenge for us as a team."
Mattingly's Futuras Estrellas Program
Mattingly spent time with some special guests prior to Friday's game.
His new community program -- Futuras Estrellas -- launched at Marlins Park. The program grants South Florida area youth and their families the opportunity to attend a Marlins game, and be field level during batting practice.
Along with a meet-and-greet with Mattingly, the gameday experience also includes a Marlins game ticket, T-shirt and cap, as well as a food voucher, bus transportation and parking.