Clarity coming soon for Marlins' rotation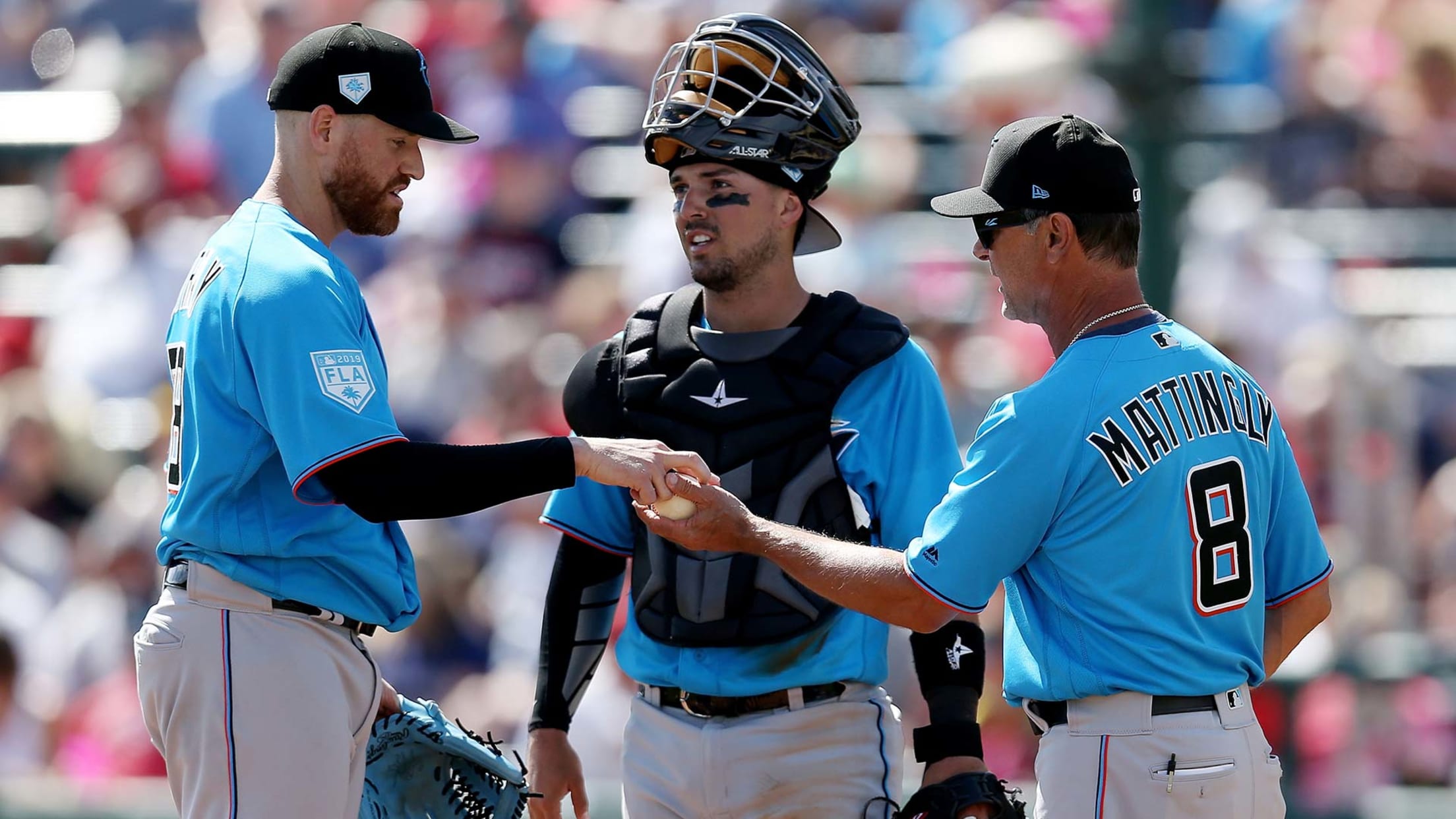 JUPITER, Fla. -- Finalizing the starting rotation is going down to the end of Spring Training for the Marlins. As of Friday night, only Jose Urena, who will throw on Opening Day, has been announced. The other four spots remain unclear, and even the players haven't been told. That could
JUPITER, Fla. -- Finalizing the starting rotation is going down to the end of Spring Training for the Marlins.
As of Friday night, only Jose Urena, who will throw on Opening Day, has been announced. The other four spots remain unclear, and even the players haven't been told.
That could change on Saturday.
"We're having our meetings tomorrow, so we'll probably get a lot more clarity," Marlins manager Don Mattingly said on Friday afternoon. "We'll have a lot more clarity."
Mattingly added that even if the players are informed, it doesn't necessarily mean the club will announce the rest of the order publicly.
The Marlins wrap up their Grapefruit League schedule on Sunday against the Cardinals at 1:05 p.m. ET at Roger Dean Chevrolet Stadium. Zac Gallen, who already has been optioned to Triple-A New Orleans, will start that game.
Dan Straily, projected for the No. 2 spot, started on Friday night against the Nationals in Jupiter. Also getting in work was fellow right-hander Sandy Alcantara, who threw six innings in a Triple-A game. He allowed just two earned runs while striking out seven and walking one.
On Saturday night against the Astros in Jupiter, Urena and Caleb Smith are scheduled to throw. And on a back field, Trevor Richards is scheduled to pitch in a Minor League game.
The Marlins are using the back fields with some of their starting candidates because it allows them to control their innings, and pitch totals.
Pablo Lopez has arguably been the Marlins' best Spring Training pitcher, posting a 0.90 ERA in 20 innings with 16 strikeouts and one walk. The 23-year-old is looking like he's ready for a breakthrough sophomore season.
On the opposite end, Wei-Yin Chen, a veteran on a youthful staff, has struggled with a 9.37 ERA in 16 1/3 innings.
Chen is making $20 million this season and $22 million in 2020, putting the organization in a tough position. Because of his contract, there isn't any serious trade interest, unless Miami tries to attach him with a player of more value.
The downside to doing that is the Marlins would diminish their trade return, but they could free up salary.
If Chen isn't in the rotation, he could serve as a reliever or spot starter.
"I know he hasn't had a great spring," Mattingly said. "But the main thing with Wei-Yin is health. He's not missing bullpens. He's not coming up sore or anything like that."
Chen, 33, has been dealing with a partial ligament tear in his left elbow for years.
In 2018, Chen started the season on the injured list, and he ended up making 26 starts and throwing 133 1/3 innings.
"We know this guy has a healthy arm," Mattingly said. "How we decide to use him, we'll go from there. We do know that he's healthy, and he has a history of having success. We'll see how we figure out how to use him."
Although Chen has had a rough spring, the left-hander has a proven track record. He's appeared in 174 games and has logged 996 1/3 big league innings in seven seasons.
Mattingly said Chen's rough patches in Spring Training stem from missing his spots.
"When you don't get it there, a lot of times you pay," Mattingly said.
However the rotation plays out, Mattingly notes that all seven starting candidates will be counted on over the course of the season. Last year, Miami used 13 different starters, so the depth is important.
"You never really end up with the team you start with," Mattingly said. "I know we make a big deal out of who makes it out of Spring Training, and guys feel that way, too. They want to make it out of the gate. But at the end of the day, you're going to need a lot of guys."