A six-man rotation? Miami exploring options
With seven starters competing for five spots, Marlins may get creative
JUPITER, Fla. -- Starting pitching projects to be an area of strength and depth for the Marlins. To best utilize their options, the organization is open to any number of creative ideas. That's why Miami is considering keeping seven starting pitchers for five starting spots, making two available to pitch
JUPITER, Fla. -- Starting pitching projects to be an area of strength and depth for the Marlins. To best utilize their options, the organization is open to any number of creative ideas.
That's why Miami is considering keeping seven starting pitchers for five starting spots, making two available to pitch in relief.
The Marlins also haven't ruled out going with a six-man rotation on occasion.
"Not on a regular basis," manager Don Mattingly said of a six-man rotation. "Depending how it shakes out, we could blend guys in to give guys rest. Maybe slip them into [the rotation] for a turn, just to keep innings off other guys or something like that. But there's no sense of, 'We're going to use six guys and all are starters.' We would not do that."
The Marlins have announced Jose Urena as their Opening Day starter. There are indications of other spots after that, but nothing is official.
Dan Straily, for instance, is lined up to go in Game 2. Straily had his scheduled start on Tuesday against the Mets rained out, and he is likely to pitch in a game in some form on Wednesday.
Pablo Lopez and Wei-Yin Chen are both in position for the third spot. They've thrown in the same Spring Training game twice this preseason, each going four innings. Sandy Alcantara, Trevor Richards and Caleb Smith round out the group.
Chen is viewed as the most realistic starter to be used mostly out of the bullpen, while making an appearance every now and then in the rotation.
Smith has impressed in two Grapefruit League starts, giving up one run in nine innings with 13 strikeouts and no walks. But since he is coming back from left lat surgery, Smith may be eased into the rotation.
Alfaro still on track
Tuesday's rainout didn't dampen the Marlins' hopes that catcher Jorge Alfaro will be ready for Opening Day.
Alfaro has been dealing with a bruised right knee since running into a dugout railing on Feb. 23. Projected as Miami's starting catcher, Alfaro did some catching drills in the cages on Tuesday.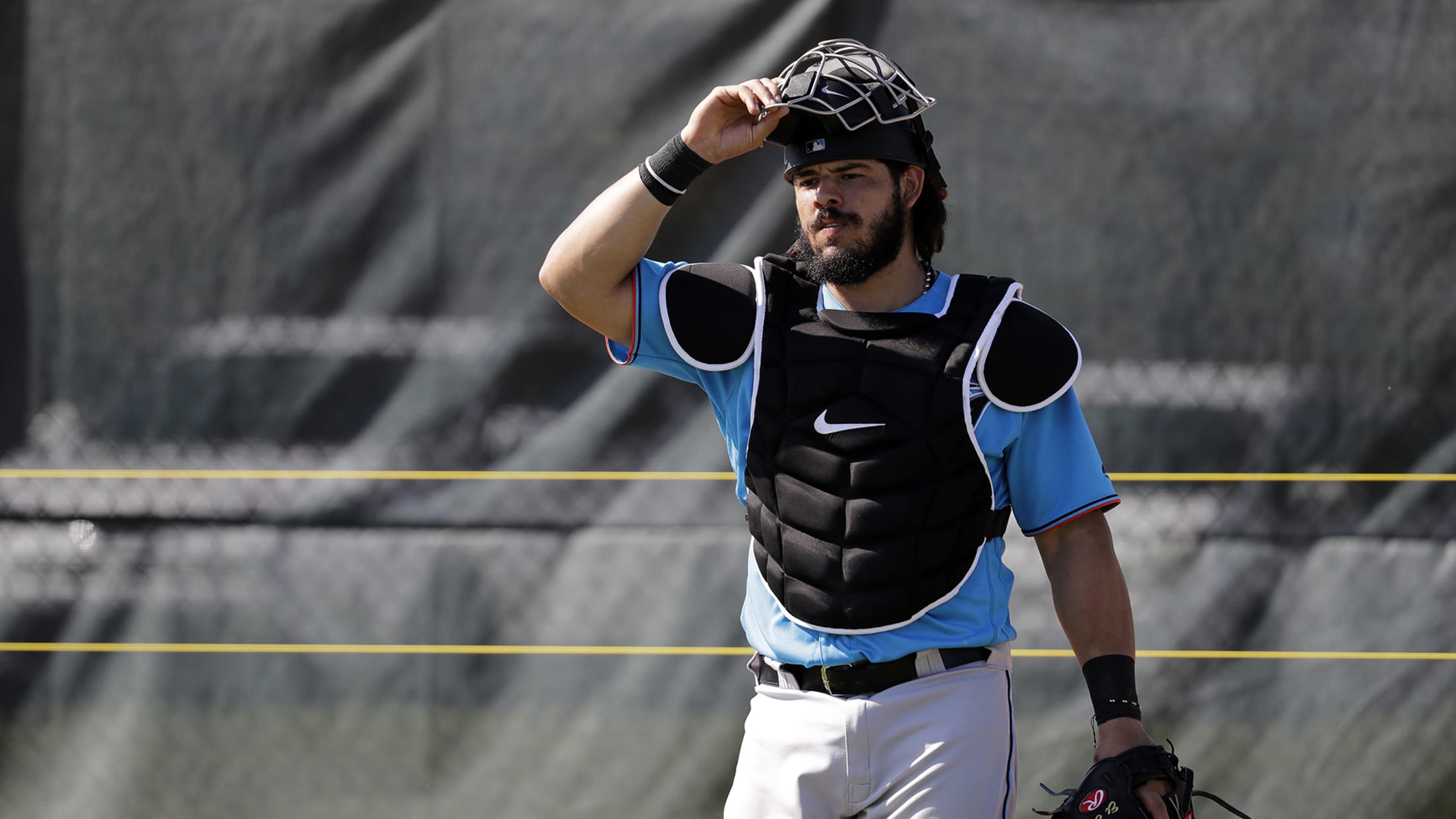 The Marlins remain optimistic Alfaro will be behind the plate when they open the season on March 28 against the Rockies at Marlins Park.
"He's on track for games in Spring Training," Mattingly said. "Not very many. But he will be doing more today. He's doing more catching and receiving drills. He's moving in the right direction. He's still trending well for us."
Rojas becoming a mainstay
The days of Miguel Rojas being relegated to utility player are over.
Rojas has become a mainstay in the lineup, with the only question being if he will play shortstop or another infield position. He plays plus defense at third base, second and first.
Mattingly managed the Dodgers when Rojas broke into the big leagues in 2014. Now, Rojas and JT Riddle will split time at shortstop, with Rojas expected to play regularly at other positions as well.
"Over time, we've watched him just get better and better as a hitter," Mattingly said. "That's what's really fun to watch, because you love to watch guys get better. You love to see guys do things right and get better. He's just constantly getting better. Year-to-year, continues to work on his hitting."
Rojas hit .252/.297/.346 with 11 home runs and 53 RBIs in 2018. In Spring Training, he's hitting a blistering .469 in 32 at-bats.
Up next
Rained out on Tuesday, the Marlins are set to return to action on Wednesday at 1:05 p.m. ET in a game against the Cardinals, with Miami serving as the road team at Roger Dean Chevrolet Stadium. Lopez is scheduled to start, with Chen available in relief.