Adrenaline fuels Cosart in first spring start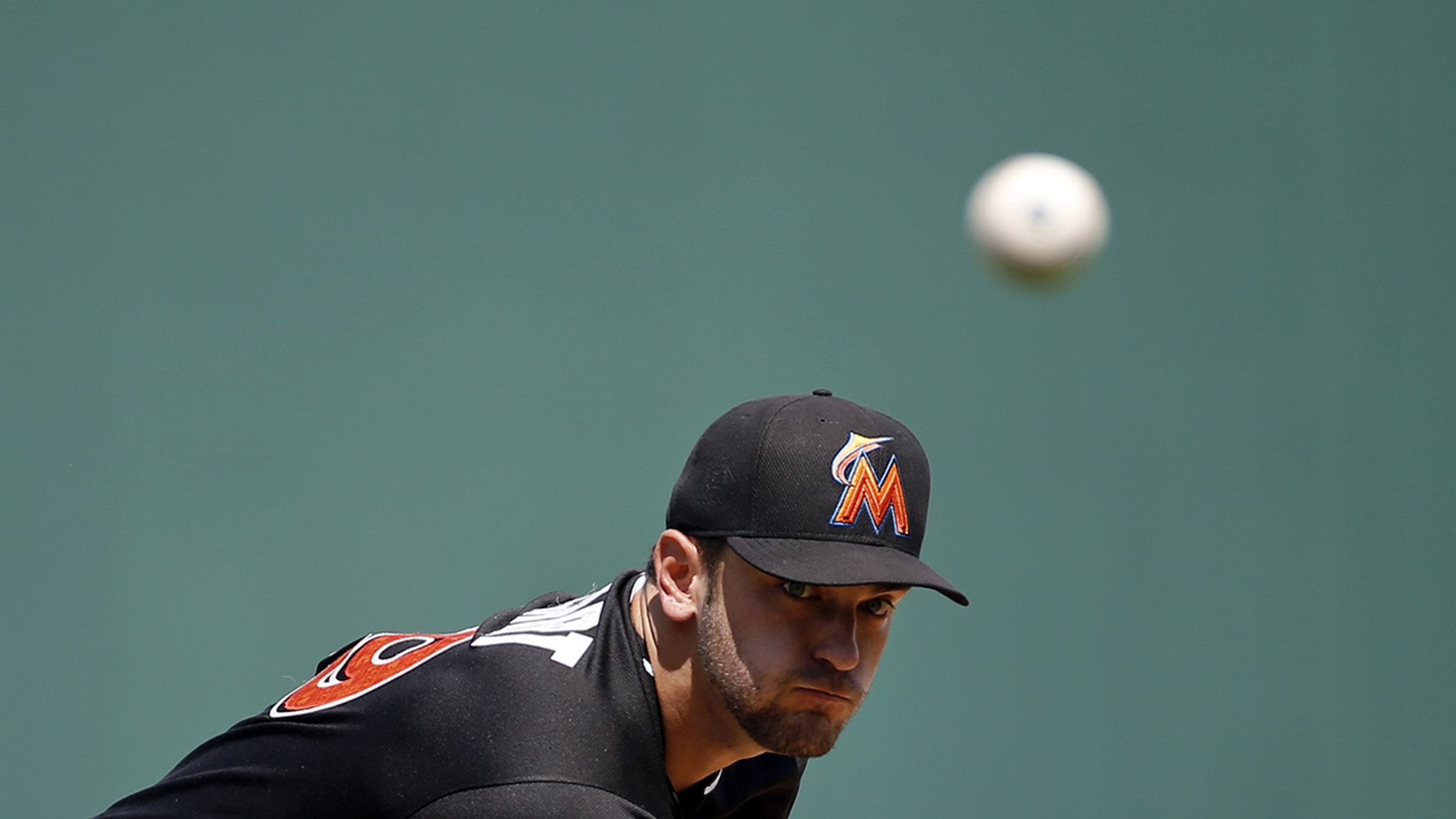 Jarred Cosart went two scoreless innings in his first spring start against the Twins. (AP) (Patrick Semansky/AP)
FORT MYERS, Fla. -- It was just a Spring Training game and his first start of the Grapefruit League season. But it was enough to get Jarred Cosart's blood pumping.Cosart went two scoreless innings in Friday's 6-5 win over the Twins, giving up one hit with one walk and one
FORT MYERS, Fla. -- It was just a Spring Training game and his first start of the Grapefruit League season. But it was enough to get Jarred Cosart's blood pumping.
Cosart went two scoreless innings in Friday's 6-5 win over the Twins, giving up one hit with one walk and one strikeout.
"I had a lot more adrenaline than I thought I would for a Spring Training game," Cosart said. "It's not a huge park, but the crowd kind of is on top of you, so it felt pretty close to a real game. It was good to just get back into the swing of things and get my feet back wet."
Added manager Don Mattingly: "He was good. He threw a good two innings. [It's] just about getting his process going. Get him out there. I know they've been working with him on keeping that front side flying open on his delivery, so he did a good job with that."
• Spring Training:Tickets | Schedule | More
Cosart wrapped up his outing by striking out Eduardo Nunez on a fastball.
"I threw two good fastballs down and away to get in that count, then I just said, 'I'm going to let one rip and see if he can chase,' and he chased it off the plate," Cosart said. "I was happy to finish it like that and take the positive into my next bullpen and into my next start."
The 25-year-old righty is competing for a spot in the Marlins' rotation. Last season, he went 2-5 with a 4.52 ERA in 14 games (13 starts).
In his spring debut last Friday, Cosart pitched a scoreless relief inning against the Nationals, allowing one hit with one walk and three strikeouts. He bruised a knee in that outing, which delayed his start by a few days.
Cosart's extra adrenaline showed in the first inning when he faced five batters. He got leadoff hitter Brian Dozier, who entered the game 8-for-16 this spring, to ground out. Eddie Rosario flied out to left, but Joe Mauer reached on second baseman Dee Gordon's fielding error. Miguel Sano singled to Christian Yelich in center, putting runners at the corners. Cosart got out of the jam when he got prospect Max Kepler to ground out to Justin Bour at first.
Ramos on track for Opening Day
"Great outing," pitching coach Juan Nieves said. "A little bit of extended rest, but he had a little play at third base [in his first outing] that bruised his knee a little bit. But he's fine. [He] was able to overcome the traffic early in the first inning, came back to finish the inning. It was his second outing of the spring, so he's made some great strides.
"We need this guy if we want to make a run for our division, so he's a very important piece to our team."
Cosart knows a rotation spot is not guaranteed, but he's working for it.
"I think last year I took [the rotation situation] as, 'Let's work on things' because I felt like I had a spot secured," Cosart said. "But now you read that there's spots open. My goal's not to give up any runs in Spring Training. I feel like that should be good enough to win a job on any team."
Worth noting
• Third baseman Chris Johnson was a late scratch from Friday's original lineup. Johnson, who grew up in Fort Myers, came over Thursday night to stay with family. He woke up with back spasms, but he expects to be in the lineup Saturday against the Red Sox.
• Right-handers Jose Fernandez and Edwin Jackson are scheduled to pitch at the Marlins' Spring Training complex on Saturday in Jupiter. Pitching coach Juan Nieves said he would like each to get to about 50 pitches. Left-hander Wei-Yin Chen threw there on Friday, tossing 49 pitches over three innings.
• Giancarlo Stanton, who has not played since last Sunday because of a sore right knee, remains on track to appear in Sunday's game against the Mets in Jupiter.
Maureen Mullen is a contributor to MLB.com.