No regrets: Hood continues pursuit of baseball dreams
Marlins' No. 30 prospect turned pro rather than play football for Saban at Alabama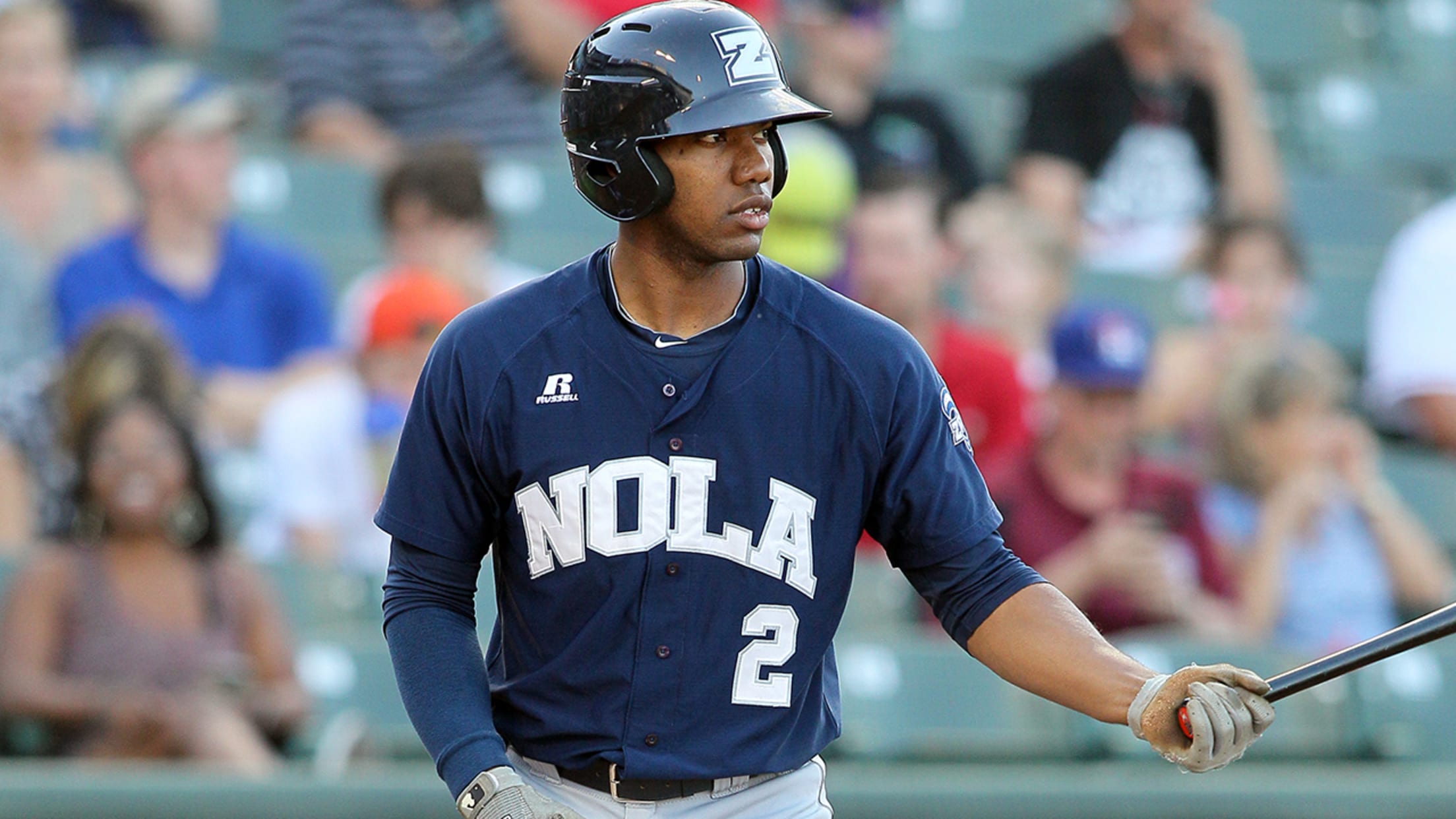 Marlins prospect Destin Hood will represent the New Orleans Zephyrs in the Triple-A All-Star Game. (Jim Redman/MiLB)
CHARLOTTE, N.C. -- As batting practice ended on Tuesday and the Pacific Coast League All-Stars disappeared into the visitor's clubhouse at BB&T Ballpark, Destin Hood lagged behind.The Triple-A New Orleans outfielder, fresh out of the batting cage, waltzed down the right-field line before veering toward the stands. He plucked his
CHARLOTTE, N.C. -- As batting practice ended on Tuesday and the Pacific Coast League All-Stars disappeared into the visitor's clubhouse at BB&T Ballpark, Destin Hood lagged behind.
The Triple-A New Orleans outfielder, fresh out of the batting cage, waltzed down the right-field line before veering toward the stands. He plucked his 6-year-old daughter out of a herd of family and fans and carried her onto the field.
• Complete Marlins prospects coverage at MLBPipeline.com/marlins
They played catch. They posed for pictures. And the 26-year-old prospect, who just a year ago couldn't have seen himself in this position, relished the opportunity before him on the eve of the Triple-A All-Star Game.
"For my family to be here and everybody to be here," said Hood. "It just feels good just to be able to not be so focused on being perfect and just come out and play."
For most of his Minor League career, Hood's perfectionism hasn't been as easy to overcome.
As a senior at St. Paul's Episcopal High School in Mobile, Ala., Hood batted .485 with eight home runs and 17 stolen bases, earning him a spot on USA Today's All-USA High School Baseball Team. He also excelled on the football field, teaming up with Mark Barron and AJ McCarron to win the AHSAA's Class 5A championship in 2007.
Like his teammates, Hood committed to play football at Alabama. But after the Nationals selected him in the second round of the 2008 Draft, he opted to pursue the sport he loved most.
"I would have played (football) in college and probably had a good time," Hood said. "But at the end of college, it would have been like, 'All right, what next?' (Alabama football coach Nick) Saban knew (I wanted to play baseball) when he recruited me and pretty much everybody else did from the beginning."
Early on in his Minor League career, Hood struggled to replicate his high school success. He climbed his way through Washington's system, finally reaching Double-A Harrisburg in 2012.
His progress halted. Hood batted .245 in his first season with the Senators and struck out 116 times across 112 games during the 2013 campaign.
As a football player, Hood always felt confident he could catch all of the passes thrown in his direction. But the mental aspect of baseball, and being a perfectionist, sometimes weighed him down.
"At the end of the day, football was just a sport that came easy to me," Hood said. "You didn't have to guess what you were going to do that night."
He appeared to find an answer to his struggles in 2014, when he batted .301 between Harrisburg and Triple-A Syracuse. But after signing a Minor League deal with the Indians during the offseason, he was released by both Cleveland and the Phillies in 2015.
Hood's career took a step back. But an opportunity to join the Marlins organization this past offseason reunited him with Miami's Minor League hitting instructor Joe Dillon, who coached Hood in Syracuse in 2014, and outfield and baserunning coordinator Gary Cathcart, who was in the Nationals organization from 2010-15.
"Those are some of the main guys who believed in me when nobody else did," said Hood, who is ranked by MLBPipeline.com as the Marlins' No. 30 prospect. "A lot of people want to tell me what I can and cannot do, and that's fine. But at the end of the day, I'm working to be something better than that.
"I'm not working to hit .300, I'm not working to hit 20 home runs and I'm not working to hit 100 RBIs. I'm working to be a good ballplayer."
And so far this season, Hood has shown flashes of being just that, while slowly removing the pressure he's put on himself throughout his career.
Despite batting .252 through 83 games with the Zephyrs, Hood entered the All-Star break with 62 RBIs, the fifth most in the PCL and his most in a single season since 2011. He still hears questions about his choice of playing baseball instead of football.
"I'm still in the Minor Leagues, so everybody wants to [ask], 'Hey, why didn't you go play football?'" Hood said. "But it was an easy choice. It's like apples and oranges. People will always want to know why I didn't go play football. But why would I give up a chance to go play Major League baseball?
"It's just looking at it from different perspectives."
Pat James is a reporter for MLB.com based in Atlanta.