FanFest takes place Saturday at Marlins Park
Free to public, event will feature activities, autograph sessions from 11 a.m. to 3 p.m. ET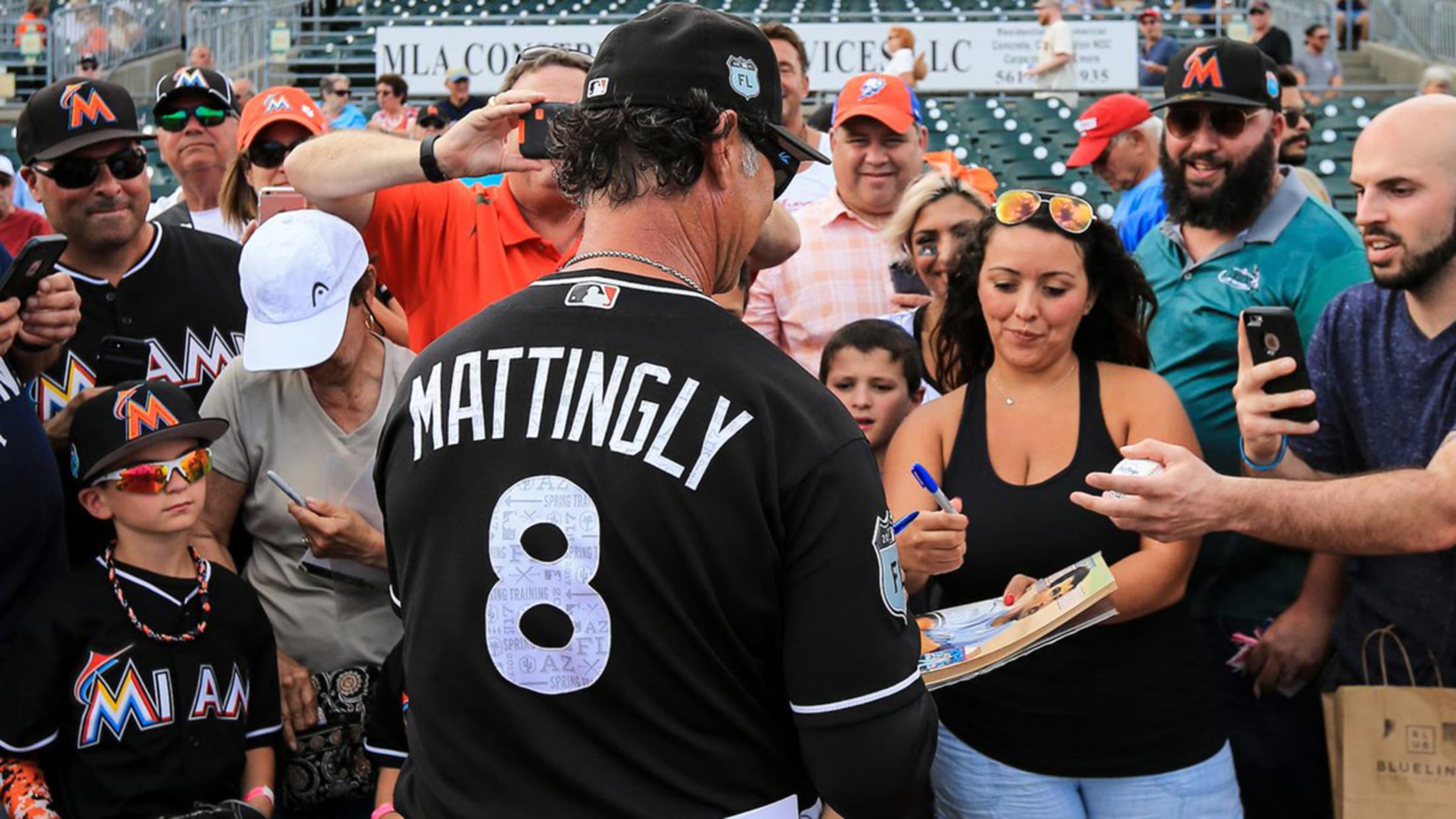 MIAMI -- The first introduction of the 2018 Miami Marlins will take place on Saturday at the annual FanFest at Marlins Park.Presented by Papa John's, FanFest will run from 11 a.m. to 3 p.m. ET, and it marks the first day individual game tickets go on sale for the regular
MIAMI -- The first introduction of the 2018 Miami Marlins will take place on Saturday at the annual FanFest at Marlins Park.
Presented by Papa John's, FanFest will run from 11 a.m. to 3 p.m. ET, and it marks the first day individual game tickets go on sale for the regular season.
Tickets go on sale at 10 a.m. ET and are available online at both Marlins.com and MarlinsBeisbol.com, and at the Marlins Park North Ticket Office. For those interested in season-ticket plans, there will be select-a-seat opportunities at the park.
Admission and parking to FanFest are free to the public, and the event will feature numerous interactive activities, along with current and former player autograph sessions.
Every kid's dream. 🏃

This Saturday is your chance to take the field when #MarlinsFanFest returns: https://t.co/QAEjSK7z7A pic.twitter.com/UyqRODOTJg

— Miami Marlins (@Marlins) February 5, 2018
FanFest is an annual lead-in to the opening of Spring Training, which begins with pitchers and catchers' workouts on Wednesday at the Roger Dean Chevrolet Stadium complex in Jupiter, Fla.
This will be the club's seventh season at Marlins Park, a colorful, retractable-roof facility that seats close to 37,000.
Marlins chief executive officer Derek Jeter sees the building as much more than just a baseball stadium.
"We view this as an entertainment venue," Jeter said. "It's not just a baseball stadium."
Hey @Marlins fans we can't wait to see you all here Saturday #Marlins #FanFest pic.twitter.com/xVGOYUdHy3

— Miguel Rojas (@MRojasOfficial) February 7, 2018
FanFest will be about baseball, but on Feb. 17, Marlins Park will host a Monster Truck event.
"It's important for us to be here and re-engage with the community," Jeter said, "to turn this into an entertainment venue."
Opening Day for the Marlins will be against the Cubs on March 29 at Marlins Park. The Cubs will be in Miami through April 1 for a four-game series, which will be followed by another traditional power, the Red Sox (April 2-3).
The Marlins' first National League East home series will be against the Mets from April 9-11.
Marlins fans cancel whatever you had planned on Saturday I wanna see all of you at Marlins Park for fanfest! Cant wait to finally meet all of you! #Gofish #youcangotothebeachsunday 😂🌴🌴

— Lewis Brinson (@LewisBrinson) February 8, 2018
The Marlins are scheduled to take on the American League East in Interleague play, with the Red Sox, Rays (July 2-4), Yankees (Aug. 21-22) and Blue Jays (Aug. 31-Sept. 2) coming to Miami.
As part of the activities at FanFest, the first 1,000 fans will receive a voucher for a free Nathan's hot dog, and the first 500 kids ages 12 and under will receive a Marlins Play Ball set.
Fans are encouraged to check in using the free MLB.com Ballpark app at FanFest. By doing so, fans will have the chance to win various prizes, including autographed items, T-shirts and fan packs.