Inbox: Who's generating trade interest in Miami?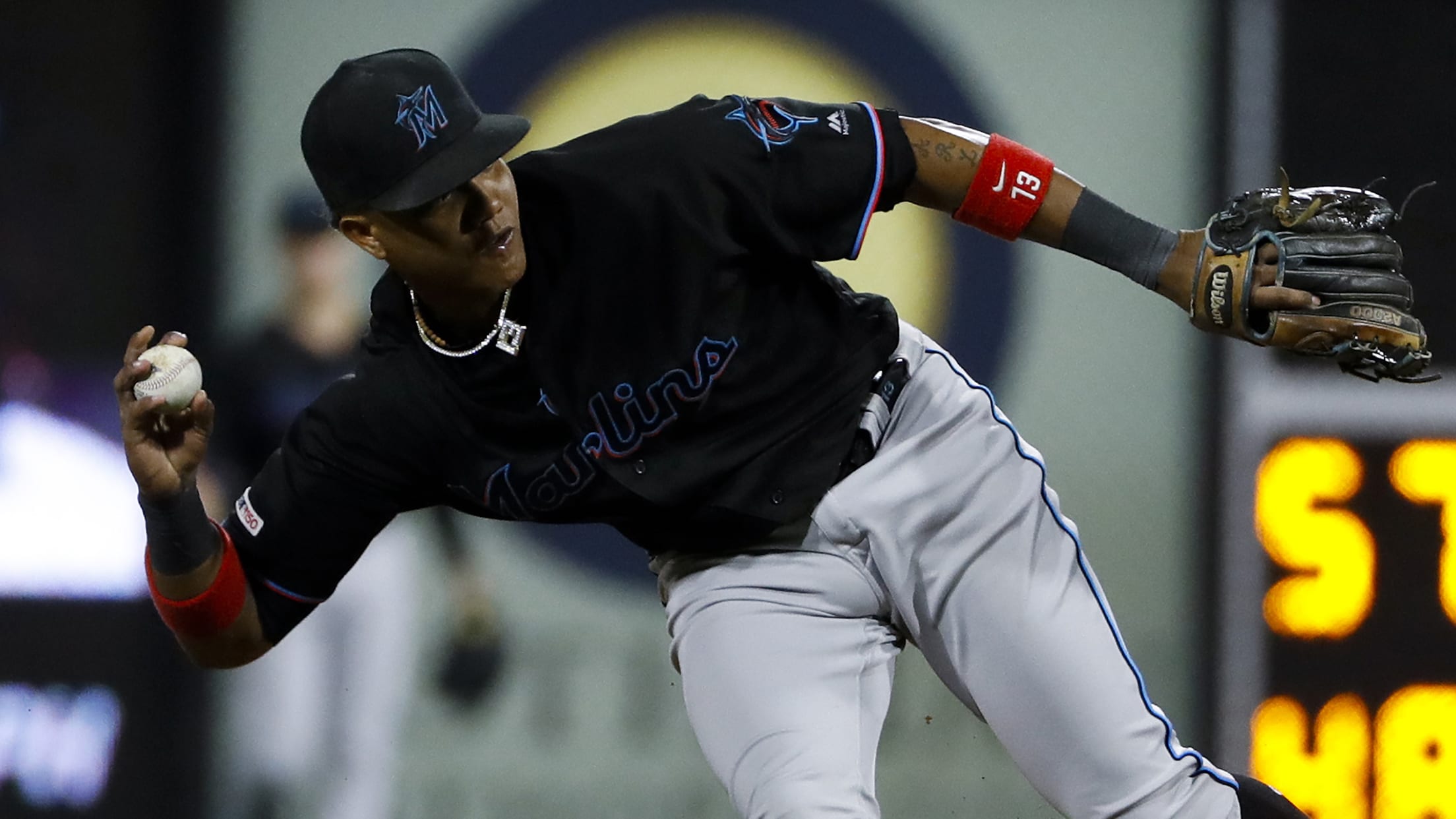 Which Marlins players will be dealt at the Trade Deadline? -- @Rayo2Fer
Which Marlins players will be dealt at the Trade Deadline?
-- @Rayo2Fer
I see about eight or nine players who will be trade targets before the July 31 Trade Deadline. Right now, the player teams are already checking in on is second baseman Starlin Castro, who is making $11 million, and next year has a club option of $16 million, which includes a $1 million buyout.
Reliever Sergio Romo also will command plenty of interest. But if the Marlins don't get what they consider fair value, they may keep him -- and they may even be open to signing the pending free agent through 2020.
I anticipate clubs calling on Neil Walker, José Ureña, Curtis Granderson, Adam Conley and Tayron Guerrero.
While some have speculated on left-hander Caleb Smith, he has five years of control remaining, and the Marlins have no interest in dealing controllable starters.
Outside of Sixto Sanchez, which pitching prospects are you most excited about?
-- @braedont19
Besides Sanchez -- Miami's No. 1 prospect as ranked by MLB Pipeline -- the pitcher to watch, at least from industry insiders, is right-hander Edward Cabrera, the club's No. 8 prospect. The 21-year-old recently had a 13-strikeout performance, mixing in 94-95 mph fastballs and a wipeout slider, in the 82 mph range. That performance had scouts in attendance saying he showed Nos. 1 or 2 starter potential. His changeup also was on point that night.
Zac Gallen, of course, has been really good at Triple-A New Orleans. The No. 18 prospect touched 97 mph, but he is mostly in the 93-94 mph range, which is fine. Projections have Gallen as a back-of-the-rotation-caliber starter, which is very good, considering he was an extra piece in the Marcell Ozuna trade with the Cardinals a few years ago.
If Andrew Vaughn and JJ Bleday would both be available at No. 4, who do you feel would be favored by the Marlins in the Draft? Is CJ Abrams also an option?
-- @PoldiAnslinger
The Marlins are leaning toward a college hitter, which could mean Abrams, the prep shortstop from Georgia, isn't their highest priority. Clearly, the Marlins seek impact hitters, and Vaughn, the 21-year-old first baseman at the University of California, is garnering plenty of attention. The 6-foot, 214-pounder is an advanced hitter, though a bit undersized for a first baseman.
Miami has been targeting more athletic players, so it will be interesting to see what happens if Vaughn is on the board. The Marlins also lack a first baseman of the future in their system, which could mean they'd still take Vaughn.
Bleday, 21, is a 6-foot-3, 205-pound left-handed-hitting outfielder at Vanderbilt. Bleday is not considered the pure hitter that Vaughn is, and he has been linked to the Marlins in many mock drafts.
Do you think Garrett Cooper gets a long leash here? In the limited time that he's played, he has zero hits.
-- @Unozerounocinco
Foremost, Cooper has to show he can stay on the field. Twice he's been on the injured list this season with two separate injuries. He suffered a left calf strain in the second game of the season, and went on the IL a few days later, and on the day he returned, he was hit on the left hand by a pitch.
Will he have a longer leash? He's had 11 at-bats, and granted, doesn't have a hit. But that's way too small of a sample size to draw any conclusions. Cooper was the Opening Day right fielder, and he is getting a shot in left field, right and first. The Marlins want to see what he can do. In the two years he's been with Miami, he's played a total of 19 big league games, including five this year.
Connor Scott and Will Stewart are struggling a bit in the Minor Leagues right now, and there's no doubt both of them have great potential. Any update on them?
-- @guyandabackpack
Stewart is the left-hander acquired from the Phillies as part of the J.T. Realmuto trade. The 21-year-old is in Class A Advanced Jupiter. Compared to last year, his fastball velocity is down. He's been more in the 87-90 mph range, compared to 93-94 mph last year. Something to watch.
Scott, last year's first-round pick, is at Class A Clinton, and hitting .191. Over his last 11 games, he's at .233, showing some signs of heating up. It's tough to evaluate many of the Clinton hitters right now because the weather has been bad in the Midwest League, and we're talking about a 19-year-old in his first full season of pro ball. More telling will be how he looks when the weather heats up, and we'll see if he shows he can be an impact hitter.