Deadline approaching, Marlins focus on future
Analytics, baseball operations, player development departments working together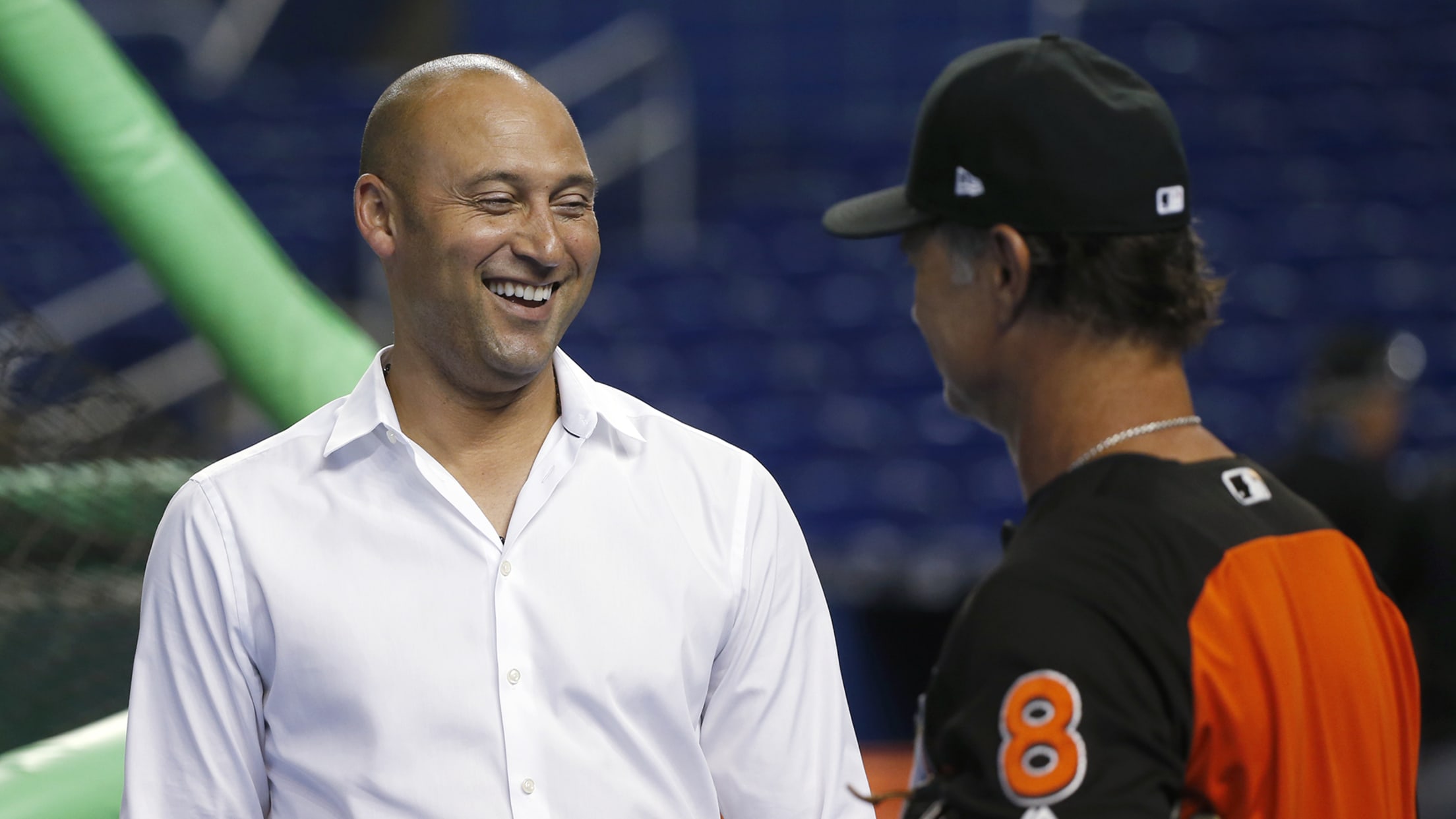 Miami Marlins CEO Derek Jeter, left, laughs as he talks with manager Don Mattingly during batting practice before the team's baseball game against the Arizona Diamondbacks, Wednesday, June 27, 2018, in Miami. (AP Photo/Wilfredo Lee) (Wilfredo Lee/AP)
MIAMI -- The Marlins are continuing to engage in trade conversations with several clubs, with much of the dialogue involving relievers Brad Ziegler, Kyle Barraclough, Adam Conley and Drew Steckenrider. Right-hander Dan Straily is another candidate who could be on the move before Tuesday's non-waiver Trade Deadline.About a dozen scouts
MIAMI -- The Marlins are continuing to engage in trade conversations with several clubs, with much of the dialogue involving relievers Brad Ziegler, Kyle Barraclough, Adam Conley and Drew Steckenrider. Right-hander Dan Straily is another candidate who could be on the move before Tuesday's non-waiver Trade Deadline.
About a dozen scouts are focused on pitchers from the Marlins and Nationals throughout the weekend series at Marlins Park. The organization has made it clear it will listen on everybody, but it will not pull the trigger on a deal unless it makes sense for the future.
"In general, it feels like the whole organization is together, just on the philosophy," Marlins manager Don Mattingly said on Saturday. "We're trying to keep our players. We're trying to win. We're trying to evaluate. If you're making a deal, you want to make a baseball deal, not a deal that just kind of fits right now and doesn't fit moving forward."
In the first year under the ownership group led by Bruce Sherman and Derek Jeter, the Marlins are not making any hasty decisions.
Before any deal is consummated, the baseball operations department consults with the analytics department and player development.
"The decision-making process is different," Mattingly said. "It's got analytics involved. It's got Derek involved. It's got our development people involved. I think, in general, as an organization, you're making decisions based on where are we going? And if we're talking about moving a guy, it's a guy we probably don't think is going to fit with us when we're ready to go.
"We're making sure we're making moves for the future, and not letting guys go that are part of our future."
From what I'm hearing, no real momentum building on talks between #Marlins and #Nationals regarding J.T Realmuto. Asking price starts with Nats' top two prospects -- Robles/Kieboom. Miami continuing talks with many clubs regarding relievers and usual suspects.

— Joe Frisaro (@JoeFrisaro) July 29, 2018
A year ago, the Marlins were in a similar situation as sellers. Before the Trade Deadline, they dealt David Phelps to the Mariners and AJ Ramos to the Mets.
"That's the thing," Mattingly said. "You always like your pieces. We liked David Phelps. We knew David Phelps had good stuff and he's a quality guy. But at the time you make that deal, you're making that deal based on, is David going to be part of us when we're ready to go? Last year, around this time, we were making decisions more on the future.
"AJ Ramos, Phelps were based on, you didn't think those guys would be there when we were ready [to win]. Now, some of our guys haven't gotten to arbitration yet. Some you have control and you think [they] could be part of a winning future."
Worth noting
• Sandy Alcantara (right axillary infection) started for Class A Advanced Jupiter on Saturday at Roger Dean Chevrolet Stadium in Jupiter, Fla., as part of his rehab assignment. The rookie right-hander allowed one run on four hits over 4 2/3 innings with three strikeouts and no walks. He threw 67 pitches. Ideally, the Marlins would like for Alcantara to be at or around 90 pitches before rejoining the rotation.
• Reliever Tayron Guerrero (left lumbar strain) threw a bullpen session on Saturday. Guerrero is not expected to be reinstated this weekend but possibly at some point in the series at Atlanta, which begins on Monday.