Forced into early action, Marlins' bullpen steps up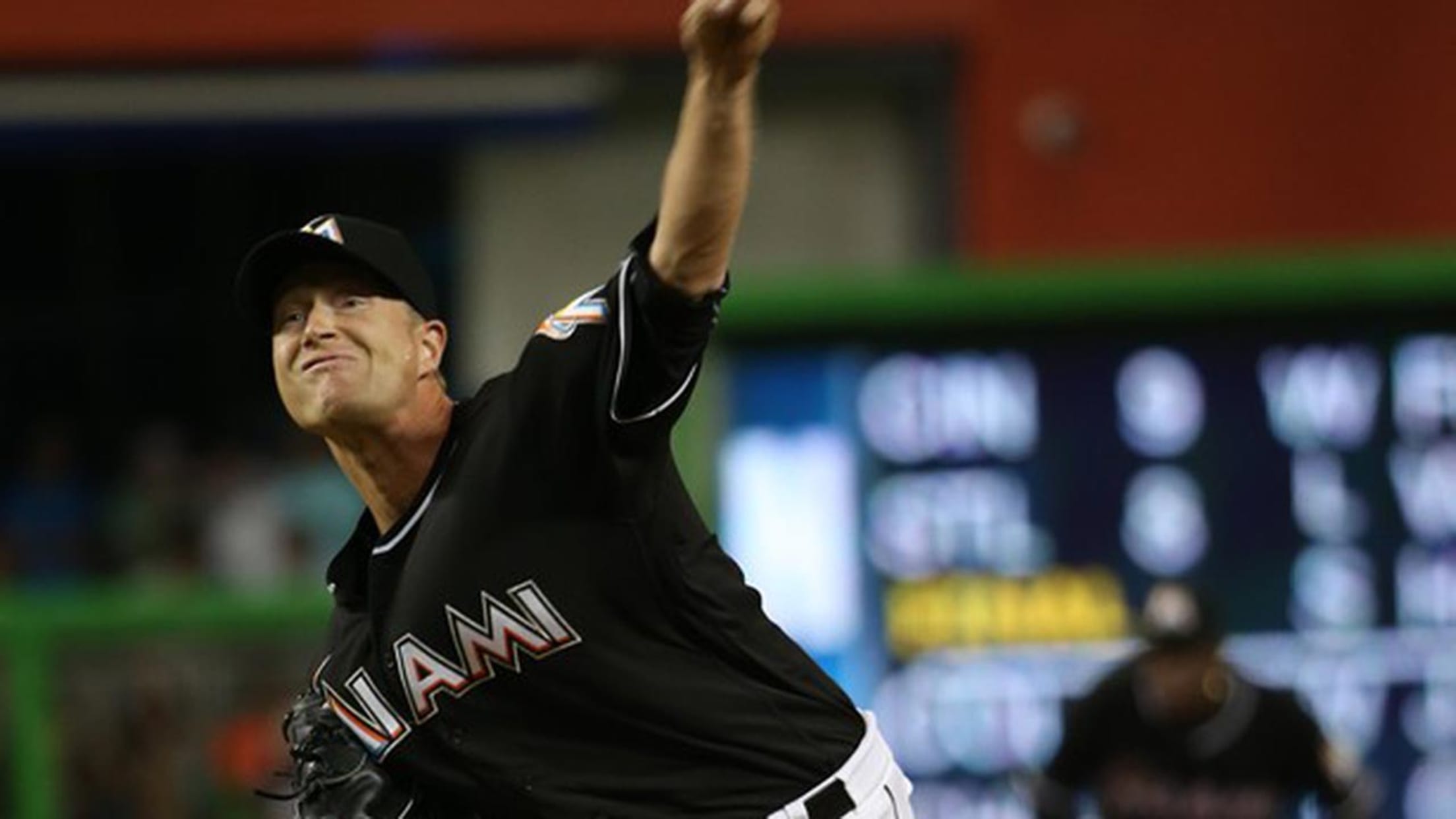 Chris Narveson, who has struggled, tossed 2 1/3 scoreless innings on Saturday. (Denis Bancroft/Marlins)
MIAMI -- The workload for the bullpen increased yet again on Saturday night, and that is what bothered right-hander Tom Koehler the most.After Koehler exited in the fourth, three Marlins pitchers combined for 5 1/3 scoreless innings of relief, keeping the team in it in a 6-4 loss to the
MIAMI -- The workload for the bullpen increased yet again on Saturday night, and that is what bothered right-hander Tom Koehler the most.
After Koehler exited in the fourth, three Marlins pitchers combined for 5 1/3 scoreless innings of relief, keeping the team in it in a 6-4 loss to the Braves at Marlins Park.
"The most frustrating part, it's not even so much the runs," Koehler said. "You're going to have games when you give up some runs. I take a lot of pride in pitching and lasting deep into games and giving the team a chance to win.
"You never want to have a situation where you have to have the bullpen pick up for that many innings. It puts a lot of pressure on them, especially early in the year. That's what gets me the most. The runs, I can live with."
Koehler gave up six runs (five earned) in 3 2/3 innings before manager Don Mattingly went to the bullpen.
Chris Narveson, Craig Breslow and Dustin McGowan combined to allow one hit in 5 1/3 innings.
"We wanted to step up and try to pick up our starter," said Narveson, who threw 2 1/3 clean innings. "Give us a chance to win the game. If we can keep it within a run or two, we feel pretty confident coming down the stretch. Unfortunately, we weren't able to do it. But as a bullpen, I think that's a mindset we have in a game like that."
• Marlins won't rush reliever callups
In nine games, the Marlins' bullpen has thrown 37 1/3 innings, which is among the most of any team in the Majors. They've had their ups and downs, and their ERA is a respectable 3.38.
"Chris was really good. Bres was good. Dustin gave us an inning," Mattingly said. "They gave us a chance."
The Marlins chipped back to 6-4 in the sixth inning on Justin Bour's home run, and they had two in scoring position in the same inning, as well as two on in the ninth, but were unable to complete the comeback.
"Obviously, J.B. gets the home run that gets us back on the board there," Mattingly said. "He gets us 6-4, and you feel like you have a little momentum on our side, and those guys kept throwing up zeros. We just weren't able to do anything [more]."