Ichiro tweaks back in minor outfield collision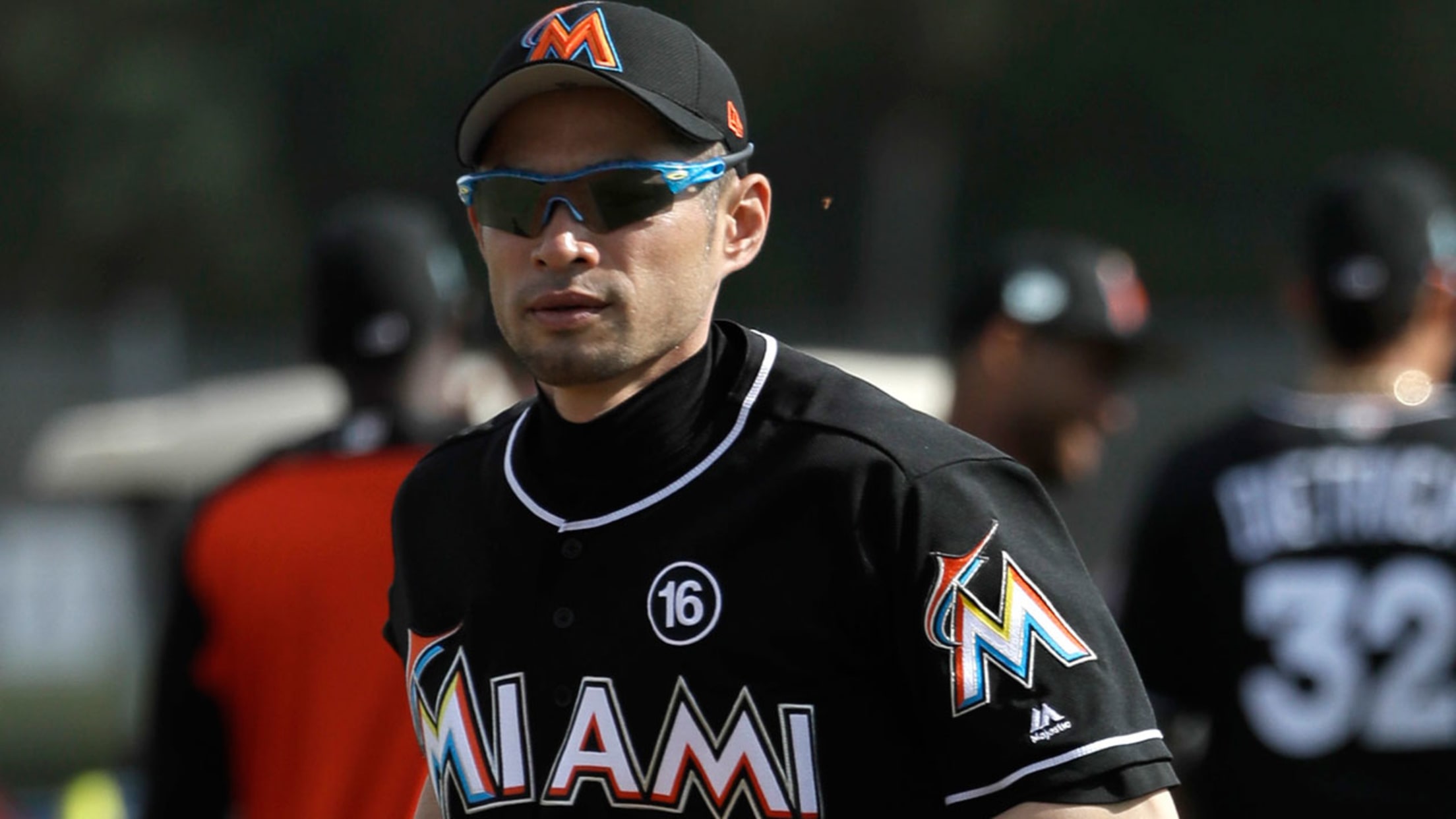 Ichiro Suzuki has been on the disabled list just once in his big league career. (AP) (AP)
JUPITER, Fla. -- Ichiro Suzuki needed directions to the training room. He'd never been there before -- ever. For the first time in his illustrious career, the 43-year-old Marlins outfielder sought medical assistance after colliding with non-roster invitee Brandon Barnes in what was ironically enough a communication drill late in
JUPITER, Fla. -- Ichiro Suzuki needed directions to the training room. He'd never been there before -- ever. For the first time in his illustrious career, the 43-year-old Marlins outfielder sought medical assistance after colliding with non-roster invitee Brandon Barnes in what was ironically enough a communication drill late in Tuesday's Spring Training workout.
Ichiro, playing center, and Barnes, who was in right field, were chasing a fly ball. The two called for it simultaneously and neither heard the other.
It wasn't a full-on collision but rather a glancing blow. Barnes, a former football player, made contact with his knee to just above the right knee of Ichiro, who was noticeably limping in the clubhouse afterward. But it wasn't the forthcoming bruise on the knee that gave Ichiro concern, but rather the jarring impact that caused some discomfort in his lower back.
• Spring Training:Info|Schedule|Tickets|Roster
"With the impact, maybe you just kind of get tense in that lower back, that's what happened," Ichiro said through an interpreter. "We'll see where I'm at tomorrow."
Ichiro was able to keep his sense of humor about actually needing to visit the training room for once. (The only time he's been on the disabled list during his 16-year big league career was in 2009, and that was for a bleeding ulcer.)
"That was a little different for me," said Ichiro. "Some of the guys [Dee Gordon and Martin Prado] came in and took pictures with me, because they'd never seen me in the trainer's room."
Ichiro said that the glove that was used to examine him was being kept in the training room as a souvenir, but added that he did not autograph it.
"It's the only one like it in the world," Ichiro said with a chuckle.
Not expecting it to be a serious injury, some of the Marlins' players were having fun with it in the clubhouse. With Gordon as the instigator, and Barnes' locker just two down from his, Gordon scratched on a piece of notebook paper the words, "You're cut." It was autographed by Ichiro. Barnes' belongings were packed up by Gordon, Justin Bour and others in a duffel bag and placed on the chair in front of his locker.
"Hopefully this will make [Barnes] feel a little bit at ease," Ichiro said. "I know he does feel bad [about the accident]."
Barnes took it all in stride: "It's good, it's good stuff," he said.
Still, it's not the way you want to make a first impression on a new team.
"It's definitely not what you want," Barnes said. "The guy's a legend. It's not the way you want to do things, especially the fifth day of camp."
Glenn Sattell is a contributor to MLB.com.