Realmuto relaxes, excels at pingpong table
Catcher learned game in childhood, played often in Spring Training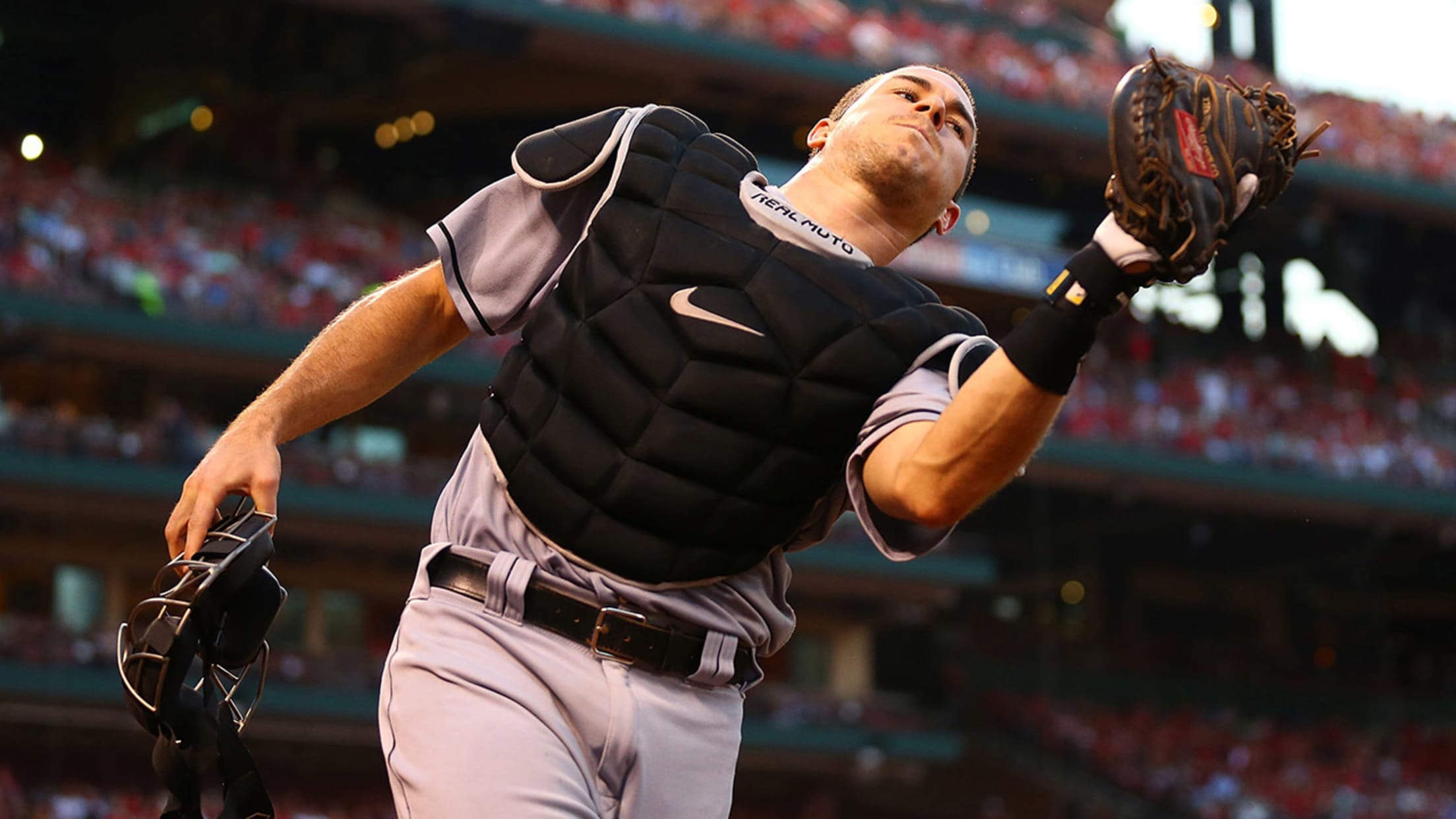 Marlins catcher J.T. Realmuto has the athleticism to excel on the baseball field and at the pingpong table. (Dilip Vishwanat/Getty Images)
MIAMI -- Don't be deceived by the position he plays. With his athleticism, Marlins catcher J.T. Realmuto is helping to redefine what it means to be a catcher.The 25-year-old has speed and quickness, and earlier this season, he became the first catcher in Marlins franchise history to bat in the
MIAMI -- Don't be deceived by the position he plays. With his athleticism, Marlins catcher J.T. Realmuto is helping to redefine what it means to be a catcher.
The 25-year-old has speed and quickness, and earlier this season, he became the first catcher in Marlins franchise history to bat in the leadoff spot. In Spring Training, Realmuto's teammates also discovered he is a ringer on a pingpong table.
"J.T. is quiet," Miami infielder Miguel Rojas said. "He never talks about things like [playing pingpong]. He's got so much athleticism. He can do whatever. I've been surprised [recently] with the way he has been blocking balls [as a catcher]. That's how surprised I was when I watched him play pingpong in Spring Training."
Realmuto grew up a well-rounded athlete, and his skill set included playing plenty of pingpong.
"I like to play a lot, it's something that relaxes me," he said. "Also it's good for hand-eye coordination."
At Carl Albert High School in Midwest City, Okla., Realmuto was a star quarterback and a standout shortstop.
The 6-foot-1, 210-pounder turned down an opportunity to play quarterback at Oklahoma State, as he opted for baseball after the Marlins selected him in the third round in 2010.
Realmuto's pingpong skills were developed at an early age.
"My dad played a lot when he grew up, and he kind of introduced it to me," Realmuto said. "My high school teammates, we started playing every day, and it took off from there."
Not only did Realmuto have a table in his home, so did a number of his friends.
"When we left the baseball field or football practice, whatever it was, we'd go to one of our houses, jump in the pool to cool off, and play pingpong for hours," the 25-year-old said. "It was pretty much nonstop."
Upon being hired by the Marlins during the offseason, manager Don Mattingly set up a leadership committee among the players to help create a better line of communication with the coaching staff and the organization. If the players wanted something, within reason and as long as it didn't adversely impact the business of baseball, Mattingly was open to it.
In Spring Training, the players got approval to bring a pingpong table into their clubhouse at the Roger Dean Stadium complex in Jupiter, Fla.
"I got real excited," Realmuto said. "It was awesome. It takes your mind off [the grind], and you just relax with your teammates and friends."
Playing pingpong helped keep things loose in Spring Training. It also was a chance to see which players on the team could play.
Rojas used to play competitively growing in Venezuela. Third baseman Martín Prado, also from Venezuela, can hold his own, as can left-hander Justin Nicolino, who has pitched this year with the Marlins but is now at Triple-A New Orleans.
The one thing Realmuto and a number of Marlins took issue with was the paddle Nicolino used.
"He had his own $200 paddle; it was kind of cheating," Realmuto said. "He'd hit the ball, and knuckleballs would come off that thing. I made him stop using it. It wasn't fair."
"In every other clubhouse, I used to be the best, because I used to play pingpong when I was little," Rojas said. "But I found really good competition in this one. J.T. is really good. He used to be a shortstop, so he being good didn't surprise me. Martin is really good, too. It was really fun in Spring Training. There was really good competition."
At some point, Realmuto hopes the Marlins can add a table somewhere in their clubhouse at Marlins Park. But during the regular season, things are run more strictly than in Spring Training.
So, for now, off the field, the Miami catcher plays whenever he can.
But in the Minor Leagues, there was at least one ballpark where Realmuto regularly played pingpong before taking the baseball diamond.
"I remember playing in Mobile, Ala., in Double-A," he said. "It's my least favorite park in all of Minor League Baseball, but it had a pingpong table in the clubhouse, so I loved going there."