Herrera's versatility 'as advertised'
Mattingly big on utility man; Guerrero rebounds; Anderson stays hot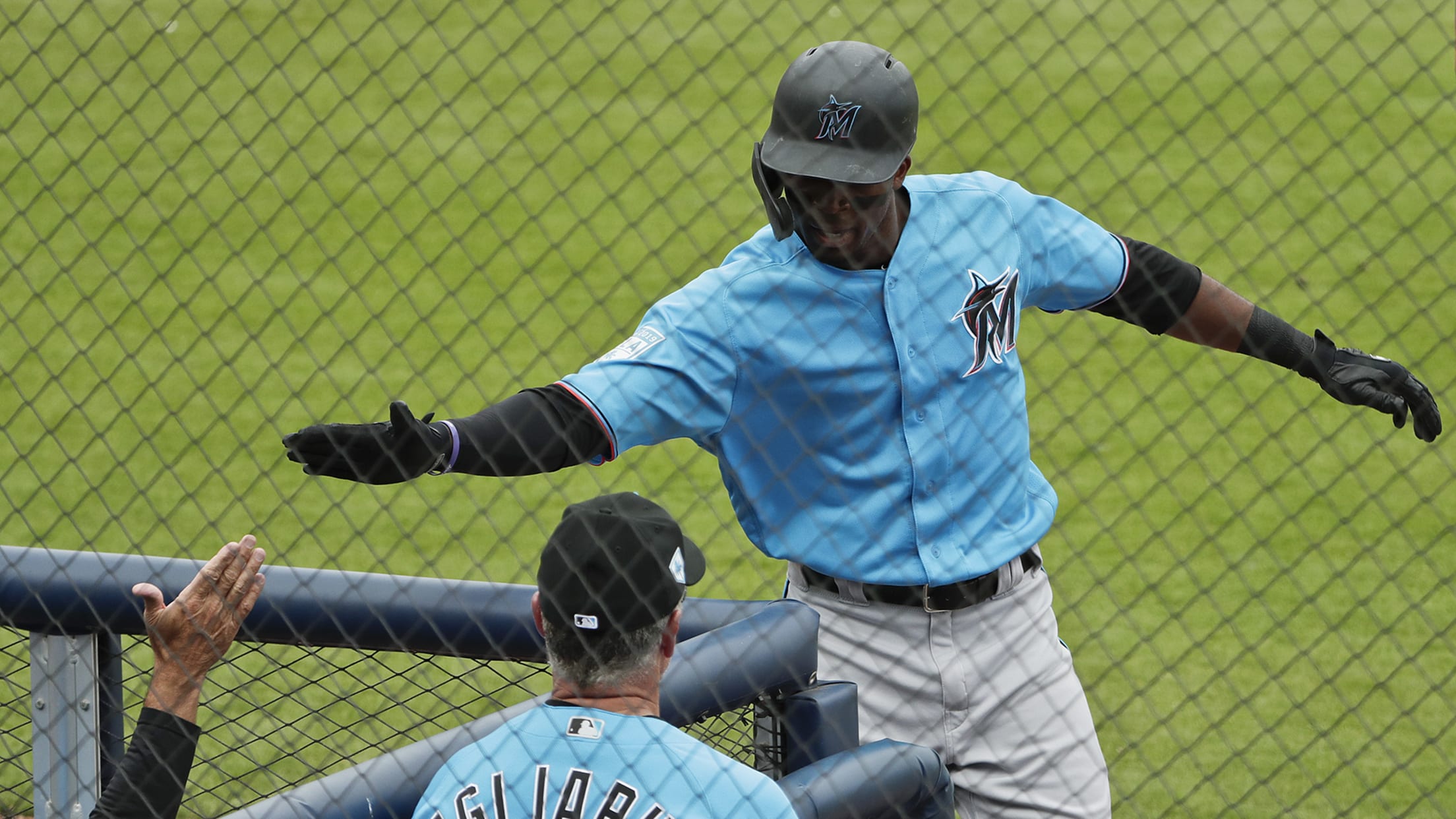 JUPITER, Fla. -- Rosell Herrera has no shortage of gloves or positions he can play, which is heavily factoring into why the 26-year-old has a strong chance to make the Marlins as a super-utility player. Over the course of Spring Training, Herrera has seen action in eight games in center
JUPITER, Fla. -- Rosell Herrera has no shortage of gloves or positions he can play, which is heavily factoring into why the 26-year-old has a strong chance to make the Marlins as a super-utility player.
Over the course of Spring Training, Herrera has seen action in eight games in center field, as well as right field, shortstop, second base and third base.
"It's been as advertised as far as what he can do and what we think he can do," manager Don Mattingly said.
Herrera was a late-inning replacement in center field on Wednesday in the Marlins' 6-0 win over the Cardinals at Roger Dean Chevrolet Stadium. Miami has won 11 straight Grapefruit League games, matching the franchise record (Feb. 28-March 8, 1997).
Claimed off waivers from the Royals on Jan. 2, Herrera has a leg up on some others for a bench role because he's already on the 40-man roster.
With the Marlins planning on carrying 13 pitchers and 12 position players, versatility is crucial in filling the four bench spots -- especially playing in the National League, where the pitchers hit and there's ample double switching.
"Obviously, you love versatility all the time," Mattingly said. "But in this league especially. In this day and time of bullpens, carrying the extra guy, it's nice to have a guy you can manipulate the field with. He's one of those guys."
Herrera has added value by playing center field, which makes him an option backing up Lewis Brinson.
Herrera used to carry seven gloves. But in Spring Training, he is using just three -- one for second base, one for shortstop and third base and one for the outfield.
A switch-hitter, Herrera is hitting .205 with four stolen bases. But the Marlins aren't putting much weight on preseason statistics.
"One of my plans is to see pitches," Herrera said. "Every at-bat, I'm trying to see more pitches. That helps me for the season. Because I don't want to swing at the first pitch always. Right now, I'm getting better every day."
Herrera has Major League experience, appearing in 86 games combined between the Reds and Royals in 2018. In 75 games with Kansas City, his slash line was .238/.292/.325.
"We feel like there's more in there," Mattingly said. "We like his swing mechanically, right-handed and left-handed. We like the speed portion of his game. He will steal a bag. He's a good baserunner. He will bunt. He gives you a variety of things."
Guerrero dials up 100
The second time around turned out better for right-hander Tayron Guerrero. The hard-throwing reliever bounced back on Wednesday, striking out two in a clean seventh inning with his fastball touching 100 mph a couple of times.
It was a better result for Guerrero, who gave up two runs on two hits while hitting a batter in a game against the Cardinals last Sunday.
The difference?
"He was attacking," bench coach Tim Wallach said. "I think that's the key for him. When you're throwing 100 mph, you don't want to try to pick corners and necessarily make pitches. When he's out there, he needs to let it rip and use his best stuff. He's only out there for hopefully 10-15 pitches, [so he has to] use them well. He did today."
Guerrero will start the season in a late-inning setup role.
Anderson stays hot at hot corner
Brian Anderson's transition back to third base is going more than smoothly. The 25-year-old is staying hot at the plate and in the field.
While playing on the second-base side during a shift on Wednesday, Anderson made a nice catch in short right field and doubled up Drew Robinson at first.
At the plate, Anderson went 2-for-2 with a pair of walks. Overall this spring, he's hitting .400/.500/.725 with five doubles, a triple, two home runs and nine RBIs.
"He's proven that he can be a big league third baseman," Wallach said. "I don't think anybody in our clubhouse ever doubted that. If anybody did, they're seeing he's pretty good over there."
Anderson appeared in 71 games at third base and 91 in right field last year.
"Offensively, we know what he is," Wallach said. "He's an offensive force."
Up next
The Marlins travel to Port St. Lucie on Thursday and take on the Mets at 1:10 p.m. ET. Wei-Yin Chen will get the start for Miami, which lines the left-hander up to be the No. 4 starter. However, that has not been announced. Steven Matz is slated to throw for New York.