Mattingly fine with players' kids in clubhouse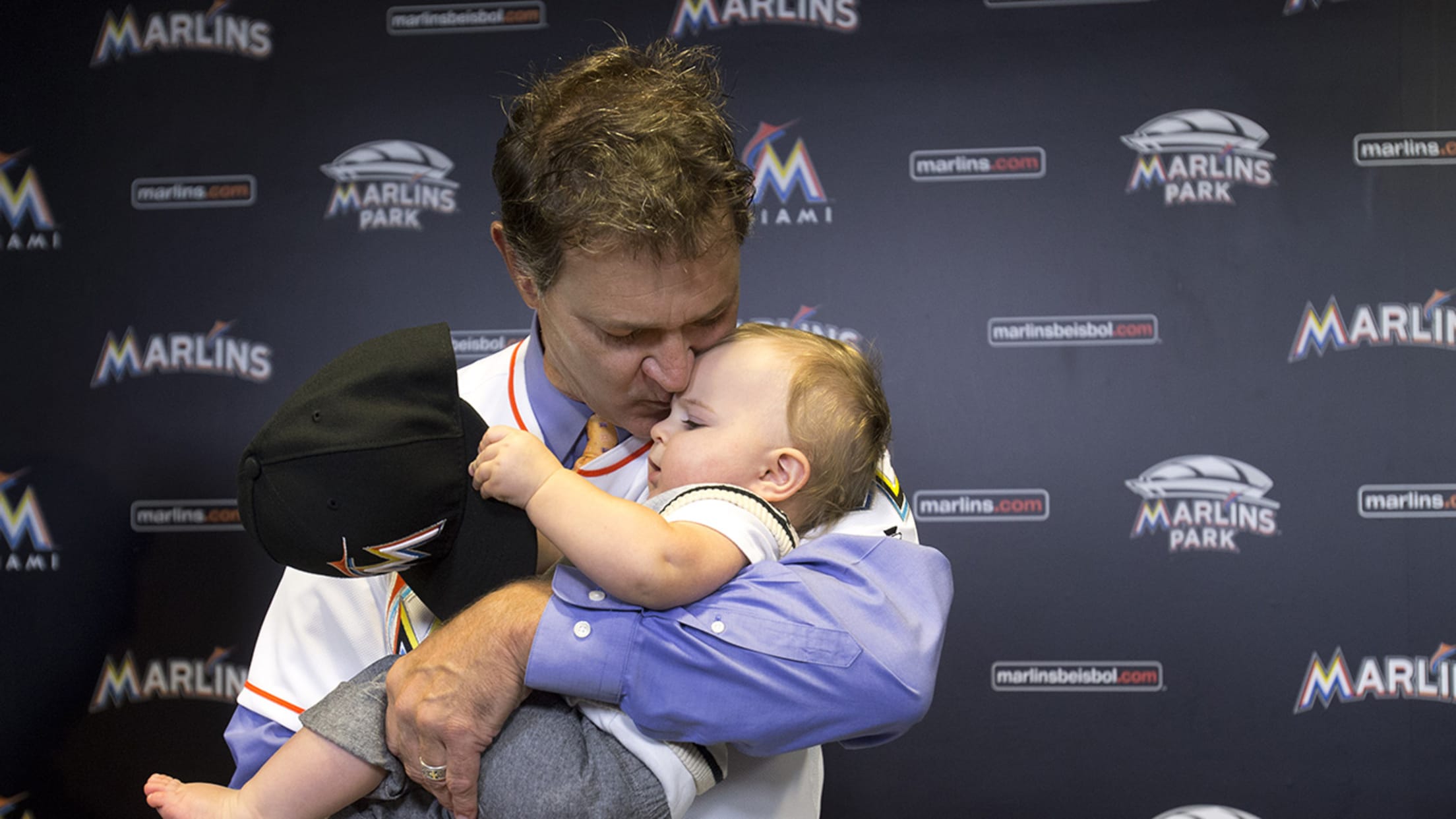 Don Mattingly, pictured with his son Louie, is fine with kids in the clubhouse until an hour before the game. (AP) (Wilfredo Lee/AP)
LAKE BUENA VISTA, Fla. -- Players' children are welcome around the Marlins during their days at the ballpark, but the team has certain guidelines in place to make sure family time doesn't interfere with preparation for games.The issue of kids in the clubhouse has gained sweeping attention in light of
LAKE BUENA VISTA, Fla. -- Players' children are welcome around the Marlins during their days at the ballpark, but the team has certain guidelines in place to make sure family time doesn't interfere with preparation for games.
The issue of kids in the clubhouse has gained sweeping attention in light of Adam LaRoche's decision to retire after the White Sox asked him to limit the time his son was around the team.
Each club has its own way of handling such issues. Marlins manager Don Mattingly favors the players being with their kids.
"Our deal is, we like kids around," Mattingly said. "We like guys to have their sons around, and things like that. We just are building it to where there is a certain time. How do we handle that? Where they are allowed to be? What time do they need to be out of the clubhouse, as far as respect to everyone? Things like that.
"We definitely [like] the kids around, we just have a certain time when we're getting ready."
The team wants only the players in the clubhouse about an hour before game time.
"Basically, kids are allowed, just up until a certain point," Mattingly said of his policy. "I think it's like an hour before the game, so guys can get ready to play.
"For us as a club, we're pretty open. I know I'm very open to kids being around. I think it's good for the guys. It's just a matter of a cutoff time there, where we say, 'We've got to get ready to play.' Then we give guys their space."
Worth noting
• Rather than make Friday's three-hour drive from Jupiter to Lake Buena Vista, Tom Koehler pitched in a Minor League game on a back field at the Roger Dean Stadium complex. Koehler was scheduled to throw about 75 pitches. The benefit of being used in that setting, as opposed to facing the Braves at Champion Stadium, is to allow Koehler to pitch in a more controlled environment.
• Utility infielder Miguel Rojas is being worked into the rotation more at first base. The natural middle infielder is becoming a defensive-replacement option at first, a position he has never played in the big leagues. But based on how he has looked in drills, Mattingly said Rojas may be the team's best defensive first baseman. He's also Adeiny Hechavarria's primary backup at shortstop.
"Eventually, you can see him as an everyday player," Mattingly said. "We've got Hech, obviously, who is really, really good at short. Two pretty good shortstops we've got."
• Through Thursday, National League teams have been using the designated hitter. Pitchers will take their swings on Saturday. The Marlins plan on having their starter, Adam Conley, hitting in the game against the Tigers at Roger Dean Stadium.