Marlins face off with troops via video games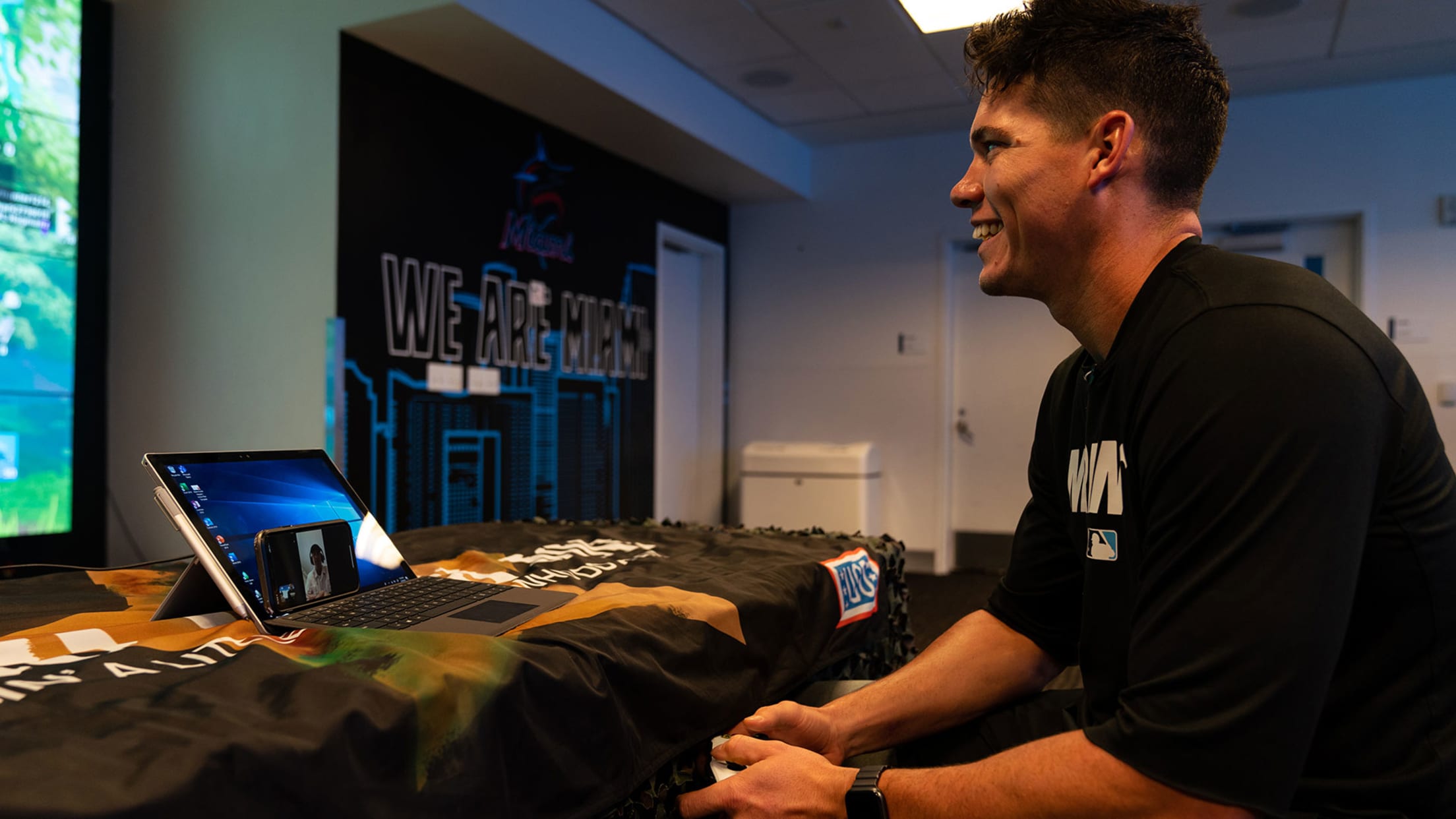 MIAMI -- To help honor Armed Forces Day on Saturday, a couple of Marlins players connected with the troops via video games. Third baseman/right fielder Brian Anderson and outfielder/first baseman Peter O'Brien took part in the "Pro vs. GI Joe" initiative in the morning at Marlins Park. Anderson and O'Brien
MIAMI -- To help honor Armed Forces Day on Saturday, a couple of Marlins players connected with the troops via video games.
Third baseman/right fielder Brian Anderson and outfielder/first baseman Peter O'Brien took part in the "Pro vs. GI Joe" initiative in the morning at Marlins Park.
Anderson and O'Brien each played Fortnite and a Captain Marvel game against a group of troop members, who connected from where they were stationed.
"It's awesome," Anderson said. "That allows an easier way for me to connect. That's something I'm familiar with. Any way we can connect these guys with their families is a good thing. The fact that it's video games, something I also love, is pretty incredible."
At Marlins Park, the main press conference room was transformed into an impromptu arcade as part of MLB's recognition of Armed Forces Day.
The Marlins faced the Mets at 4:10 p.m. ET, and Anderson and O'Brien were playing video games from around 11:30 a.m. to 12:30 p.m.
"It was nice to be part of it," O'Brien said. "I played some Fortnite and had some fun. We talked to each other. It was good. It was awesome, just to see what his day is like. We were FaceTiming."
In the room, a big screen was set up, and Anderson and O'Brien each played Fortnite along with a large group of players who were also tapped into the game. Smaller stations also were set up, and Anderson played the Marvel Comics game there.
"I used to keep in touch with my brother like that a lot, and a lot of my friends," Anderson said. "That's kind of how we connected, instead of calling each other on the phone. We'd hop on Xbox or PlayStation and talk to each other, and that's kind of how we communicated."
Anderson, 25, enjoys playing video games at home.
"I play a lot at home," he said. "My wife might say I play too much sometimes."
MLB is honoring the military this weekend, with players and staff wearing camouflage-designed caps with their uniforms. Additionally, only on Saturday, players and coaches also sported a special patch on their jerseys.
"Fortnite is a game I don't play enough to be good at it," Anderson said. "But in general, I'm a pretty good gamer. I enjoy it. I like to get on there and talk to people, and be competitive."