Marlins post tribute to Ali following his death
Boxing icon was honored guest at inaugural game at Marlins Park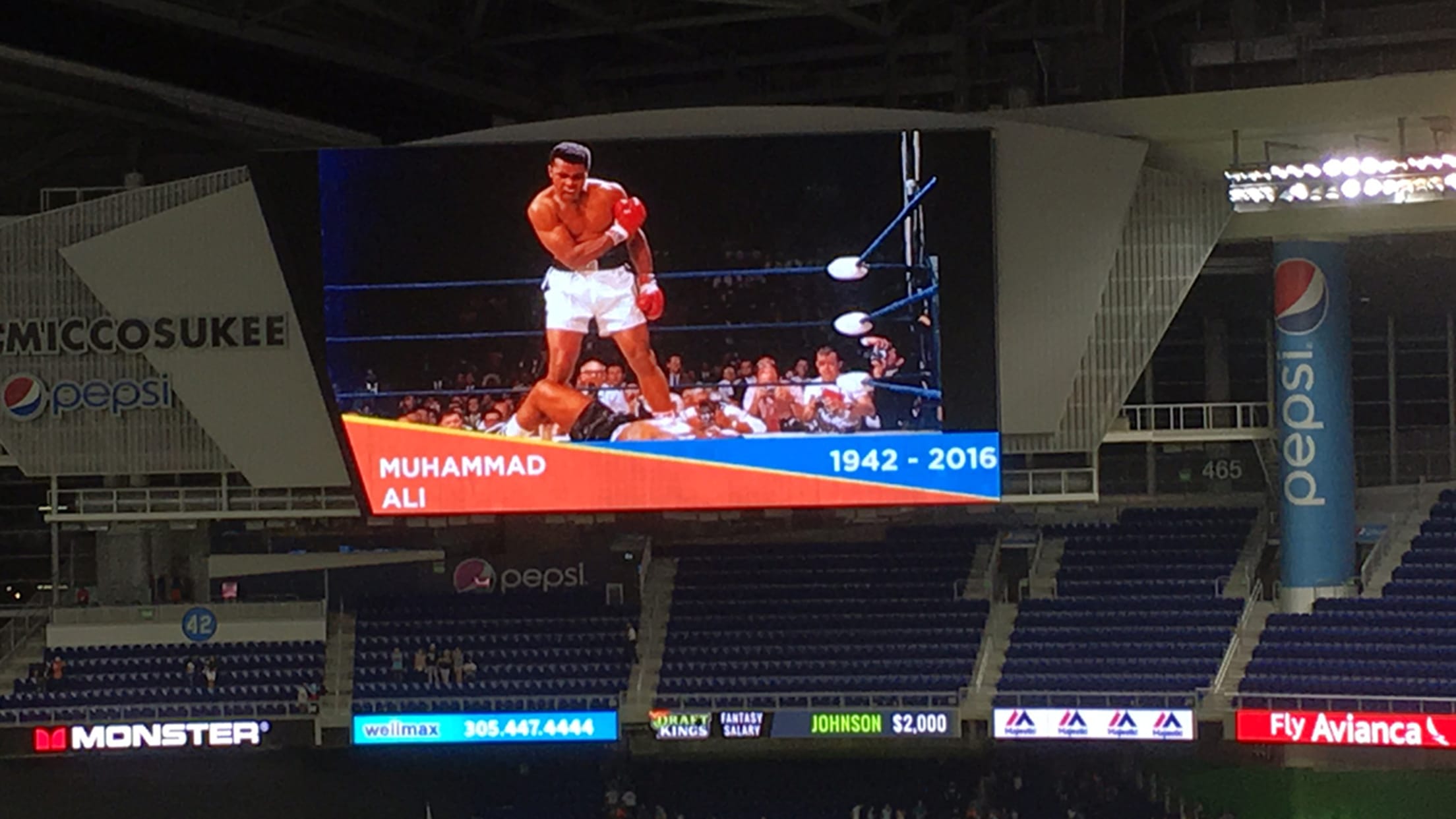 The Marlins posted a tribute to boxing icon Muhammad Ali on their video scoreboard after Friday night's game. (Joe Frisaro/MLB.com)
MIAMI -- The passing of boxing icon Muhammad Ali touched home with the Marlins.Ali, who died on Friday night at a Phoenix-area hospital, was the honored guest in the inaugural game at Marlins Park in 2012, when the newly rebranded Miami Marlins faced the Cardinals.Moments after the Marlins lost 6-2
MIAMI -- The passing of boxing icon Muhammad Ali touched home with the Marlins.
Ali, who died on Friday night at a Phoenix-area hospital, was the honored guest in the inaugural game at Marlins Park in 2012, when the newly rebranded Miami Marlins faced the Cardinals.
Moments after the Marlins lost 6-2 to the Mets on Friday night, the Marlins posted a tribute to Ali on their video scoreboard. A famous image of a youthful Ali in the boxing ring was shown, and under the photo read: Muhammad Ali 1942-2016.
The Greatest's words, as are posted in our clubhouse. pic.twitter.com/QQAtB05zxQ

— Miami Marlins (@Marlins) June 4, 2016
"He was close to many members of this organization, and when we found out, we wanted to let our fans know that he had passed away," Marlins president David Samson said. "He's the greatest champion in the world. We have a quote of his in our clubhouse. We just wanted to honor his legacy as the greatest of all time."
Reports surfaced early Friday that Ali was in declining health. He was 74.
On Opening Day in 2012, Ali met with the Marlins' players in the clubhouse before the first regular-season game at the new park was played. A plaque remains in the locker room, quoting Ali: "Champions have to have the skill and the will. But the will must be stronger than the skill."
The Marlins plan on having a moment of silence for Ali prior to Saturday's 4:10 p.m. ET game against the Mets.