Hill: 'We want hitters first' moving forward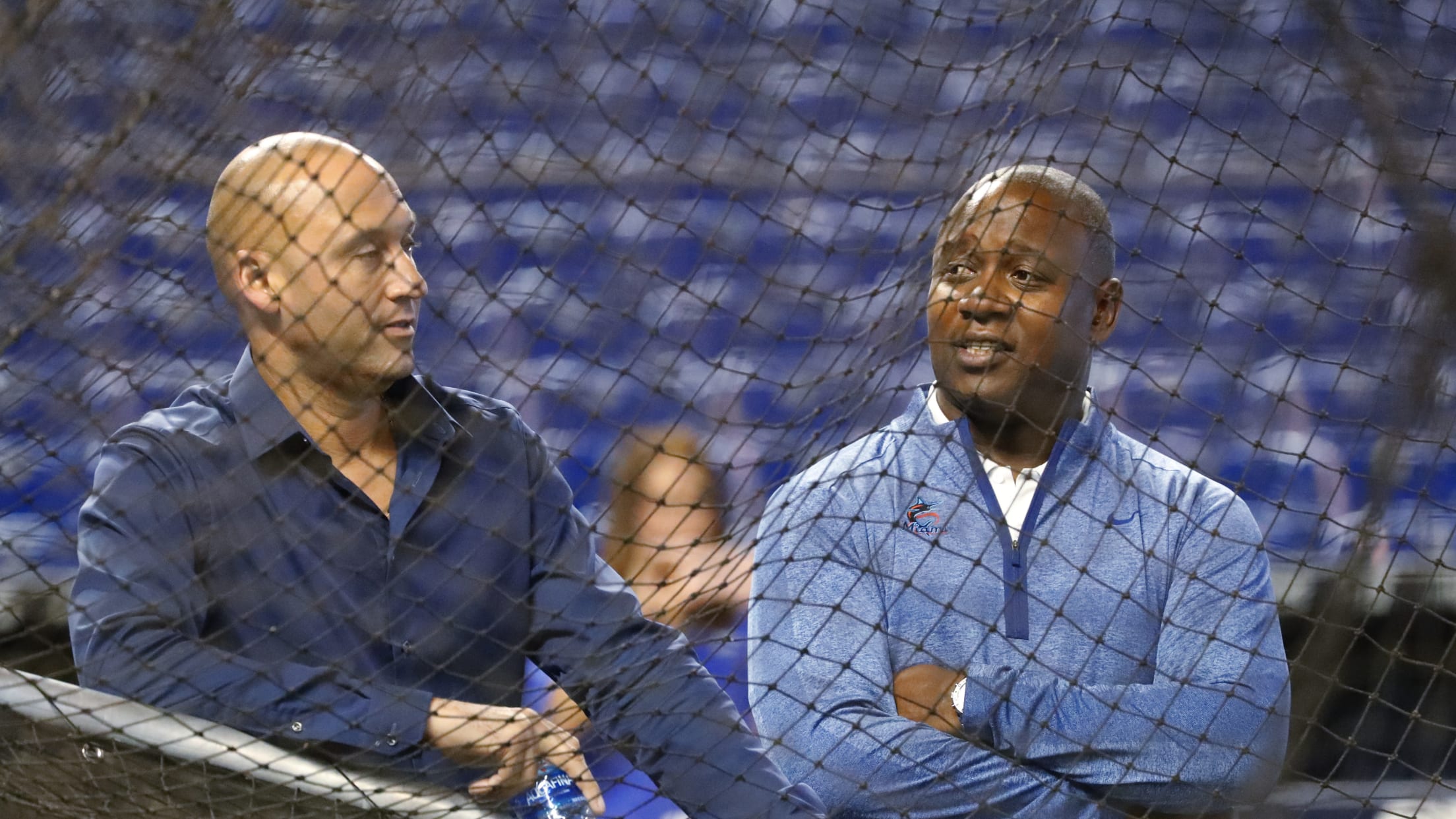 PHILADELPHIA -- Considering the fact they rank at or near the bottom of many significant statistical categories, it is unsurprising that the Marlins are prioritizing hitting this offseason. As the 2019 regular season comes to a close, Miami finished 29th in runs scored, 29th in on-base percentage and last in
PHILADELPHIA -- Considering the fact they rank at or near the bottom of many significant statistical categories, it is unsurprising that the Marlins are prioritizing hitting this offseason.
As the 2019 regular season comes to a close, Miami finished 29th in runs scored, 29th in on-base percentage and last in the Majors in homers and slugging percentage.
In an age of an unprecedented number of homers being hit, the Marlins aren't necessarily targeting home run hitters moving forward. They are searching for hitters who show bat-to-ball skills and are considered pure hitters with power.
"We've talked about what we hunted in the Draft and what we looked out [for] in our trades -- contact hitters first, hitters with power," Marlins president of baseball operations Michael Hill said. "I think we'll look for guys who fit that mold."
The Marlins made Vanderbilt outfielder JJ Bleday their first-round Draft pick in June, and they also netted prospects Jazz Chisholm (shortstop), Jesús Sánchez (outfield) and Lewin Díaz (first base) in July trades.
"We'll continue that in our acquisition of talent, that up-the-middle talent, that athleticism," Hill said. "But when you think about the hitters we add, we want hitters first. That's the overall goal is to continue to take steps and get ultimately where we want to go as an organization."
The Marlins had plenty of swing and miss in their lineup this season, reflected by their 24.3 strikeout percentage, which is eighth highest in the Majors, entering the finale.
Alfaro striving for improvement
Catcher Jorge Alfaro showed plenty of promise, along with immense power, in his first season with the Marlins. Acquired from the Phillies in the J.T. Realmuto trade, Alfaro got Closing Day off. He played in 130 games, hitting .262/.312/.425 with 18 home runs.
But making contact was an issue, as Alfaro recorded a 33.1 strikeout percentage. He also had -5 Defensive Runs Saved.
"There's a lot of things I have to work on to get better," Alfaro said. "Hopefully, just keep working on my defense and keep working on my hitting. Keep working on every aspect of my game. That's my mentality right now. I had some ups and downs during the season."
Time to produce for Brinson
The development of Lewis Brinson took a step backwards in his second season with the organization, and in order for the 25-year-old outfielder to be part of the future's core, he needs to start producing.
"In general with Lewis, he's going to have to produce," Marlins manager Don Mattingly said. "I think he's had a lot of opportunity, and he's going to have to produce. In my mind, that means quality at-bats."
Brinson finished with a slash line of .173/.236/.221 with no home runs, 15 RBIs and a FanGraphs WAR of -1.6. He did split time at Triple-A New Orleans, where he hit .270 with 16 home runs and 56 RBIs in 81 games.
Brinson has an option for 2020, which means if he struggles, he could start off at Triple-A again.
Berti shows he belongs
Exactly how Jon Berti fits into the future is unclear, but what the Marlins did gain from 2019 is the 29-year-old rookie will have a role next season. In less than half a year in the big leagues, he scored 52 runs, and he is a threat on the bases.
Berti also showed defensively he can handle shortstop and center field, and he has performed in the leadoff spot.
"He's a piece for this team and this organization," Mattingly said. "It's easy to see. This guy plays multiple positions. Very few guys go into the outfield. Then the speed element he brings in. But not only having it, he ends up using it. So he can steal a bag. He's got that mentality of a basestealer. "