Ramos reflects on 'special' day at Fort Bragg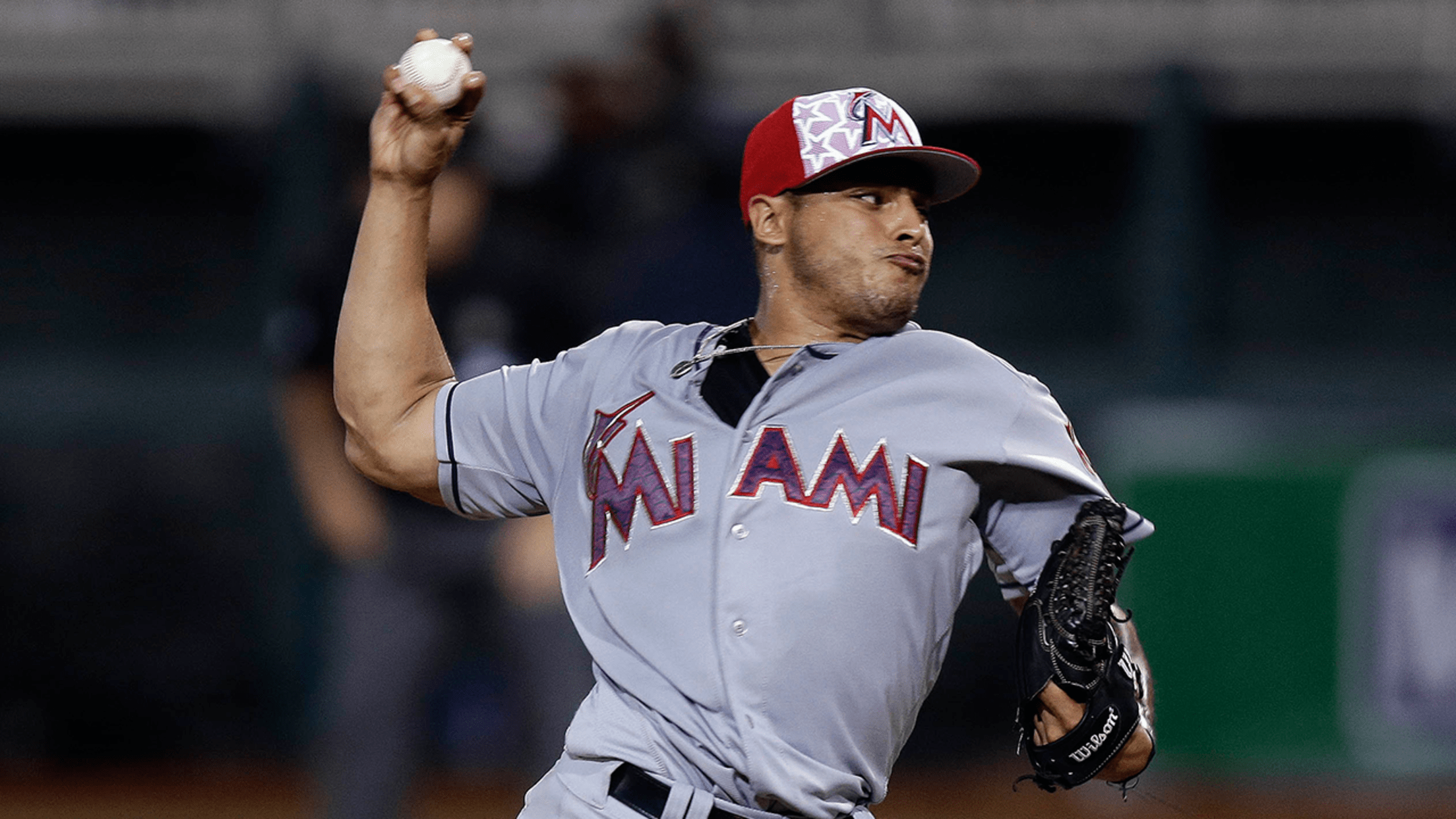 "It's a once-in-a-lifetime opportunity," Marlins closer A.J. Ramos said of pitching at Fort Bragg on Sunday. (AP)
NEW YORK -- The patriotic spirit followed the Marlins from Fort Bragg on Sunday night to Citi Field on Monday. But before leaving the military base in North Carolina, Marlins closer A.J. Ramos was given the final-out ball.After Ramos struck out Jace Peterson to seal Miami's 5-2 win over the
NEW YORK -- The patriotic spirit followed the Marlins from Fort Bragg on Sunday night to Citi Field on Monday. But before leaving the military base in North Carolina, Marlins closer A.J. Ramos was given the final-out ball.
After Ramos struck out Jace Peterson to seal Miami's 5-2 win over the Braves at Fort Bragg Field, catcher J.T. Realmuto handed the right-hander the ball to remember the first-regular season game ever played on an active U.S. military base.
"The whole day was special," Ramos said on Monday. "They asked me in the eighth inning, 'Do you want to pitch, even though it's a non-save situation?' I said, 'Yes.' It's a once-in-a-lifetime opportunity. I know in the past I haven't been doing well in non-save situations."
The whole atmosphere of playing in front of the troops during Fourth of July weekend was a thrill.
Ramos also has a connection to the base.
He got some tickets for his cousin's brother-in-law, Renee Lugan, who is stationed at Fort Bragg and soon is scheduled to be deployed.
Ramos met with Lugan before the game.
"I'm signing autographs and walking by, and I heard somebody saying, 'A.J.! A.J.! Thanks for the tickets,'" Ramos said.
On Monday, the Marlins against wore their Fourth of July hats and uniforms.
"In New York, they do it right as well, too," Ramos said. "They pay a huge tribute. Being able to be part of that is amazing. It's cool."
About the only thing that didn't go right for Ramos on Sunday night was a 95 mph fastball that got away and struck Braves catcher Tyler Flowers high on his left shoulder, near his head.
Flowers on Friday night hit the game-tying home run off Ramos in the ninth inning at Turner Field, which gave the appearance the pitch might have been intentional.
Ramos stated that wasn't the case, and he planned to reach out to Flowers.
"I was most disappointed about that, because I was playing around with him [pregame], went up to him, and [in the ninth], I hit him," Ramos said. "It kind of looked like a cheap-shot-type thing."
Ramos noted that during Sunday's batting practice he made a point to playfully nudge Flowers and they spoke light-heartedly about the home run.
Then to hit him near the head with a pitch unnerved Ramos, who said he simply overthrew the fastball.
"That's not the way I like to play," Ramos said. "If you beat me, I'm not going to get mad and try to hit you. If you beat me, you beat me. Good job that day. I'm going to try to strike you out every other time after that. That's my mentality with that."