Smith hails from tradition-rich baseball family
In 1955, grandfather notched 10 RBIs in one game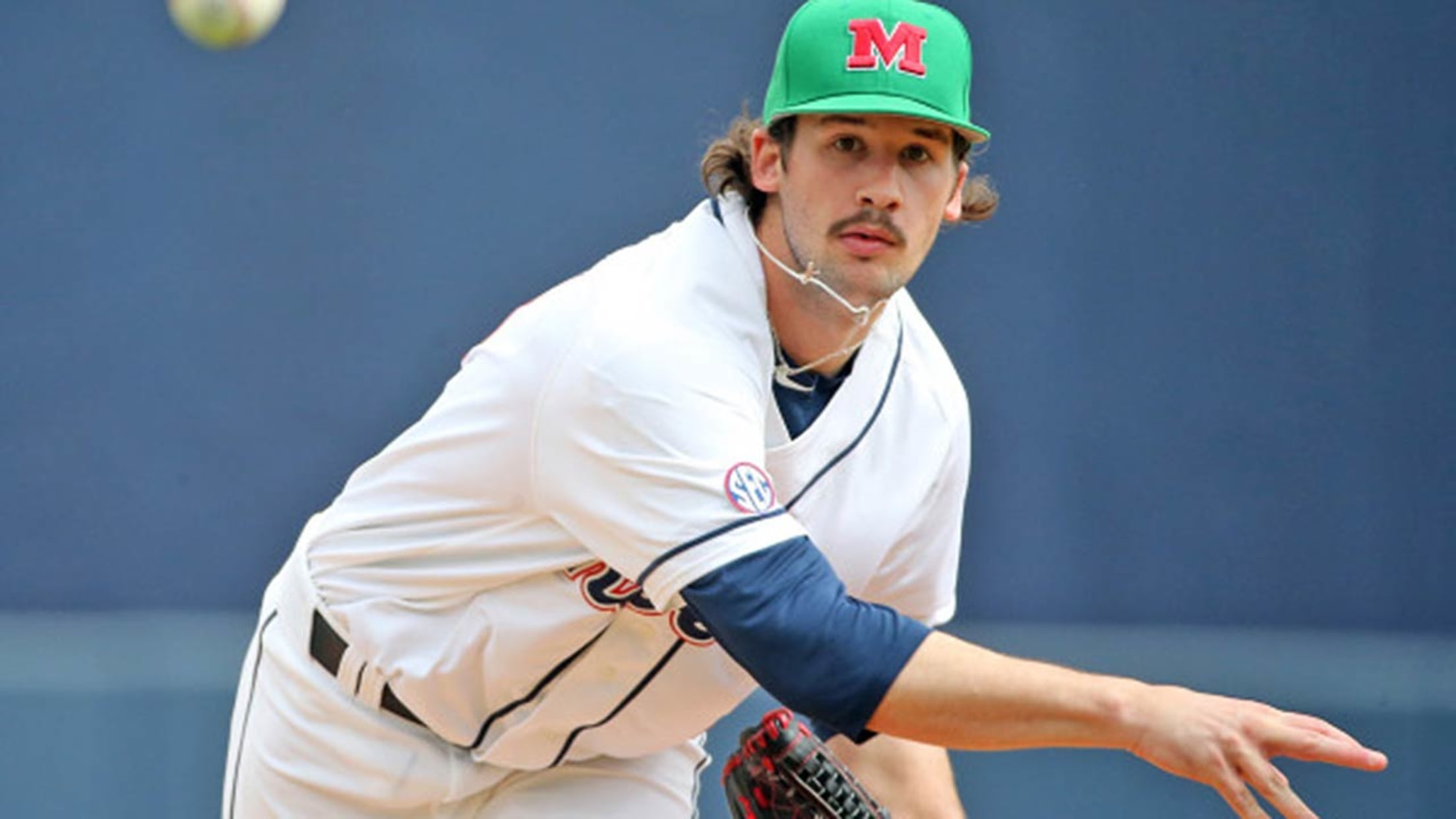 Chad Smith was 4-4 with a 4.22 ERA this season. (Josh McCoy/Ole Miss Athletics)
MIAMI -- Long-time baseball fans and trivia buffs may remember his grandfather, Norm Zauchin. But for now, Chad Smith will get his chance to make a name for himself in professional baseball.Smith, a junior right-hander at the University of Mississippi, was the Marlins' 11th-round pick on Saturday in the final
MIAMI -- Long-time baseball fans and trivia buffs may remember his grandfather, Norm Zauchin. But for now, Chad Smith will get his chance to make a name for himself in professional baseball.
Smith, a junior right-hander at the University of Mississippi, was the Marlins' 11th-round pick on Saturday in the final day of the MLB Draft. Miami wrapped up the third day of the Draft by making 30 selections, with Smith heading the list.
The 21-year-old from McCalla, Ala., a suburb of Birmingham, is from tradition-rich baseball family. Zauchin played with the Red Sox and Washington Senators in the 1950s.
:: Complete 2016 Draft coverage ::
"It's awesome," Smith said. "Just growing up, being around the family, everybody always talked about him. Now I get the same opportunity that he did. I feel lucky and blessed. It's been a fun year."
Zauchin, who passed away in 1999, is the only member of Smith's family to play in the big leagues. But the right-hander had a brother and several uncles play college baseball.
Marlins vice president of scouting Stan Meek sees value in selecting players with family ties to baseball.
"I always say, 'If you find the son or a grandson of a big leaguer, it kind of runs in the family,'" Meek said. "Those guys have been around it a little bit. I think that helps when those guys are around the game. The game doesn't seem to intimidate those guys as much."
Smith also comes from the same Alabama school, McAdory High, which produced one of the greatest athletes in generations, two-sport standout Bo Jackson.
"It's a big source of pride," Smith said. "Growing up, I've always wanted to do this. Coming from a school [that featured Jackson] and the genes that we have, it's been unbelievable. I'm just ready to get out and get going."
Smith's grandfather played in parts of six big league seasons. His career numbers were relatively modest -- .233 batting average with 50 home runs and 159 RBIs.
But to the astute fan, Zauchin made an impact.
On May 27, 1955, while with the Red Sox, he drove in 10 runs in a game against the Senators. On the historic afternoon, Zauchin was 4-for-5 with three home runs and a double.
Only 12 times since 1900, the beginning of MLB's modern era, has a player driven in as many as 10 runs in a game. The single-game record is 12, shared by Jim Bottomley (1924) and Mark Whiten ('93).
Zauchin had an award-worthy 1955 season, reflected by the fact he finished third in the American League Rookie of the Year Award balloting. Herb Score of the Indians won the honor.
Zauchin, a first baseman, finished his rookie campaign with 27 homers and 93 RBIs.
Smith will look to make his own mark with the Marlins.
Before attending Ole Miss, Smith pitched two seasons at Wallace State Junior College. In April 2015, his season was slowed by an oblique injury, but he was healthy for 2016 at Ole Miss.
At Mississippi, Smith appeared in 15 games with 12 starts. He was 4-4 with a 4.22 ERA. In 59 2/3 innings, he struck out 62 and walked 39.
"He's got a good arm, his fastball is up to 95 [mph]," Meek said. "He's got a slider. Good body, and size that we like in pitching, he's 6-foot-4. I think he had his ups and downs, but he pitched well at the end."