Around the Horn: Versatility key to bench roles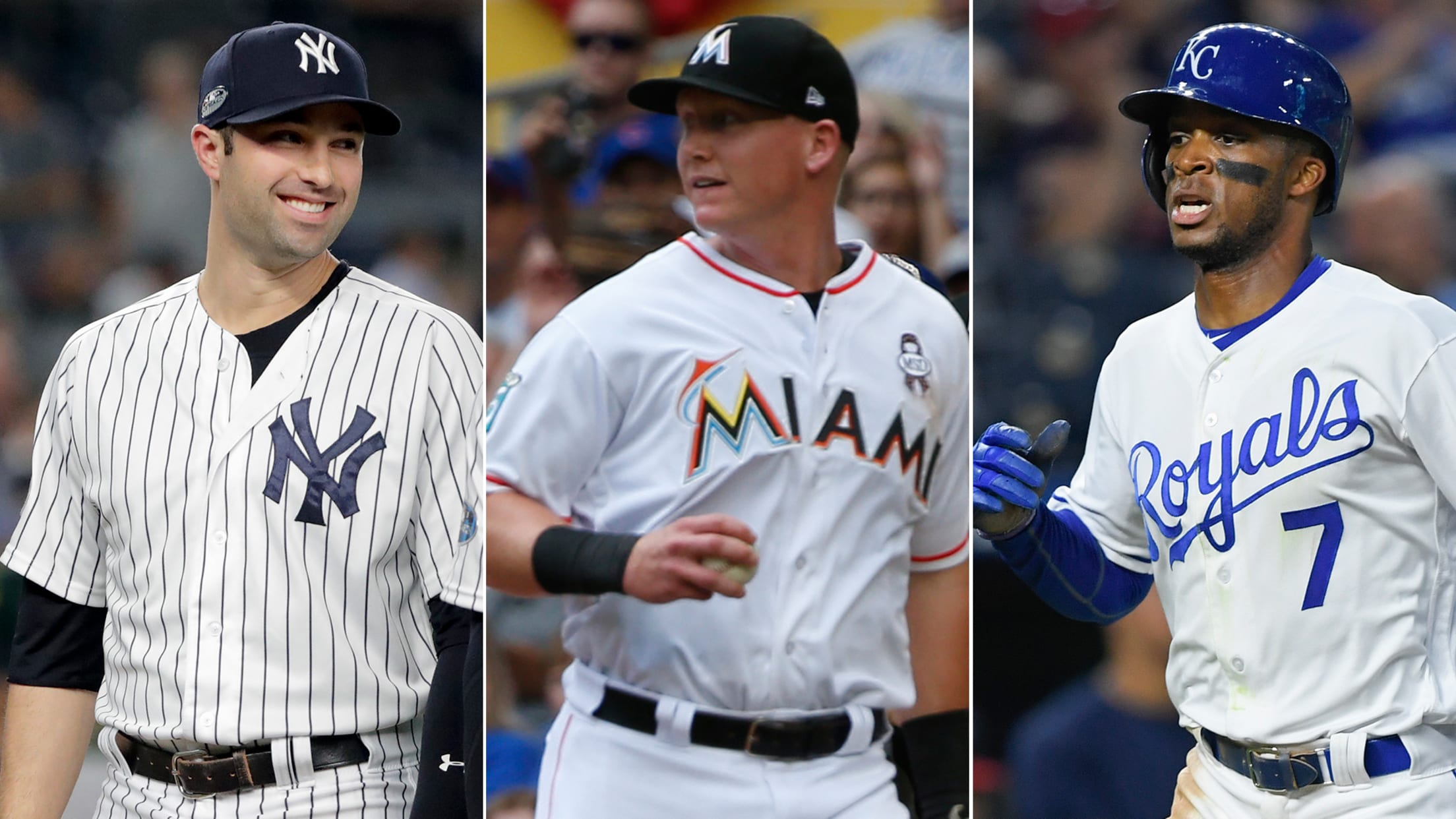 Marlins pitchers and catchers start Spring Training workouts on Feb. 13, and position players follow on Feb. 18. With Spring Training about a week away, Marlins.com is going around the horn with a series of position-by-position breakdowns leading into camp. Up next: Bench.MIAMI -- Versatility has become a necessity for
Marlins pitchers and catchers start Spring Training workouts on Feb. 13, and position players follow on Feb. 18. With Spring Training about a week away, Marlins.com is going around the horn with a series of position-by-position breakdowns leading into camp. Up next: Bench.
MIAMI -- Versatility has become a necessity for the candidates looking to fill bench roles with the Marlins in 2019.
Aside from a handful of games last year, manager Don Mattingly went with a four-man bench and 13 pitchers. Expect more of the same when the Marlins set their Opening Day roster.
• Around the Horn:Outfield | Infield | Rotation | Bullpen
Between now and the time pitchers and catchers get Spring Training going at the Roger Dean Chevrolet Stadium complex in Jupiter, Fla., the Marlins still may make additional roster moves. But as things stand now, there are indications of how Miami's bench may shape up.
MLB.com addresses the candidates and jobs that are up for grabs.
Why a short bench?
With the heavy use of relievers, more clubs are carrying eight relievers and 13 pitchers overall. The Marlins once again project to be in that spot, so the days of the conventional "fifth outfielder" are over. The more positions a player can play, the better his chances of earning a spot on Miami's bench.
Backup catcher?
The Marlins acquired the Phillies' starting catcher, Jorge Alfaro, as part of a package for J.T. Realmuto. The other backstop on the 40-man roster is Chad Wallach.
Wallach will get plenty of chances to win the backup spot. For depth, Bryan Holaday, who spent all of last season on Miami's active roster, is an option as a non-roster invitee.
What role for Walker?
Neil Walker became the Marlins' first free-agent pickup, signing last week for $2 million.
Walker may find himself in the lineup as much as the regulars, but at several different positions. Mainly a second baseman throughout his career, Walker expects to see plenty of time at first base. With the Yankees last year, Walker also found himself in left and right field as well as third base.
Fourth outfielder?
It's still unclear who the three regulars will be. For now, the frontrunners are Lewis Brinson (center), Brian Anderson (right) and Austin Dean (left). The Marlins probably will carry one true outfielder on the bench, with Walker available to play a corner spot.
Magneuris Sierra had his struggles as a rookie, and he will probably open the season at Triple-A New Orleans. Sierra is an option to play all three positions.
Garrett Cooper and Peter O'Brien are candidates to start at first base, with O'Brien maybe having an early edge. But both can also play corner outfield.
Rosell Herrera, who saw big league time with the Reds and Royals last year, is also on the 40-man roster, which improves his chances of making the club. Harold Ramirez is a non-roster invitee who could be interesting to follow, especially after hitting .320 with 11 home runs and 70 RBIs at Double-A in Toronto's system last year.
Infield depth
Second base is set with Starlin Castro, and Anderson may play either right field or third base. At shortstop, JT Riddle and Miguel Rojas should split time again, with the other being a bench option. Martín Prado, who has dealt with injuries the past two seasons, is a possibility to start at third base or be a bench option at third and first. Cooper is a choice at first base and the two corner-outfield spots, while O'Brien can play first base, third base, corner outfield and could serve as the emergency third catcher.